For the second year in a row, KCS has posted academic gains in both achievement and academic growth. Test scores released today show that 75% of KCS schools met or exceeded the state's academic growth expectations. In addition, KCS posted improvement in the percentage of students passing all subjects for the second straight year.
"I'm proud of the progress we're making with our students." said Dr. Chip Buckwell, KCS Superintendent. "We're showing consistent growth and making steady gains in achievement. We still have more progress to make, and we're not where we want to be yet, but we're doing the right things to raise achievement and help our kids succeed. With the educators and programs we have in place, I know we'll continue to see even more improvement."
The North Carolina legislature requires using test scores to give every school in the state a School Performance Grade. For K-8 schools, 80% of their grade is based on end of grade test results while 20% is based on academic growth. At the high school level, 80% of the grade is based on results from a variety of performance measures: end of course tests, ACT scores, WorkKeys results, the percentage of students successfully completing higher- level math, and the four-year graduation rate. For A.L. Brown High School, the four-year graduation rate remained above 80%. In 2018-2019, it was 81.6%.
KCS School Performance Scores
Forest Park Elementary: C, Growth Met
Fred L. Wilson: C, Growth Met
G.W. Carver Elementary: D, Growth Met
Jackson Park Elementary: C, Exceeded Growth
Shady Brook Elementary: C, Growth Met
Woodrow Wilson Elementary: D, Growth Met
Kannapolis Middle School: D, Growth Not Met
A.L. Brown High School: Growth Not Met
Improving in more ways than one
Kannapolis City Schools also showed improvement in nearly every subject area for the 2018-19 school year. KCS also saw strong increases in End of Grade Science and high school Biology.
Some of the steps KCS has taken to raise achievement over the past two years include adding magnet programs, providing additional support for teachers, students, and principals, and adding more programs and opportunities for students. Besides magnet programs in Global Studies, Language Immersion, and A+ Arts, KCS has added courses in Information Technology, Graphic Design, Engineering, Robotics, and multiple apprenticeship opportunities for students.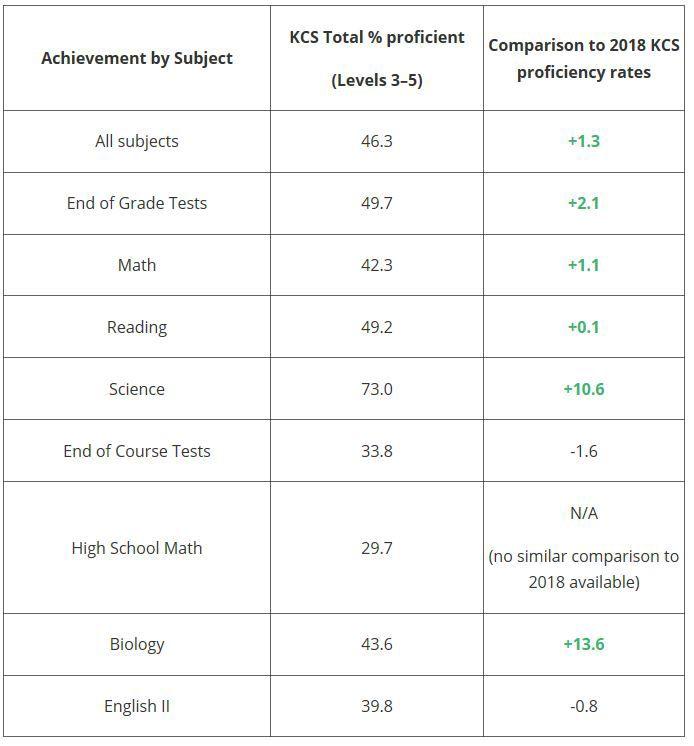 Buckwell says providing more opportunities for students is leading to higher achievement.
"For the past several years, we have focused on making sure our kids have every opportunity to succeed. When we add programs, we help students find more areas where they can excel, and we keep them engaged in school," Buckwell said. "We're seeing benefits in the form of higher student achievement, and I'm really proud of the opportunities we're giving our kids."
Other elementary-level programs the district has added include Classrooms of Tomorrow, Out Teach, and Learn Well/Live Well. KCS also has added STEM programs at all schools and has provided extra professional development for all teachers that's focused on making sure students get a deeper understanding of all their subjects.
The information released will be included in the North Carolina School Report Card, which will be sent to all parents in October.