Kannapolis City Schools students headed back to an amazing place today.
While the district is celebrating its first day of school today, the 2019-20 school year officially kicked off with its opening convocation last week at the Kannapolis Performing Arts Center. The hour-long event celebrated all of the opportunities that the district offers its students.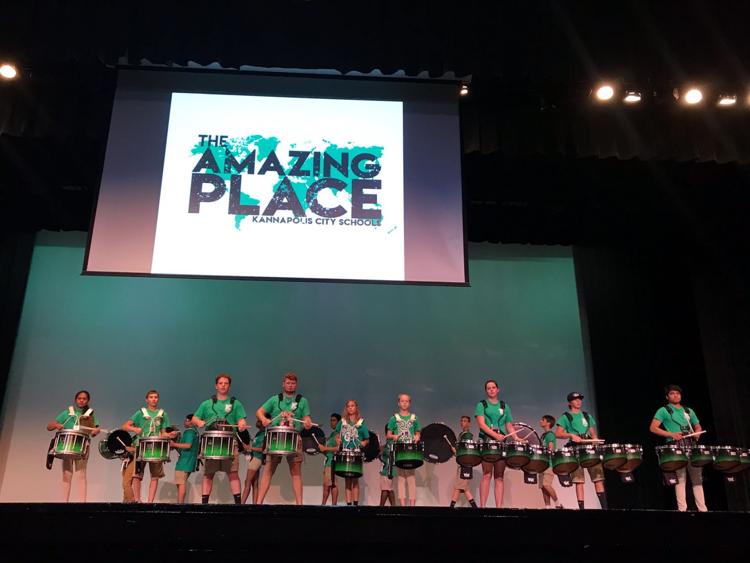 There was plenty of laughter and tears as former students shared inspirational stories about their time at KCS and how it shaped their lives and contributed to their success.
That's why, the speakers said, KCS is an amazing place.
Makenzie Davis, a 2019 graduate of A.L. Brown, talked about the project she started with her carpentry teacher, James Busse, called Knight Haven. Knight Haven provides shelters and services for homeless veterans.
Davis launched the Knight Haven project while she was a senior at A.L. Brown High School. She and her fellow carpentry students made structures that were donated to homeless veterans to provide them with free shelters.
"It shined a light on the amazing students in the carpentry program and Mr. Busse and all of their overwhelming talent," Davis said. "The project has become much more than I imagined and it wouldn't have become a reality without them."
She talked about the amazing opportunities that KCS provided to her in both carpentry and college prep classes. She is now a freshman at UNC Charlotte.
"Besides all the teachers and my family that was there for me throughout the years, I made my high schools experience my own, which I hope everyone does," Davis said. "The four years spent in high school are truly what you make it. Here at KCS we have the advantage of opportunities. By this I mean that each and every student is given so many opportunities to shape their high school experience their own way and find their identity."
Davis said she wouldn't be the person she is today without the relationships she built with teachers while at KCS. She said the conversations she had with teachers added so much value to her life.
"Everyone has a different experience through their school years, but I think everyone has at least one teacher they will always remember. I think that every single employee in the Kannapolis schools system has been that person for a student. We are constantly surrounded by amazing people in the amazing place of Kannapolis City Schools," Davis said to the teachers. "Keep being that support system. There will always be a student that looks up to you. You will always make an impact on someone. Keep that impact amazing."
Hold strongly onto your dreams
Cameron McKnight, a 2015 A.L. Brown graduate, also shared his amazing story during convocation.
In the four years since he graduated from A.L. Brown, McKnight has earned a bachelor's and a master's degree from North Carolina State University in Pure & Applied Mathematics. He also has earned certification in Statistics & Data Science from the Massachusetts Institute of Technology and Micromasters certification in Artificial Intelligence from Columbia University. McKnight earned his Credential of Readiness certification in Business from Harvard University. He is currently living in Washington, D.C.
He has launched the McKnight Dream Foundation that provides food, shelter, coats, and blankets to those in need. The foundation also provides a scholarship to one deserving student each year.
"I was born and raised here. I went to Fred L. Wilson, Kannapolis Intermediate, Kannapolis Middle Schools and A.L. Brown. What I can say for certain is that the connections I made during my time here will be and have been forever long," McKnight said. "Growing up with a single parent, I had to endure a lot of adversity. My grandmother raised me because my mom worked all the time and I found myself questioning my purpose. But I was taught at KCS to hold strongly onto my dreams."
McKnight said because KCS is such an amazing place, he wanted to truly give back. That led him to launch his foundation and create the scholarship for one A.L. Brown student. More information can be found at https://cameronmcknight.com/
To conclude his presentation, McKnight listed teachers who made an impact on him and nurtured him during his education career in Kannapolis.
"All you here make KCS possible and are truly extraordinary and are pivotal factors as to why KCS is truly an amazing place," he said. "I thank you so much for what you are doing and what you continue to do for the youth."
As if those stories weren't inspiring enough— both brought tears to Superintendent Dr. Chip Buckwell's eyes— the most emotional story of the day came from Jennifer Moxley.
Moxley, a 1995 graduate of A.L. Brown High School, shared how KCS helped her overcome an abusive home life and teen pregnancy to find her way to college and a successful career. She now owns her own communications company with clients that include Good Morning America, the Ellen Show, CNN, MSNBC, Fox News, the New York Giants football team, Duke Energy and many more. She also worked as Maya Angelou's personal videographer in the last year of her life.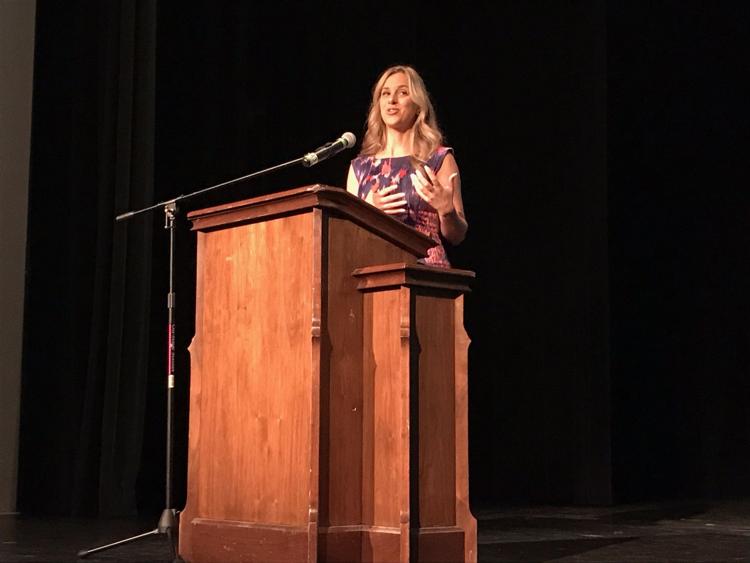 As a child, Moxley said she was always the new girl, changing schools every six months or every year. She was taught to be afraid of guidance counselors or anyone in authority.
"My parents told me not to talk to them. My parents told me if they asked questions not to answer. And the older I got those warnings became more dire. If they are asking questions you will be taken away from us and you will never see your sisters again," Moxley said. "And then the older I got it became, if you talk to guidance counselors you will be out in foster care and bad things happen to foster kids."
She attended 15 schools in six different states, but somehow ended up in Kannapolis at A.L. Brown High School. During her sophomore year, she said her stepfather finally got arrested.
Her little sister was attending Shady Brook Elementary School at the time and the story about her family trickled through teachers to a local church, who adopted her and her two sisters as Christmas tree angels.
"Those wonderful women adopted us, gave us groceries, gave us gifts and I'll never forget the gifts I received that year. That Christmas planted a seed in me that created a reporter, a human being, an adult that has continued to plant seeds and give back in any way possible," she said. "I've adopted Christmas families. I did as many news stories as I could about Cooperative Christian Ministry, the angel tree.. if there was a good story I wanted to do it because I knew at the bottom of that story were people and families and children who deserve someone to give to them; who deserve a little dignity in their lives."
In 1993, Moxley heard Angelou speak at President Bill Clinton's inauguration. One of the first things she did after that was go to the library and check out, "I Know Why the Caged Bird Sings."
"And as I read the book, I realized she wrote my life. She was telling my story. I wasn't the only one," Moxley said. "I hid that book in my room behind a piece of wood in my desk. I pried it out and put the book in because that book spoke so much truth. I was scared if my stepfather found it what would happen. That he would know I knew there was something better, that something was wrong. That my life wasn't how it was supposed to be and he wasn't doing something right."
Going into her senior year at A.L. Brown, Moxley was 7 months pregnant. She changed her class schedule and got a job at Winn Dixie after school. But she still graduated on time and started making plans for college, all because of a math teacher who decided to give her a $250 scholarship.
Moxley said at that time the scholarship was everything because it meant that someone had faith in her. So she applied to Pfeiffer and graduated with her communications degree in three years, while also having a second child.
"It was teachers who saved me," Moxley said about her young life. "Teachers were the people I wanted to be like my mother, the people I wanted to love me, to nurture me, to protect me, to save me."
When people ask her about the most famous person she has ever met, Moxley said there are plenty of people she could list that would be impressive. But the ones that left the biggest impact on her were the scientists, the researchers, the authors, the academics and the ones that suffer the most trauma but continue to get up every day and try to change the world.
But the first time she met Angelou while setting up for a live shot in her living room, that was something she will never forget.
"She held my hand and I just cried. There were now words. I was just in tears because that was the manifestation of everything teachers had told me my whole life. You can do it. You are worthy. This doesn't define you. You have value. You have meaning and you can change the world. And you will rise," Moxley told KCS teachers. "Schools are amazing places because those are the places that many children only hear those words and schools are amazing places because you are the ones saying those words."