KANNAPOLIS – Kannapolis firefighters stationed at Fire Station No. 3 moved out of their cramped location and into a new, spacious area on Concord Lake Road.
Fire and Kannapolis officials, along with many community members, celebrated the move Friday morning with a fire hose uncoupling ceremony and a public tour of the facility.
"This is great for the community and for the firefighters who were located at Station 3," Kannapolis Fire Chief Ernie Hiers said. "This is something that's going to be here for 50 years. Our firefighters are really happy to be here."
The new station has two bays, separate space for sleeping, cooking and offices and a wide area for firefighters to work out and train for fires and rescues.  
That's a major upgrade from the previous station on Florida Avenue.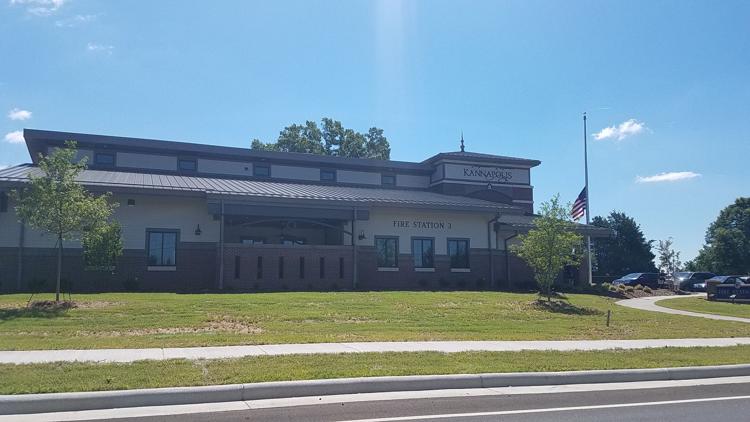 In the past, firefighters slept in the kitchen and used bedrooms as offices.
"This is an amazing time. We have looked forward to this day for a very long time," Kannapolis Darrell Hinnant said. "Within the past, we had firemen who had to sleep in the kitchen. Believe me, this is a big step up to be able to be in this building."
Fire officials said the new location is more centrally located which will allow for faster response times and will serve a larger area in Kannapolis.
"This station is a visible investment and the reward for everyone will be improved response times and better district coverage," said Division Chief Rick Barnhardt, who will be promoted to fire chief on July 1.
The old fire station was built in 1967 and was originally a volunteer fire department.
The new station, which started as a project four years ago, is 11,000 square feet with eight bedrooms for tired firefighters.
"We knew we needed stations," Hiers said. "They were constructed to be volunteer stations, so there were no sleeping areas. We developed a plan, submitted it to city council and they approved it. We were pretty lucky that they approved it."
North Carolina Fire Marshal Mike Causey presented the Kannapolis Fire Department with a Class 1 rating for fire insurance.
"This is given to about 1 percent of all fire departments," Causey said. "That means you are one of the top 10 fire departments in North Carolina, out of 1200. That's a remarkable feat."