KANNAPOLIS – The City of Kannapolis Public Works Department is streamlining and improving the collection of waste to help residents dispose of these items properly.
Garbage, recycling and yard waste collection services and collection schedules will remain the same. Garbage and yard waste collection is weekly. Recycling is biweekly.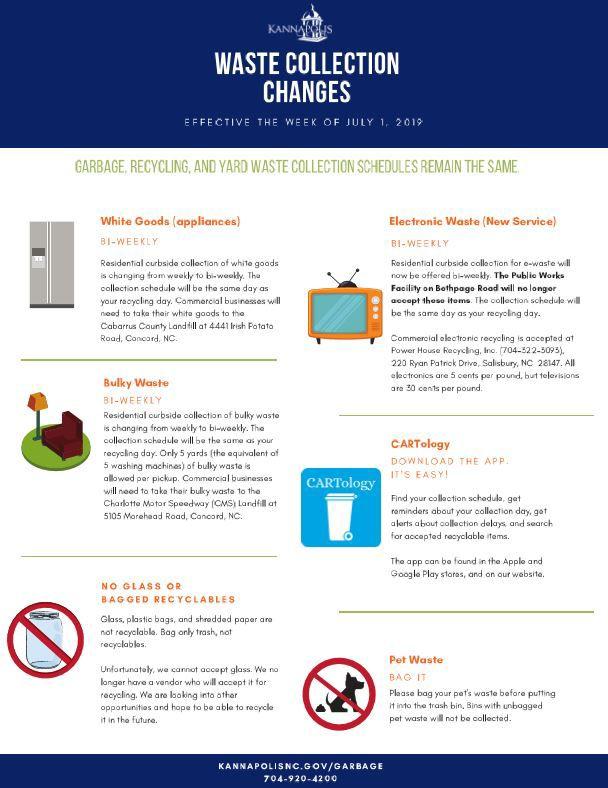 E- Waste: The city will now provide E-Waste (televisions, computers) curbside collection for residents. This is a new service. It will be collected bi-weekly on the same day as your recycling day. Residents will no longer take e-waste to the Public Works Facility. Businesses will need to continue to dispose of their e-waste privately.
White goods: The city will now collect white goods (appliances) curbside, bi-weekly instead of weekly, on the same day as your recycling day.
Bulky waste: Residential curbside collection of bulky waste is also changing from weekly to biweekly. The collection will be the same day as recycling day. Only 5 yards (the equivalent of 5 washing machines) of bulky waste is allowed per bi-weekly pickup. Commercial businesses will need to continue to take their bulky waste to the Charlotte Motor Speedway Landfill, 505 Morehead Road, Concord.
Find your collection schedule, schedule reminders about your collection day, get alerts about collection delays, and search for what is recyclable, bulky waste or e-waste by using our free CARTology app. Find it in the Apple and Google Play stores or on our website – kannapolisnc.gov/garbage.
"We hope that residents will find the new e-waste curbside collection beneficial. BY going to a bi-weekly schedule for white goods, bulky waste, recycling and e-waste we think this will help people plan ahead and remember when to put items at the curb. This should also help us improve how our city looks as well as aid us in adequately scheduling manpower to handle the routes throughout the city," commented Kannapolis Public Works Director Wilmer Melton.
These new services and enhancements went into effect the week of July 1.