For 27 outs a game for 27 consecutive years, Joe Geck has been roaming a dugout for a Minor League Baseball team in the Chicago White Sox organization as an Athletic Trainer.
His journey to becoming a head trainer for every level in the ChiSox organization started back when he attended the University of South Florida in Tampa. After seeing his soccer playing career cut short due to two ACL (Anterior Cruciate Ligament) injuries, Geck figured that he would rather help athletes instead of testing his luck on the field.
"At the University of South Florida, they had an internship program, so I started out there and that started my now, 27-year career," Geck said. "Once I finished my first season of working USF baseball, I got a call from our head coach saying that they needed a trainer over in Kansas City with Baseball City working in the Gulf Coast League. So, I went and applied for that and got the job with Kansas City while I was still in college. It was a great first experience."
After a season had gone by and he started to gain more knowledge of baseball and being a trainer, Geck noticed a posting for an internship with the White Sox in Sarasota, Florida. So, just as he received his first internship, he applied and was fortunate enough to get the position.
As the internship life and college life started to wind down for Geck, it was time for the 21-year-old to get his first job in the profession that he now found a passion for.
"The White Sox needed a trainer for a team that they were putting in Hickory, North Carolina," Geck said." That team was the Hickory Crawdads, the now rival of the Kannapolis Intimidators. And at the time, they were a part of the White Sox organization. This was the start of Geck's 27-year career.
"So just like that, they hired me for the team in Hickory to start my full season as a trainer in the White Sox organization."
It was a couple years into his career before Geck was able to make his first visit to Kannapolis, but not to face the Intimidators. In 1995, the team the Crawdads drove just over an hour to play was the Piedmont Phillies, a South Atlantic League team that played in the Philadelphia Phillies organization at Fieldcrest Cannon Stadium.
"I remember that it was a big step up from Spartanburg, South Carolina," Geck said. "I knew Spartanburg was not very nice but this new stadium in Kannapolis was really nice at the time. The community was really great here because the crowds were big. I remember it being nice coming to a stadium where the fans were supporting the team. It was just nice to see that."
As the years went by, Geck saw players such as Carlos Lee (152 home runs with White Sox) play for the Crawdads, and then the likes of Jimmy Rollins and Ricky Williams play against Hickory in Piedmont Boll Weevils uniforms (the new team name after the Piedmont Phillies).
"I remember in 1996 with Jimmy Rollins and Ricky Williams, there were great crowds and just a lot of support for those guys. It was a nice environment to come and play in," Geck said. "This place hasn't changed much. Still looks the same as it did back in '96. The trees and bushes out near the clubhouses have grown but that's about it," Geck said while chuckling.
After six years with the Hickory Crawdads, Geck got a great opportunity to move up the ranks to be the head trainer for the White Sox's Advanced-A team in Winston. Despite representing five different teams over 27 years, Geck is still able to reel off every team that he was the trainer, along with the number of years at each stop.
"It was Hickory for six years. Winston for two years. Birmingham for 10 years. Charlotte for four years. Back to Birmingham for one year. Then over here in Kannapolis for the last four."
While getting the best seat in the house, on the top step at either the first or third base dugout, to see walk-offs, no-hitters, and tremendous defensive plays, the best feeling Geck gets on the field is seeing the boys improve and do it while staying healthy.
"It's definitely neat to see the boys improve and make it to the next level. Once they make it to Chicago, it's a feeling of accomplishment. It's really nice to see those guys and think that I knew them when they were just getting started."
Despite now having an Assistant Athletic Trainer, Allan Chase, beside him at every game on the top step, Geck has never saw himself as the best trainer in the organization or a mentor to others, but more as a brother to the other trainers in a big family.
"We are all in this together to get everyone better. It's about that and moving guys up. The best part of my job is seeing the boys make it all the way to Chicago or another major league ball club."
And although there is a plethora of perks to working with professional baseball players and coaches every day, Geck understands that in being a trainer, he gets to see a different side of the players that others might not to see in the stands.
"The toughest part of my job is seeing when a player gets injured and that I am the one that knows that their season maybe done or that they might be out for while doing the thing that they love," Geck said. "I always try my best to listen to them and help them off the field as they deal with their injuries. I get to see them in a vulnerable state that many won't ever see so I try to help out in the best way that I can."
Although Geck doesn't know when he will hang up his black White Sox polo, he does know one thing; he's loved his job for 27 outs a game for 27 years.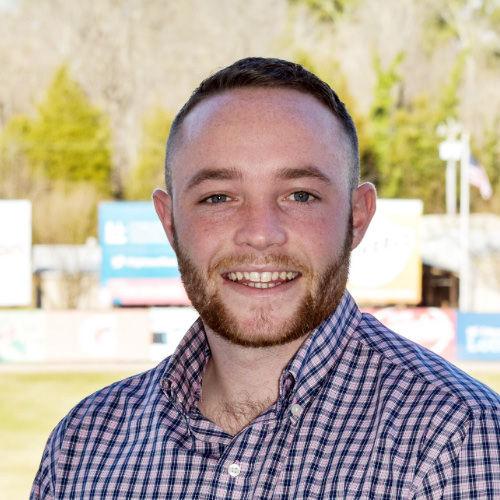 Trevor Wilt is the voice of the Kannapolis Initimidators and a graduate of Jay M.  Robinson High School.