Since the early 2000's the International Center for Community Development (ICCD), formerly The Hispanic Learning Center, has been dedicated to promoting community and economic development.
ICCD's main focus is education but it also mobilizes the Hispanic community and serves as a relay point for information; incorporates community outreach activities by partnering with local organizations; provides parenting classes to new parents and has a club for teenagers that focuses on community service.
In 2012 the center established a summer camp for students in Pre-K and elementary school. This year, the summer camp was housed at Winecoff Elementary School from June 19- July 12 while board members from ICCD are looking for a new building.
"We've been doing this camp since 2012 on Kerr Street (in Concord). This year we didn't have a place to do it so the principal here, she called me and said we could use the gym, which is wonderful," Program Coordinator Theresa Isibor-Davis said.
The center is currently in transition after moving out of its Kerr Street building after the church that owned it went in a different direction. But staff was determined to still hold camp for the community.
"We rented a storage space for $350 a month and put our last stuff in there. Then we already had a summer camp planned and didn't know where we would put these kids," Isibor-Davis said. "They (Winecoff) were very generous to allow us to use it this summer."
A camp that offers everything
The summer program includes a variety of educational and fun topics such as health and wellness, sports and games, computer doing, English as a Second Language and End-of-Grade test makeup opportunities. Isibor-Davis said campers or their families are originally from all over the world. Many of them speak Spanish, but the camp has also had some French speakers and even a camper who spoke Swahili.
They come from elementary schools all across the county including Kannapolis Charter Academy, Coltrane-Webb Elementary, Weddington Hills Elementary, Rocky River Elementary and Winecoff Elementary School.
During the last week of camp, students presented reports on books they read to the entire group. The activity tied in literacy with public speaking skills.
"We do both educational and entertainment. We include life lessons, teach the kids communication and blend little things into reading. They picked the book themselves which gives them that control. The older ones have chapter books and the little ones have stories," Isibor-Davis said. "We try to do literacy at least three times a week."
The program also employs middle school students to be the leaders of the younger groups. Some of them grew up in the camp and wanted to continue being part of it after aging out.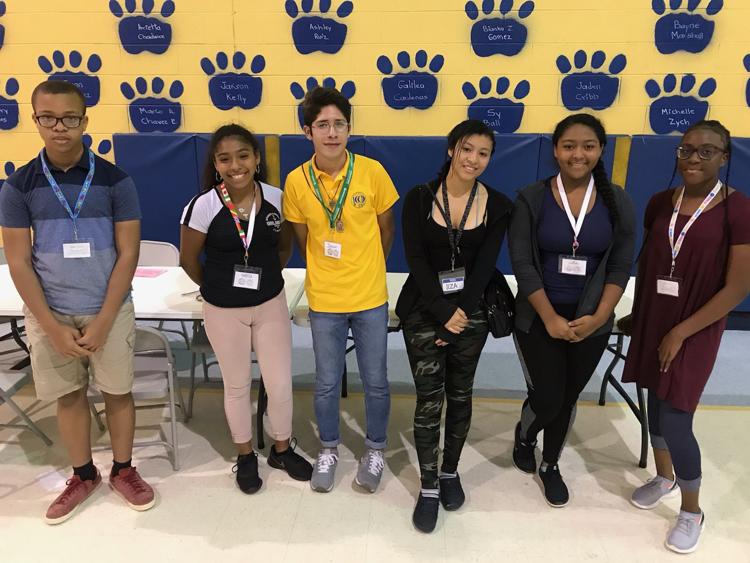 "We decided to hire them and they help with little things. So they like it and their parents like it. We make them team leaders and give them like 8-to-10 kids each," Isibor-Davis said. "We are also teaching them. We do resumes, we make them fill out applications and we have time sheets they fill out."
One of those middle school students is Amy Pena-Soto who attends Kannapolis Charter Academy. She is also an ambassador for the program and goes with staff when they give presentations to municipalities and when they deliver collected items, such as teddy bears to nursing homes.
"I really like helping people. It's kind of my thing. It makes me feel excited and happy to see them happy," the 11-year-old said. "I think it (summer program) helps kids enjoy themselves and I've seen a lot of kids here getting to meet new people, and that's really important in your life because if you don't get used to it then you won't be able to adapt when you get older."
ICCD Board Member Sammie Potts says the program is preparing students for the world in any possible way it can. He said the reward is when the students come back when they are older and thank Isidor-Davis for everything she did for them over the years.
"She loves the whole child, and when you love the whole child you are making a difference that other people don't make. The other thing she does is creates a marriage between the public school system and our program because we see the broken; we know when our kids come to us and they can barely read and don't speak English. Then in 9 months they don't want to say anything in Spanish," Potts said. "The difference we make, makes all the difference in the world but it's because of the leadership we have in this program and that's essential in whatever you do."
'We can't lose where we came from'
The center is currently still looking for a building to house its other programs this fall which usually include after-school tutoring, adult education, youth leadership development and an early learning program.
"We are looking for a place. We sent proposals to some people and we are looking for land," Potts said. "We can't lose where we've come from."
For more information about ICCD or to offer help with the center's needs email iccdconcord@gmail.com or call 704-991-6055. You can also visit www.hlccabarrus.org or like International Center for Community Development on Facebook.