North Carolina has the 23rd highest rate of kids who are overweight or obese. Currently, one-third of kids in Cabarrus County between the ages of 2 and 18 are overweight.
Unhealthy choices can be a big part of the problem, and that's why Atrium Health adopted the Healthy Together 5210 childhood obesity program.   The program seeks to improve the environment within local schools though offering classroom activity ideas, resources, and tools for teachers and administrators to get students eating, moving, and learning in a healthier way. 5210 encourages kids to eat 5 handfuls of fruits and vegetables per day, limit recreational screen time to 2 hours or less, get 1 hour of exercise or play each day, and drink 0 sugary drinks.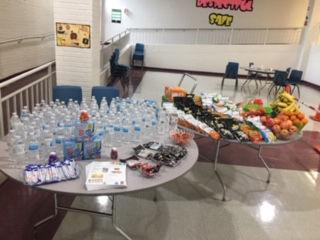 Changing the Landscape of Education to Include School-Wide Health Education and Promotion
The program is reaching over 3,000 students this year in five schools. Participating schools include Bethel Elementary, Coltrane-Webb Elementary, G.W. Carver Elementary, Harris Road Middle School, and Woodrow Wilson Elementary. Here are some of the recent accomplishments in Cabarrus County and Kannapolis City Schools:
Bethel Elementary School has been able to increase free breakfast utilization rates from 30% to 80% simply by rerouting the students morning walk to include passing through the cafeteria after getting off the buses. At school celebrations, they've opted out of ice cream cones in favor of slushies made with 100% fruit juice. In the gymnasium, students are learning about the importance of staying hydrated and have been given 5210 color-changing water bottles to make drinking water more fun. Staff have been role modeling healthy behaviors and staying active through Principal Barbee's idea of holding "active meetings" where teachers play sports games, exercise, and participate in other mindfulness activities prior to holding their staff meetings. Plans are underway for a staff "field day" at the end of this year.
Coltrane-Webb Elementary School teachers are using "brain breaks" and other classroom energizers to get the students up and moving for 5-15 minutes at a time. These breaks are good for the body and help improve focus and attention. In the lunchroom, cafeteria managers have been holding taste tests so students can sample a variety of fresh fruits and vegetables including spinach, chickpeas, pomegranate, and starfruit. Outback, 5th grade students recently prepared the school garden and planted vegetables like jalapeno peppers, spinach, beans, and swiss chard. After the harvest, all grade levels will compete in a salsa recipe contest using vegetables from the garden!
G.W. Carver Elementary School's 5210 Site Champion, Nurse Abraya Johnson, recently started a mobile salad bar thanks to the donation of a cooking cart. She has around 35 classroom visits per day and creates samples using greens from the school garden, make smoothies, healthy veggie dips, and teaches students safe ways to cut up their foods. In January, the school installed a water bottle refill station so that students can quickly fill up their water bottles and drink throughout the day. Coming up this spring, the school will host a Screen- Free Week to get students outside and playing to meet the "1" hour of physical activity recommended in the 5210 program.
Harris Road Middle School, a second-year 5210 site, is currently working on creating a healthy concession plan so that snacks and foods sold at athletic events nutritious and low in fat, salt, and sugar. Parents frequently receive healthy tips on screen time, healthy eating, and staying active through the school's twitter account and monthly PTSO newsletter. Staff are role modeling healthy behaviors through participating in their own Biggest Loser competition for a second year in a row. Last year the school was able to rent a rock wall for their spring festival to give students a parents a fun way to get active at the event.
Woodrow Wilson Elementary School has made exercise more fun by creating "transition activities" in the hallway that get kids walking like monsters, lunging, or doing wall squats while changing classrooms or waiting in line during bathroom and water breaks. In addition, thanks to sponsorship from UNICEF, all 3-5th grade students have been given fitness bands that count their daily steps. Some students are reaching +18,000 steps in a day! In the lunchroom, students are given taste tests, compete in friendly competitions to eat more fruits and vegetables, and are taught the importance of making healthy food choices. Parents have also been educated about the importance of healthy eating when attending school events and curriculum nights that have been supplied with fresh fruits, low-calorie snacks, and bottled water so they can get an idea of the types of nutritious snacks to serve at home.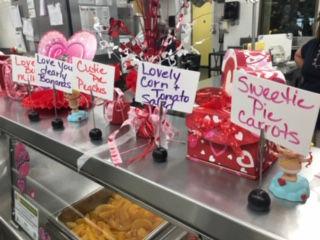 As noted above, the 5210 program has led to several school-wide changes that make health promotion and education simple for teachers. 5210 encourages staff to take an active role in creating healthy learning environments that make the healthy choice the easy choice. Students at 5210 sites can leave campus confidently knowing their school is truly looking out for their well-being. This is only the beginning for the 5210 Healthy Together program, and plans of expansion to future schools are in the works! For more information, visit AtriumHealth.org/HealthyTogether.