A quick Internet search on "project-based-learning" (PBL) shows an educational philosophy that has become a prominent teaching topic in the last 10 years. PBL encourages a return to "learning by doing" instead of focusing on book-learning. Advocates feel it is a better way to prepare students entering a world where computers are replacing previously human-performed jobs. PBL also appears to inspire a love of learning that classical teaching styles may not stir in all types of students.
Courtney Elliott, Head of School and founder at Concord's HOPE Academy, likely ascribed to this line of thinking even before she realized.
HOPE's curriculum, started at the school's 2011 founding in its elementary grades', focuses on a central idea each quarter that is incorporated across reading, history and science. Students then create a project at the end of the unit that presents those learnings. This basic idea has continued to be applied through middle and high school grades.
Well over a year ago, Elliott found Greg Whiteley's 2015 documentary "Most Likely to Succeed" in a routine Google search. She was inspired by what she saw in the story of High Tech High, a 19-year-old charter school in San Diego, CA, and a leader in project-based-learning.
Initially, Elliott thought the school could manage to send a few staff to visit High Tech High, but HOPE's board saw a bigger plan and agreed to fly two educators, Carol Cabrera and Jeremy Manger, from High Tech to HOPE for a three-day intensive staff workshop July 26 – 28.
"It is uncommon for a school of our size to host and invest in professional development of this caliber. I am so thankful that our Board of Directors recognized this as a worthy investment for each of us and our school," Elliott said.
The staff immediately began to make modifications to existing lesson plans in preparation for the August 22 school year start, moving project work to the beginning of the unit where learning begins, instead of using it as a reflection of learning at the unit end. It is a slight shift in the process, but it moves where and how the learning happens, with the idea that soft skills used in process have long-term value past primary education.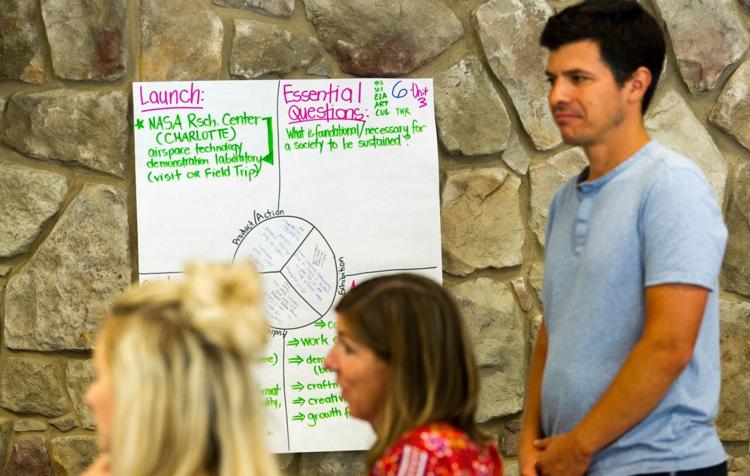 Educators, like Elliott, who ascribe to project-based-learning would say that in hands-on/project style education, students learn critical thinking, problem-solving and group collaboration that in the last era of primary education were learned in college or on the job.
PBL says students can absorb concepts that book-learning offers but do it by creating something tangible.
Jason Krueger of Stratostar, an Indiana-based company that works with schools to create weather balloon projects, says, "The bottom line is that the information contained in books is information that has been uncovered by another person from another time, whereas "learning by doing" is associated with discovery and innovation."
A priority that HOPE continues to strive for in the classroom.
HOPE, a University-Model school (UM) which opened its doors in 2011 offering classes for first – fifth grade, has added an additional grade each academic calendar. With the UM structure, students are in class on the school's campus Monday, Tuesday and Thursday, with learning at home the remaining weekdays using school-developed lesson plans. For more information about HOPE Academy please visit www.hopek12.com.
More information about the national University-Model school structure is available at www.umsi.org.