Mooresville K-9 Officer Jordan Sheldon, who was shot and killed during a routine traffic stop in Mooresville late Saturday night, received an honorary procession as he was escorted by offiers and first responders to a funeral home in Concord.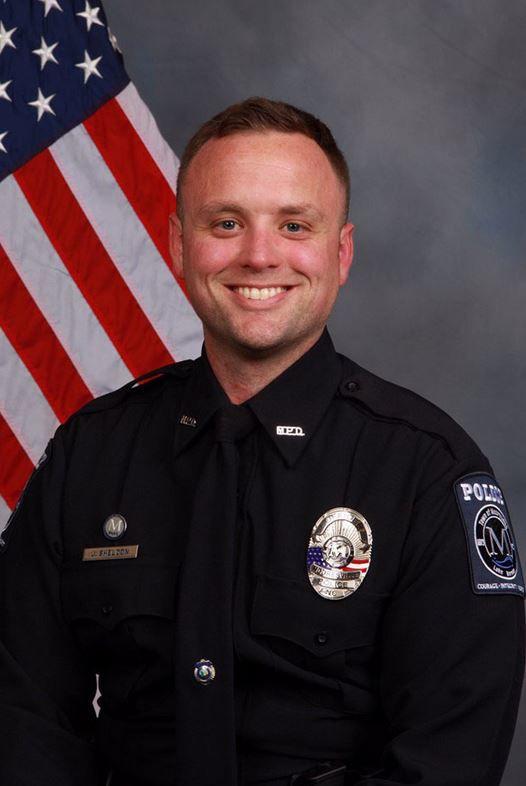 Sheldon was escorted from the Medical Examiner's Office in Mecklenburg County to the Hartsell Funeral Home in Concord with the help of servicers from Iredell County and surrounding areas.
What once was the busy street of Copperfield Boulevard in Concord became silent as flashing lights rounded the corner. Business patrons and community members stopped what they were doing to walk outside and pay tribute to Sheldon. Many were standing and holding hands while others took off their hats and put their hand across their heart.
Though silent, the emotions rang loudly.
You could hear a light bark from a dog in a K-9 unit vehicle and see the wiping of some officers eyes as they rode by slowly.
During the procession the skies filled with dark clouds, but over the building the sun shone as Sheldon arrived.
At Hartsell Home, the officers all stood closely by the entrance as they watched Sheldon's casket enter the building, leaving their flashing lights on during their moment of silence.
The community of service members all supported each other with tight embraces and light pats on the back from one officer to another. With tissues in many hands, community members and service officers loaded into their cars one by one and silently left the funeral home.
The procession included service officers from Mt. Mitchell, Mt. Mourne, Hickory, Sherrills Ford, Alexander, Cornelius, Troutman, Stanly, Lincoln, Kannapolis, Concord, Charlotte-Mecklenburg, Elon, Huntersville, Stanfield, Lake Norman, Cabarrus, Shepherds, Catawba, Cherryville, China Grove and Mooresville.
The procession traveled on Interstate 85 from Charlotte to Cabarrus County taking a little over one hour to conclude.
Christina Cruse, who said she used to live in the same Concord neighborhood as Sheldon, waited along Branchview Drive for the procession of 129 vehicles to drive past.
"It's just really heartbreaking," Cruse said. "I can't imagine what his family, friends and fellow officers are going through because he didn't deserve it."
"I just wanted to show my support. As a community, it's important that law enforcement knows that we have their back."
She said she only met him a few times, to say hello in her neighborhood.
"He was a very nice guy."
Sheldon will be laid to rest on Friday, May 10 with his funeral being at 11 a.m. at Calvary Church.
A procession of public safety vehicles will leave from the funeral home to the church in Charlotte for the service and after it will travel to the Mooresville Police Department.
Adam Thompson with the Independent Tribune contributed to this report.