Harrisburg Park will close to the public on Monday, Sept. 16 and remain closed while the park undergoes renovation and expansion. Harrisburg Library, located in the park, and Harris Depot Park will remain open during the construction.
The park is scheduled to re-open prior to the 2020 July 4th Celebration.
Harrisburg Park was constructed in 2001 when the town's population was 2,679. Back then, the park was built with adult/youth sports fields, biking/walking trails, an area for concerts and performances and picnic areas for $1,149,032.
The concept for park upgrades was designed in 2017 when the population was 16,000. To find out residents wanted from the park, the town created an online survey and held four public engagement sessions.
The amenities that rose to the top during those brainstorming sessions were more walking/biking trails, more fields and passive recreation.
In 2018 the plan was revised after a partnership was made with the YMCA to include an 80,000 sq. ft. facility, aquatic facility, community rooms, basketball courts and YMCA offices to the tune of about $3 million.
The core features of this park renovation and expansion will include an amphitheater, six multi-purpose fields, splash pad, walking/biking trails and a build site for a recreation center.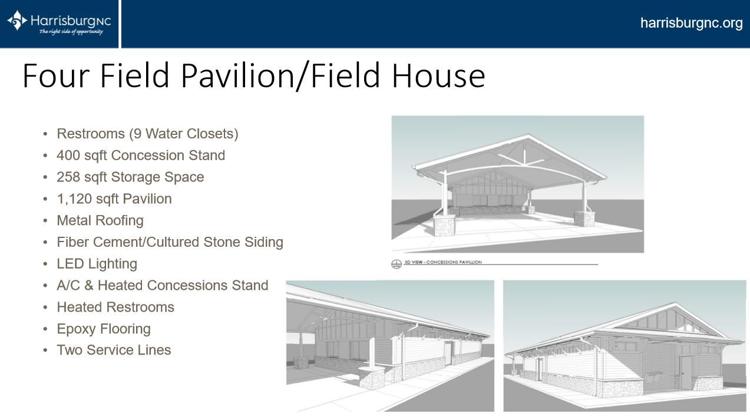 Harrisburg Park today is 37 acres in size. Once the project is complete, it will be approximately 67 acres in size, this having been made possible through a land acquisition to the west of the property in 2016.
The guaranteed maximum price for the renovation of the park is $9,242,674, with the total project cost estimated at $10 million. Harrisburg Town Council voted to award the financing of the project to Sterling National Bank for an amount not to exceed $10 million with a 20-year repayment period and at an rate of interest of 2.85 percent.
The town's Parks and Recreation Department also received a $350,000 PARTF grant to apply toward the project.