The Town of Harrisburg held a grand opening and ribbon cutting at its new Fire Station 2 on Wednesday, May 29.
The new Fire Station 2 replaces the original that was built as a volunteer fire station in 1978. The old station was 3,600 square feet and the new one is about 11,500 square feet. The old station was renovated several times as the department grew to accommodate personnel.
The new station is located at 9331 Rocky River Road and was built by Edifice, Inc. General Contractors and designed by Stewart Cooper Newell Architects.
Fire Chief Bryan Dunn said the process to build the station began in 2005 when the town acquired the property. He said the new building will allow the department to be more efficient and provide better service to the community.
"We are very proud of what we see today. Fire stations are home to firefighters 24 hours a day. They spend one-third of their life in the fire station," Dunn said. "We have bedrooms, a full service kitchen, baths; all of the facilities they need to be able to operate on a 24-hour basis are available to them in this station."
Town Manager Haynes Brigman added that the town made a great investment when it purchased the land for the station, and it includes space for expansion.
"This parcel will not only house the fire station, but hopefully a future fire training facility in the rear of this as well as the future water tank that will serve the Harrisburg residents well," Brigman said. "So this parcel is going to be a multi-use parcel for us moving forward. We are excited about that."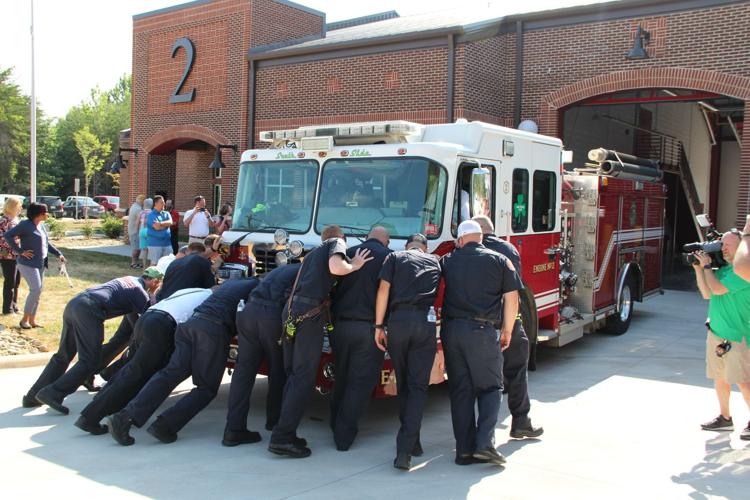 The event concluded with tours of the station and a traditional truck push-in ceremony.