The business and real estate landscape in Cabarrus County seems to change with each passing day, so today's Friday Five will deal with some of those.
Concord property for sale. Organic Dyes and Pigments (ORCO) recently acquired Premier Colors Inc. and the move is resulting in the sale of ORCO's property across from Lowe's on Concord Parkway.
Employees in Concord were recently informed and now the sales process is beginning.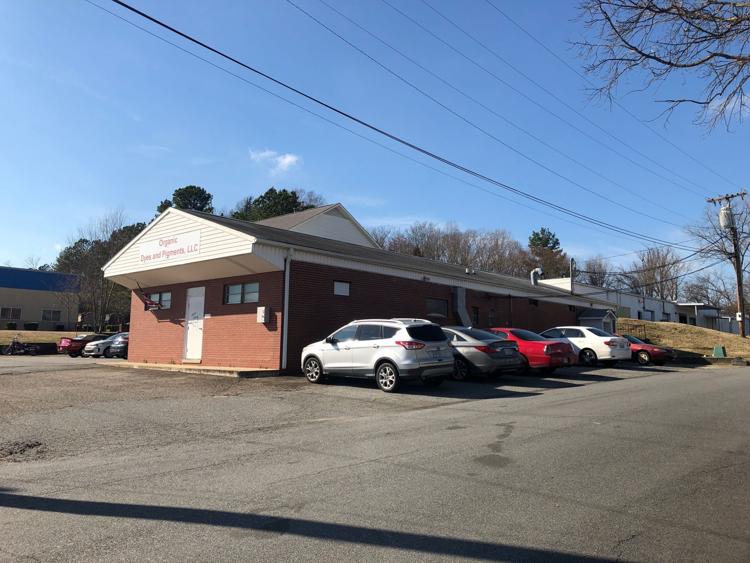 Steve Slattery of New South Properties of the Carolinas is the listing agent for the property. There are three buildings totaling approximately 25,423 square feet. The industrial portion is approximately 19,179 square feet and the office/research and development is 6, 248 square feet. The total land area on two parcels is approximately 2.4 acres. The zoning is C-2.
The property is at the intersection of Concord Parkway and Minnie Avenue.
An adjacent property is also for sale. Team Honeycutt's Chris Wagner has the project listed. It's about 1.96 acres with two connected buildings. The total square footage is about 5,800 square feet.
Slattery said the ORCO property could be used for a number of things and if a developer wanted to combine both properties it could be big enough for a small grocery store or other uses.
Cabarrus Bank building for lease. When I pulled up Slattery's website (newsouthprop.com) to see if there was more information, I found another interesting Concord property on the market.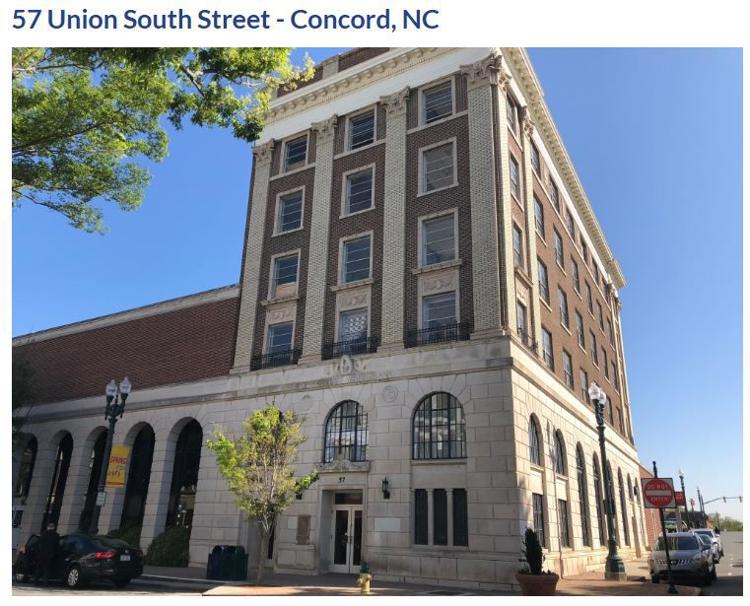 Paula Saunders of New South is the agent of leasing of the old Cabarrus Bank building at 57 Union Street South. The Classic Revival building was constructed in 1923.
Possibly the most interesting offering is the bank lobby, which is described by Saunders as the "end cap restaurant space." It's been used for event space for some time and many of you have seen how beautiful it is with the arched windows and polished marble.
That space is the largest at 4,572 square feet according to the marketing brochure. Spaces for lease range from approximately 440 square feet up the restaurant size.
Old Philip Morris reaction continues.
Excitement and hope has been the reaction I've seen most about the old Philip Morris property. It was good to talk with Wellford Tabor last week about the property.
For so long, it was "I wonder what they're doing out there."
That was when Philip Morris was dragging their feet about selling the property. The company also slowed down the George Liles Parkway extension, according to several people I've talked with.
Since the announcement last year that it would be "The Grounds at Concord," the owner Bootsmead LeaseCo's representatives have been providing periodic updates including last week's extensive interview.
Folks in the historic community were happy to hear that efforts were made to secure Boxwood Manor.
In 2017, the newly formed Historic Concord Association Preservation Committee included Boxwood Manor on its Historic Properties of Interest Inventory.
It will take the right person to take on the project and put the historic home back in good shape.
Alex Porter repaired a column on the house back in 2013. He described the historic home as "run down, but still standing proud."
There's not as much history in the cigarette plant that is being torn down, but it's still hard for some to understand taking down a good building.
One of our readers, Charles Alexander, said it sounded wasteful.
"It was well built and structurally sound. Maybe the companies ought to be thinking about adapting themselves to the building instead," Alexander said.
If a company is willing to invest millions of dollars and bring hundreds of jobs with the buildings gone, I say knock them down. And while they are at it, roll over to Old Charlotte Road and take down a couple of the Stonewall Jackson buildings.
The State of North Carolina is not going to do anything with them. They did put up a fence. It's ugly but I guess safer. Time and nature will eventually reduce those buildings to rubble.
Renaming the Kannapolis Intimidators. Dale Earnhardt Jr. weighed in on the "rebranding" which will eliminate the Intimidators name, which honored his legendary father who was known as "The Intimidator."
Junior's suggested names were the "Ironheads" or the "Cannons." Earnhardt Senior was called "Ironhead" by many and that sounds like a good name.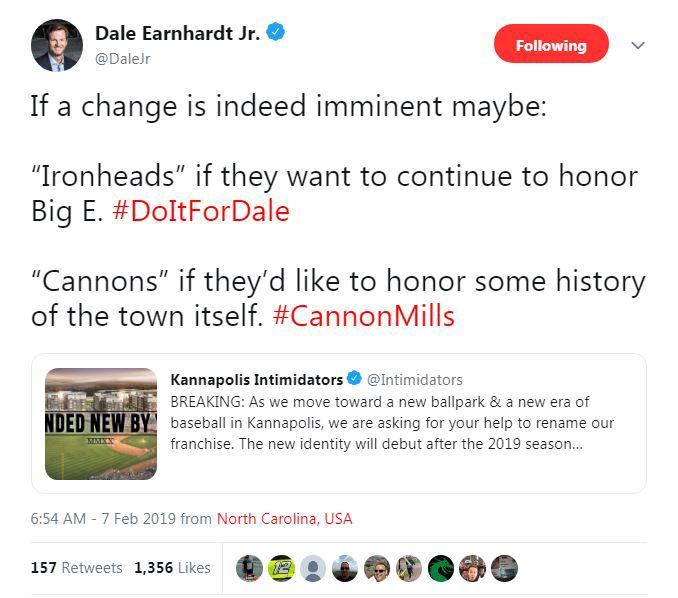 The Cannon reference isn't bad either since the Cannon family built Kannapolis from the ground up. The current stadium had Fieldcrest-Cannon Stadium as the name for many years. Some people still refer to that stadium as "The Cannon."
There are a lot worse names than Junior suggested. Here are few current minor league team names that I believe are bad: the Jacksonville Jumbo Shrimp, the Montgomery Biscuits, the Savannah Bananas and the Modesto Nuts.
There are names I like. The traditional Asheville Tourists name dates back decades, with some interruption forced by the Baltimore Orioles in the early 1970s. (the O's, before the team shifted to Charlotte). The Albuquerque Isotopes refers to the New Mexico history with nuclear testing. I also like the Pensacola Blue Wahoos, which has a fierce looking fish for a mascot.

"Branded New By You" for the Kannapolis baseball team continues through Wednesday, Feb. 13. You can submit your name and reason for it through the website www.kannapolisballpark.com
Please come up with a better name than the West Cabarrus High School that the school board saddled us with. Notice I didn't cuss when I wrote that.
Checking up on your resolutions. We're a little more than a month into 2019 and it's a good time to evaluate progress on our resolutions. Don't give up if you've blown them. Make today a new start. If you've done well, keep it up.
Here's my personal evaluation:
*I'm still cussing too much. People just tick me off and then there's all this corporate BS.
*I have prayed more, partially because there have been a lot of bad things, and on the good side of that I have found a few times to sneak in a prayer when things weren't bad.
*I've run more than I did last January, but I am not running as much as I would like. Let's file this one as needs improvement.
*I am singing more. YouTube, Spotify and wireless headphones are my friends. If you don't recognize the tune, that's okay. I am still enjoying myself.
*My desk is a bit cleaner, so I am going with a C-plus for my grade here. My aim is to find one thing I can declutter per day, even if it's just one piece of paper tossed. I'm been to Goodwill several times this year already.
*Procrastinate less – not doing too good there. I keep putting off getting started on things. There's too many distractions, what with all this singing, praying and cussing. There's just not enough time in the day.