Surprise, surprise – there's more construction and I have something to complain about.
What's that crazy looking building across I-85 from Concord Mills?
It's between Bassett Furniture and Carraba's Italian Grill. At first it looked like another hotel with the stairwells and elevator shaft going in first, but as construction continued they added these weird looking plastic (maybe metal) tubes connecting the two concrete structures at each end and another tube pointing downward toward the ground.
It's iFly Indoor Skydiving.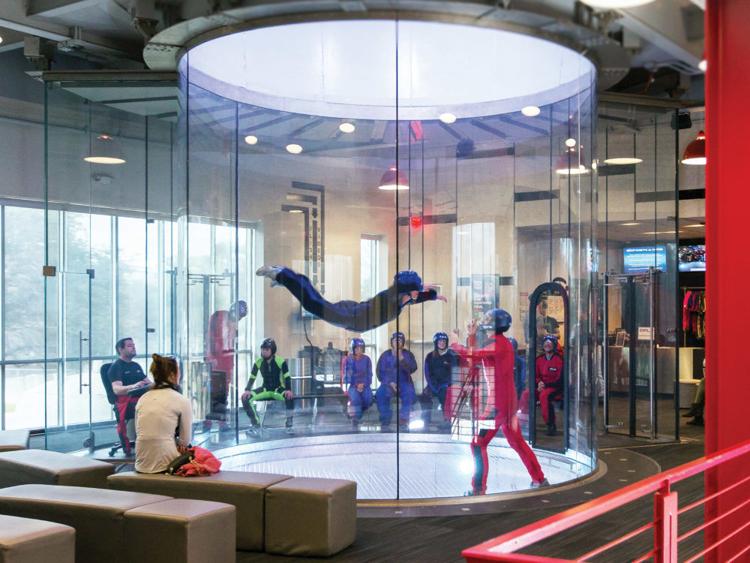 Concord and tourism officials have been talking about this new attraction to the Concord Mills/Speedway for a long time and now it's finally being built. Concord City Council and Cabarrus County Commissioners approved an economic development incentive package for the project in early 2017. Then the total project was expected to be worth about $10 million with 20 fulltime jobs averaging about $40,000 per year.
According to the building permit, the contractor is Graycor Construction and the estimated cost of the building is nearly $5.4 million. That does not include personal property or the land.
It appears the downward pointing tube is part of the 12-foot re-circulating wind tunnel that can simulate skydiving from 13,000 feet.
Reports are that the facility will be open in early 2019. Based on what the construction site looks like now, mid-2019 appears more likely. Maybe they can have it ready by the NASCAR All-Star and Coca-Cola 600 weeks in May.
This seems a lot safer than jumping out of an airplane.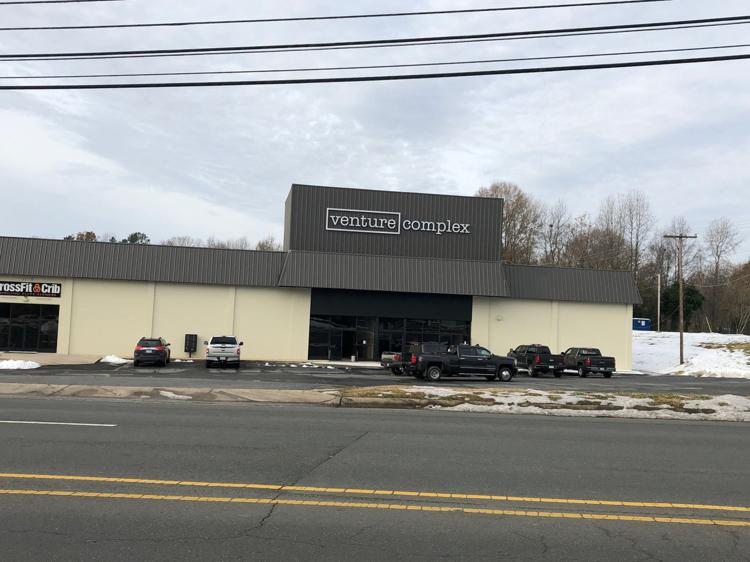 New businesses at old Lowe's building in Kannapolis.
Venture Management and Reconstruction is now occupying much of the old Lowe's building on Dale Earnhardt Boulevard.
The building and warehouse has been several things since the home improvement store left many years ago (two new Lowe's stores ago). The longest stent was as a furniture store.
Renovations are underway as the building is being partitioned into smaller spaces.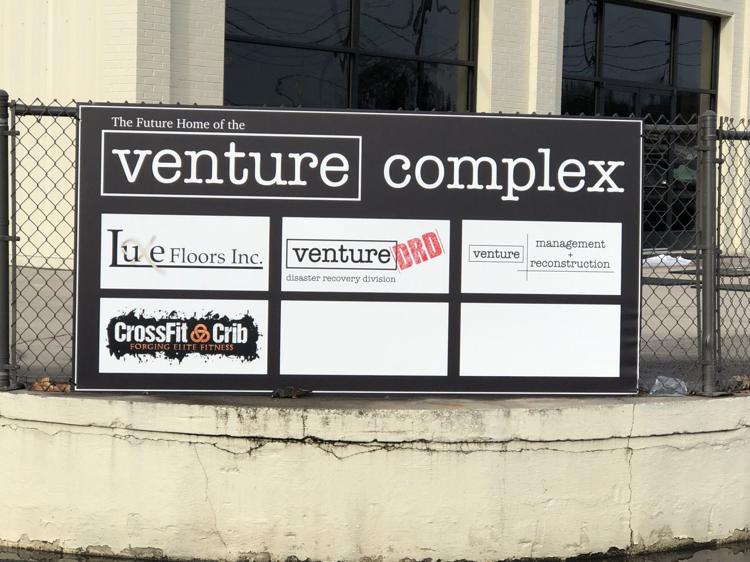 A sign on the property has six spaces with Luxe Floors Inc.; CrossFit Crib; Venture DRD, disaster recovery division; Venture Management and Construction; and two blank spaces.
CrossFit Crib looks like it's already up and running.
According to its website and Facebook page, Venture specializes in a variety of construction with much of its focus being on renovation and repair after wind, fire and water damage. There are other satellite offices throughout the Southeast.
How to get the ornaments.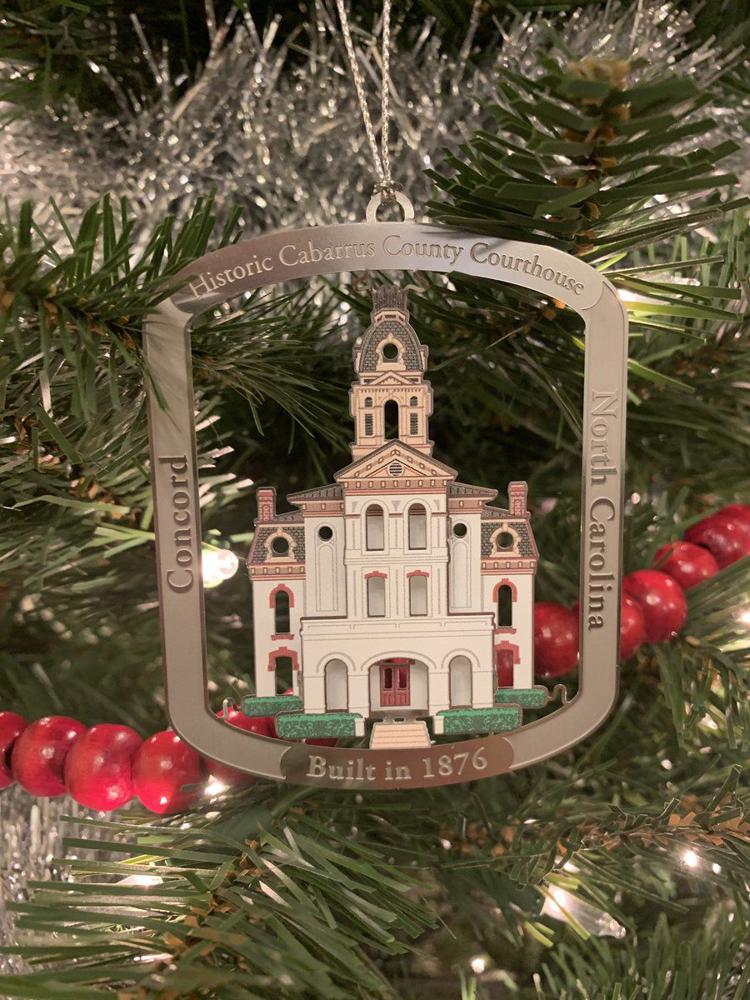 In Wednesday's paper we used a Historic Cabarrus photo of a Christmas ornament that is for sale. I neglected to tell you how to buy them.
The ornaments are available for $18 at The Concord Museum located on the first floor of the 1876 Courthouse in downtown Concord. There are also old Concord High School ornaments. The museum's phone number is 704-920-2465. I bet there are some history buffs on your Christmas list that would like one.
Reverse customer service rant.
A couple of weeks ago I went for a drink at the Target concession stand (for lack of a better term). I ordered a large soda, which was listed on the menu board for $1.79. The cashier handed me a cup and rang it up, "$2.13."
I did the math in my head and came up with $1.93 ($1.79 plus 14 cents tax). I asked what the soda cost and the cashier punched the cash register and said, "$1.99."
"The board says $1.79," I said pointing to the menu board.
She looked at me dumbfounded and not offering to change the price. I reluctantly paid $2.13 and went away grumbling.
I am now getting to the reverse rant (praise). I had to set the stage.
Last Saturday before "snowmageddon" hit Afton Ridge, I was thirsty again so I decided to try the Target concession stand again.
"A large soda and a medium soda please." (Jordan was going to drink the medium).
I then asked the cashier how much the large was, briefly relaying my previous unfortunate encounter.
"That's not right. It's $1.79. I don't what she did. Let me make this right. Your drink is free today," said the cashier.
I can't tell you how happy that made me. It restored some of my faith in humanity (and fast food). Target, this young lady is a keeper.
Sooner is better than later and more is better than less.
That's what the financial people tell you and to some extent it's true in the newspaper business.
If you want us to put something in the newspaper, you should let us know a few days ahead of time.
It's not uncommon for somebody to call us and say "Hey we're doing so and so and thought it would be great to share with the newspaper…" Of course that call comes at 11:30 a.m. when the event is 30 minutes later.
Here's another example: At 10:31 a.m. Thursday the China Grove Board of Trade emails us a press release that they want included in the Friday paper.
Well the problem is we work in advance and need to get pages put together to go to press on Thursday afternoon. We've already used up most of the space and today the obits are taking a lot of room too.
By sending it so late, our readers will never know about the "Christmas in the Grove" event that is Saturday from 5 to 9 p.m., featuring "snow" for sled riding (plastic sleds only), food, hot chocolate, s'mores, fire pits, Santa, horse-drawn wagon rides, caroling, a live nativity and face painting.
Or that China Grove businesses will remain open late for shoppers. Or that the price of admission is canned goods or an unwrapped toy to benefit Main Street Mission or Toys for Tots.
Or that the Board of Trade is also promoting China Grove "holiday passports," good through Dec. 31 and that shoppers may pick up a passport at participating China Grove businesses. They then get their passports stamped with any purchase at the participating businesses. After they gather at least 10 stamps on their passports, they can drop it off at the front desk or mail slot at the Town Hall by the end of the day Dec. 31 for a chance to win prizes.
No, if you had gotten it to us earlier we could have put it in the paper. But of course don't send it too early or I might lose it.
Answer to reader's question/comment: Yes I-485's directional designations are stupid. Inner, outer, east, west, north, south - they use them all depending on what part of Mecklenburg County you're in.