Besides circulation the most complaints I get is about the editorial page. So today's Friday Five is about questions and complaints about politics and elections. I'll throw in a couple of personal opinions too.
Editorial cartoons. A caller this week asked me "What bad things are you going to say about my president on the editorial page tomorrow?"
"I don't know yet," was my smart aleck reply.
This gentleman was much nicer than most of the calls I get like that. He suggested we have a cartoon on "Pocahontas."
Today's editorial page has a cartoon featuring Sen. Elizabeth Warren and the former Cleveland Indians mascot - there are two Trump cartoons too.
There are two reasons why President Trump is featured so often and mostly in a negative light. His actions and comments are the first reason.
For cartoonists, it's shooting fish in a barrel.
The other reason is a limited budget. We have a local cartoonist, Ross Gosse, who draws for us. It is his opinion, though sometimes he does ask my opinion on a topic. The newspaper also pays for another cartoonist. I am ashamed to tell you how little we pay.
The other cartoons come from BH News Service (a part of our company) and the Washington Post News Service.
There are other cartoonists' work available but I made the decision to spend the money on local content instead.
Maybe there's another reason - artists don't tend to be conservative.
Congressman's column each Sunday. An anonymous letter to the editor came in the mail this week complaining about Rep. Richard Hudson's column each Sunday.
"Please explain why Richard Hudson gets to have a column every Sunday during an election. Is it free – if so that seems wrong because it's always about how he's fighting for us and the great things he has done and how he supports our great president."
I think it's a fair question, but I would have preferred the person give his/her name. No, Richard doesn't pay for the column. Any paid content in the newspaper would/should be clearly marked as such.
I believe the congressman's column goes back to the 1970s. When I moved to Concord in 1983, Congressman Bill Hefner wrote a weekly column. So did Robin Hayes and Larry Kissell.
Is Hudson's column self-serving? Yes. Hudson's content is often an example of what's wrong with Washington and it's both sides of the aisle. Consultants and advisors tell our supposed leaders what best serves their purposes and then congressmen and senators repeat it. "Talking points" is what they call it.
If it were a religious group we could call it a cult and say they were being programmed.
Most of you know I'm not a Trump guy, but there is one thing I agree with the president, "Drain the swamp." Send everybody home (staff, advisors and consultants too) and make them get real jobs.
Get rid of the programmers.
Live with the complaints or drop the editorial page. I have this debate with myself about every other week when I get a complaint. I even thought about dropping just the cartoons, but the page is so gray with no cartoons.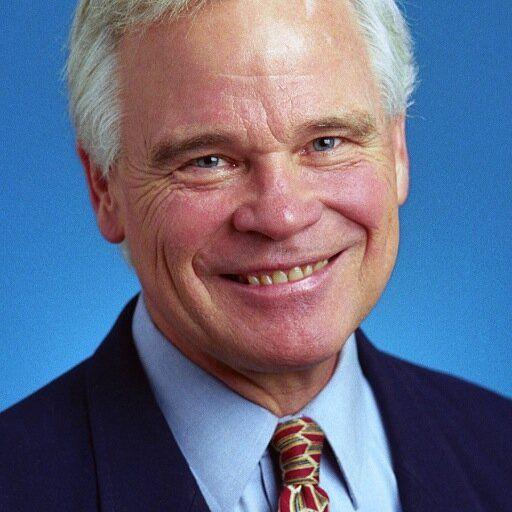 Our regular columnists on the page are interesting. Two are Democrats, D.G. Martin and Tom Campbell, Hudson is a Republican and I assume John Hood is a Republican too.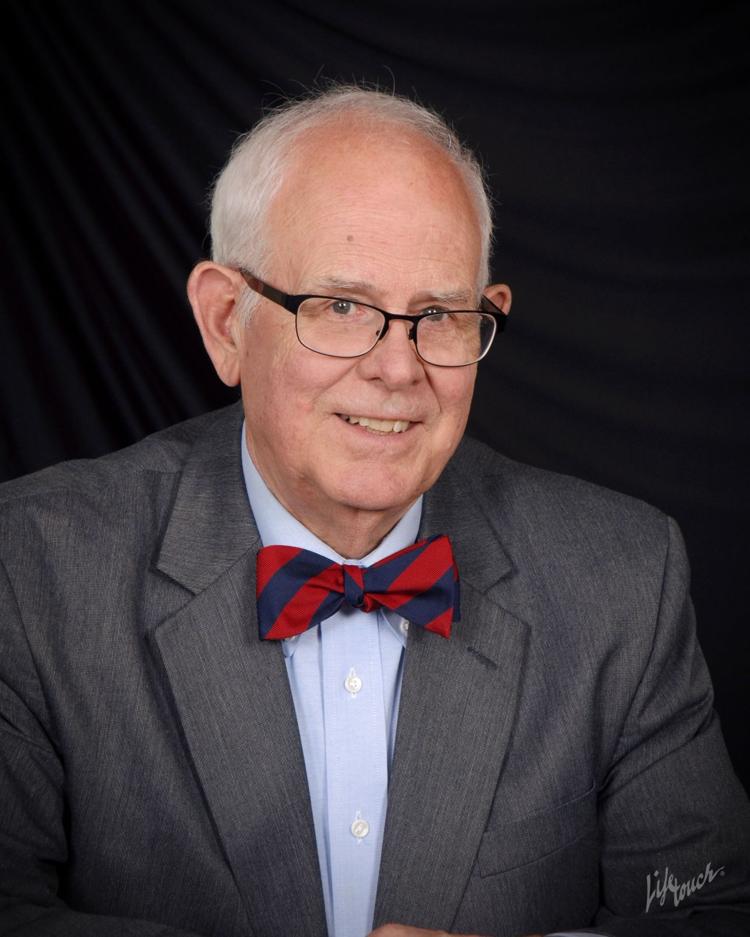 D.G.'s column often is not political. Campbell is a former bean counter and a moderate. Hudson and Hood are both very conservative. I think they provide a good mix.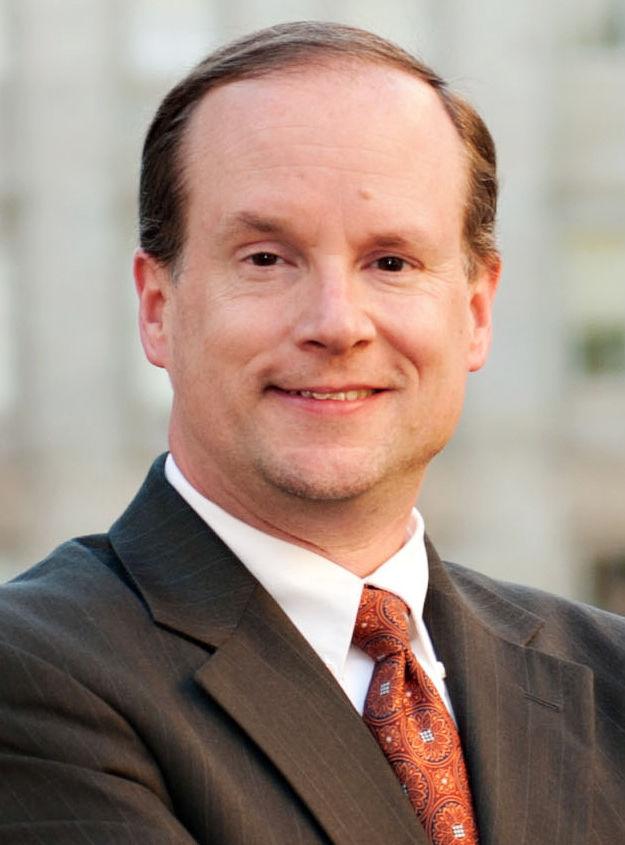 Most of the other content on the page is contributed locally, either letters or columns.
I do miss the days when we had Paul O'Connor, based in Raleigh, providing political news and commentary.
Keeping the page always wins my debate, because I believe stirring the pot is beneficial and stimulates needed conversations.
A twist on political signs. Political signs or as I like to call them "litter" are everywhere now that early voting has started.
Most are pretty basic, but two candidates have added an extra touch.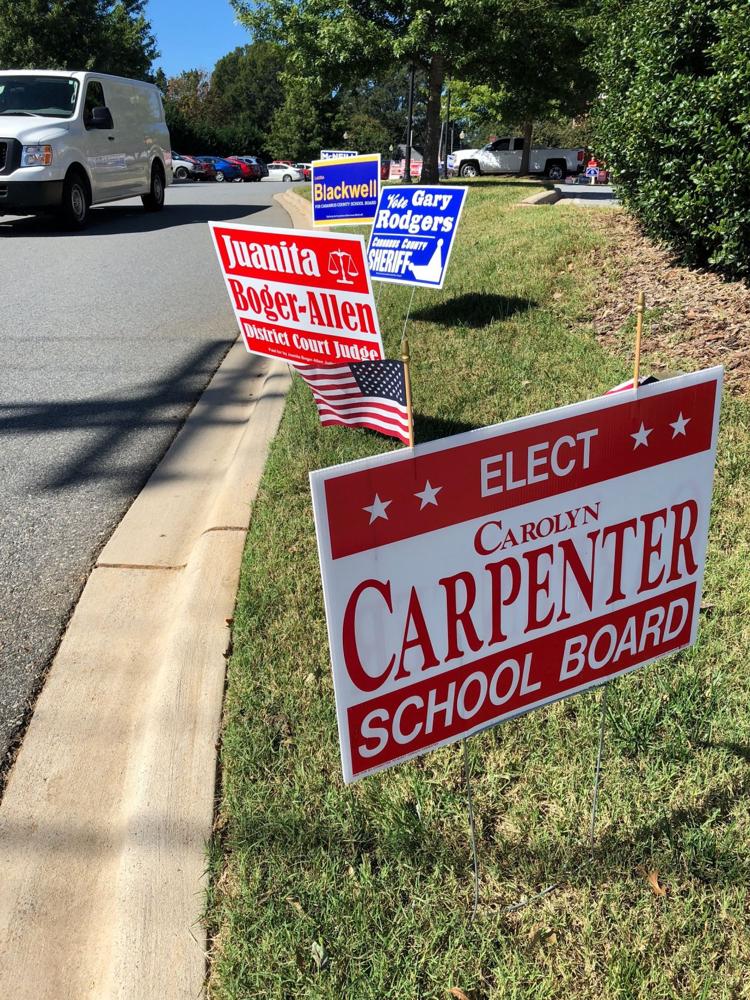 Cabarrus School Board member Carolyn Carpenter has added actual American flags to her sign. State senate candidate Mark Shelley added real North Carolina flags to his. It makes their signs stand out.
Of course nobody goes to the lengths that the late Sen. Jim Johnson went to. Does anybody remember his big plywood cartoon campaign signs? I miss Jim. He always stirred things up.
I don't vote early. I know it's more convenient for a lot of folks but I am paranoid. What if something happens before election?
A candidate might go off the rails and do something illegal or immoral. What if somebody gets a DWI? I don't want to have voted for them and then not be able to change.
Of course it wouldn't be the first time I have voted for someone only to find out later about bad acts.
Please vote and please find out who you are voting for.