"We are transporting cities every day to and from school."
Brian Schultz, Cabarrus County Schools assistant superintendent of auxiliary services, gave a report about the beginning of the 2019-20 school year during a recent work session of the Cabarrus County Board of Education. The report included information on transportation, technology, new hires and curriculum.
"Opening of schools is very much a collaborative effort, but there's a large-scale impact to auxiliary services and what the auxiliary team does to launch schools," Schultz told the board. "From all perspectives I think the start of school was really smooth this year."
In the transportation portion of the presentation, Schultz said buses are making approximately 9,100 stops and traveling about 29,000 miles a day. They are also transporting approximately 26,000 students to and from school a day. Schultz said this is equal to the population of the City of Asheboro at 26,474 or Kernersville at 25,041.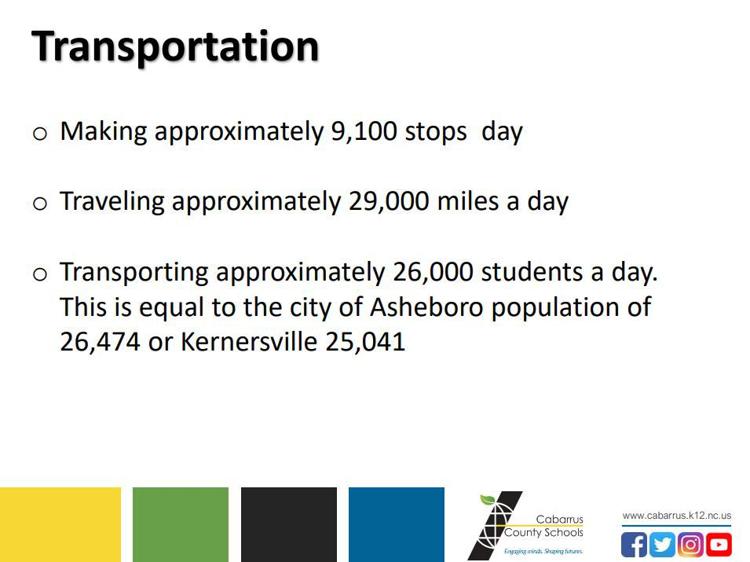 To prepare for the new school year, the district's facilities department completed a multitude of projects over the summer.
Maintenance projects included applying 16,850 gallons of floor wax in all buildings, treating all facilities for fire ants and completing plumbing projects to update toileting fixtures and flush valves.
- Upgraded outdated and worn custodial equipment
- Completed HVAC and HVAC controls upgrades
- Completed J.N. Fries renovations
- Completed renovations for EC rooms
- Replaced fire alarm system
The department also installed 14 mobile units at various schools. Schultz said that includes doing electrical, sewer, moving safety fencing and installing technology.
"It's a huge project to pull off during the summer and we go up to almost the opening of school to make sure those are ready, but we definitely got those pulled off for this school year," Schultz said.
Board Chair Cindy Fertenbaugh took a moment to thank Chuck Taylor, director of facilities, and his team, for what she said was an excellent job in renovating mobile units.
"I was in a mobile unit last year that needed some repairs and they renovated it last fall sometime, and to see it again recently, it's amazing," Fertenbaugh said. "I couldn't believe they could take that on structure and do everything they did to make it better. It was a great use of money as opposed to buying a new unit."
As a side note, Schultz said the facilities department also removed a fox from Jay M. Robinson High School.
"He was not a threat to anyone. He was removed and restored in a new home," Schultz said.
As of the end of August, nearly 11,000 students were processed for free or reduced-price meals.
Royal Oaks, W.M. Irvin and Wolf Meadow elementary schools are also participating in the Fresh Fruit and Vegetable Grant program this year. This federally assisted program provides free fresh fruit and vegetables to children at eligible elementary schools during the day. The goal is to introduce children to new and different fresh options and to increase overall acceptance of consumption of fresh, unprocessed produce among children.
"It's filling a nutrition gap but it's also exposing students to what fruit really looks like, and maybe some uncommon fruit," Schultz said. "Dragon fruit, kiwi, things that aren't sold at a cash register of a local convenience store.. So there is exposure and nutrition piece as well."
Plenty of work with technology was also completed before the school year began. Phones, intercoms, classroom technology and network wiring were installed in all mobile units. All instructional technology facilitators were trained on new district software and cameras were installed at Mt. Pleasant and Central Cabarrus high school football fields for video streaming.
Overall, the following newly-leased student and front office devices were delivered and installed before the first day:
The district hired 76 beginning teachers this year and provided a new teacher orientation for 232 newly-hired certified staff over the summer.
On the first day of school, the Human Resources Department said there were only four teacher vacancies.
After the first two days of school, Schultz said the district had a debriefing with cabinet and facilities staff and it was "amazing" how few issues there were.
"We did have some issues. Transportation ran long at some of the schools. We had to find a couple of students that were not in the place their parents thought they were, but all of the stories were really positive," Schultz told the board. "By about Wednesday, 99.8 percent of the transportation routes were running almost perfectly and we still have a couple of tweaks we are making this week because we are still accounting for who is riding the bus and who is not. Most of the time, more people sign up for the bus than are actually riding it. So we are leveling out those numbers and making sure that we have the ridership the way that is most efficient for our district."