National Missing Children's Day is Saturday and the Charlotte division of the FBI is asking for leads or information regarding three missing North Carolina children.
Asha Jaquilla Degree was 9 years old when she was reported missing from her Shelby home in February 2000. Police said Asha left the home and walked along North Carolina Highway 18 in Cleveland County. A year later, her bookbag was found along NC 18 in Burke County.
There is a $45,000 reward for information that leads to Asha or an arrest.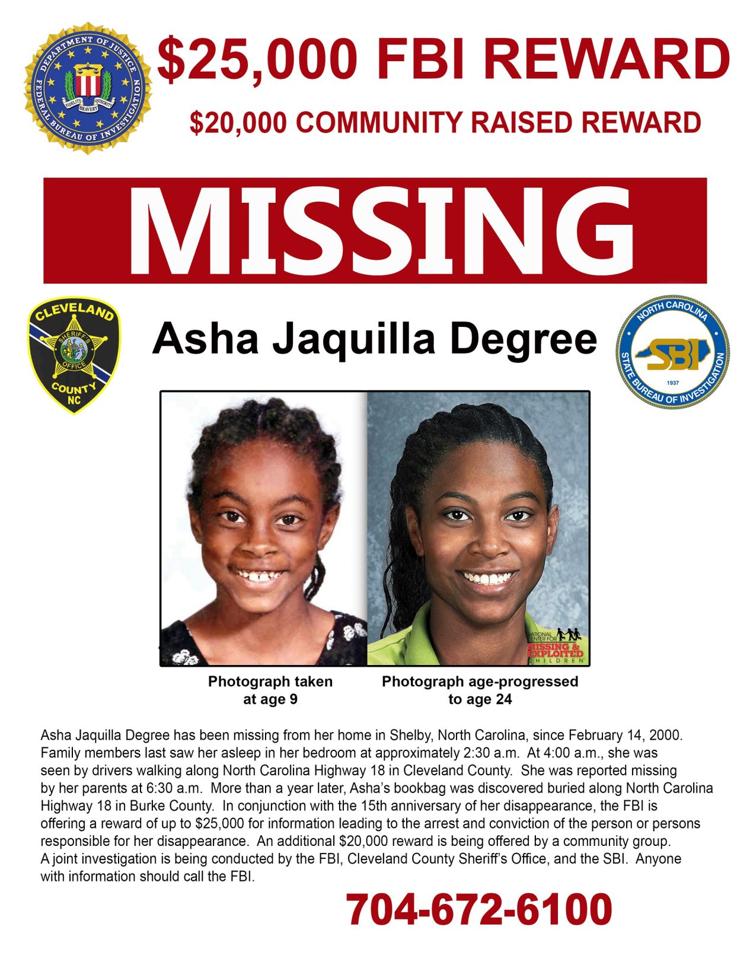 Sara Nicole Graham, then 18, left her home in Fairmont to go to work at Wal-Mart in Pembroke in February 2015, but she next showed up. Her van was found abandoned in a field later that day.
Graham is described as a Native American girl, 5 feet 4 inches tall and weighing about 160 pounds with brown eyes and dark brown hair.
The FBI has offered up to a $5,000 reward for information leading to Graham.
Abby Lynn Patterson was 20 years old when she disappeared in September 2017. Officials said she left her Lumberton home and was seen getting into a brown Buick, and had not been seen or heard from since.
Patterson is described as a white female, 5 feet 7 inches tall and weighing about 140 pounds with brown eyes, brown hair and a tattoo of a bird on her shoulder.
Anyone with information on the cases is asked to call 911 or FBI's Charlotte Field Office at 704-672-6100.