Are you looking for that great getaway for your anniversary or a special weekend for a few friends? You may have just found the answer.
Meet Waynesville's newest innkeeper, Anna Kitzis. She had always wanted to run a bed and breakfast and in March her dream came true. She is the sole proprietor of Oak Hill at Love Lane and she enjoys hospitality and taking care of people.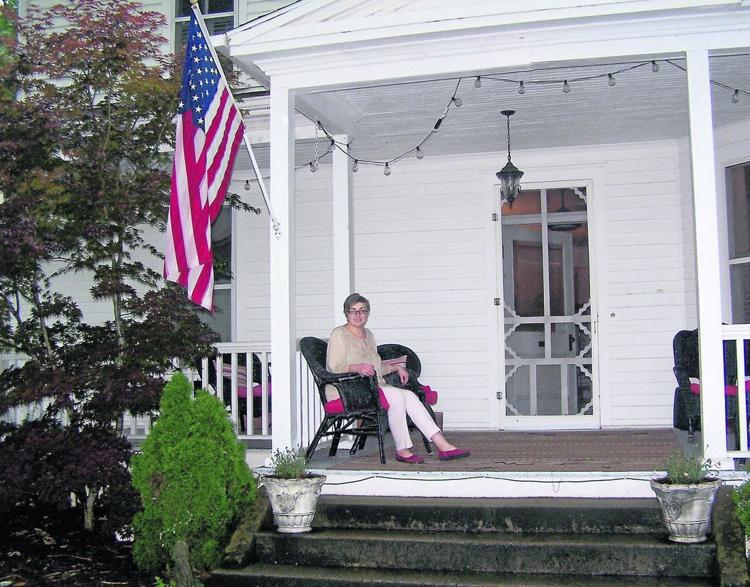 Anna (pronounced ä-nə in Europe) was born in Poland and her family came to America in 1971 when she was only a child. They came to join her mother's family for a better life with more opportunity. Her dad had worked as a freelance photographer in the Soviet Union until he married her mother. He came to the U.S. on a work contract as a dental technician to New York, while Anna and her mother joined her grandparents and uncle in Boston. After her father was able to transfer to Boston, her mother joined him and worked in the same practice modeling porcelain teeth.
Anna received a Bachelor of Fine Arts from the School of Museum of Fine Arts of Boston and lived and worked there until 2018. A week after her dad passed in December of 2017, Anna sold their house. She had been researching a move to Western North Carolina while her dad was still alive and even attended a B&B Conference in Maine. Her friend took Anna to a craft fair in Boston. Many of the booths were Asheville vendors.
"Asheville just kept coming up," Anna said, though she had never heard of it. "It would even be mentioned in a movie or a fiction book." Her interest in art compelled her to visit Asheville twice later with a friend to scope out the area. Later in 2018, she sold her house in Boston and moved to Asheville hoping to find a bed and breakfast for sale in the area. After staying with a Ukrainian family at an Airbnb for a month, a Realtor contacted her and informed her that a Bed and Breakfast may be for sale in Waynesville.
Anna knew that one of the things she would like to offer at her B&B was a gallery where artists and artisans could show case their work and maybe even run some workshops.
After looking at several bed and breakfasts, after one visit to Oak Hill, she felt that it was the one for her. "The house likes me as much as I like it. The rooms envelope me!" Anna said.
The guests love the gorgeous view of downtown Waynesville from the front porch of Oak Hill. "People love a small town feel. It's like a town in a movie set," she said.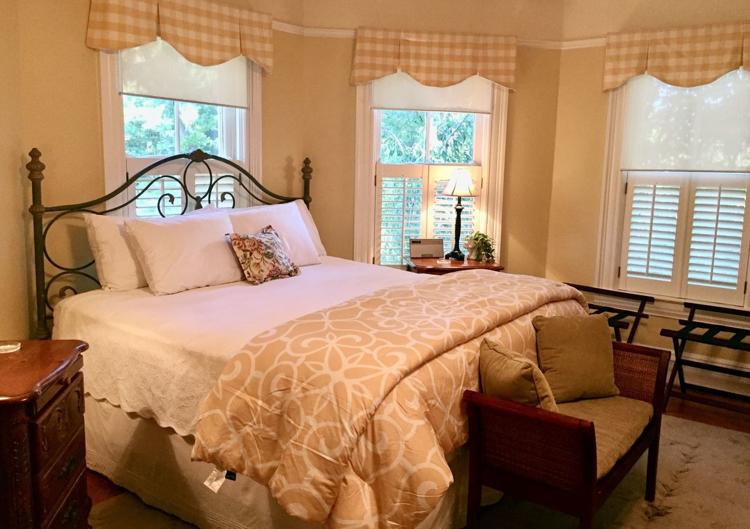 What makes a bed and breakfast different from a hotel? Anna said, "A bed and breakfast has personability." The people interact more and share stories while celebrating their anniversaries or other special occasions. "You don't hear that anywhere else," she said. After all, it is Oak Hill on Love Lane. The name lends a romantic feel to the inn, and that can be attributed to the original landowner whose last name was Love. The guests share a common dining room unless they prefer a private dining experience. Dining together affords opportunities to meet people from different walks of life and stirs conversation. One recent weekend, a doctor, a pastor and a freelance writer conversed during breakfast.
Guests include anyone over the age of 18 except furry friends. No pets are allowed so that guests with allergies can enjoy their stay. The Oak Hill Bed and Breakfast is convenient to hiking trails, just one mile away from downtown Waynesville, and not far from gambling in Cherokee.
The average cost of a bed and breakfast is anywhere from $135 - $280 per night depending on the location, room type, amenities, and season. The rates are usually a little higher than a hotel, but the experience far exceeds the difference.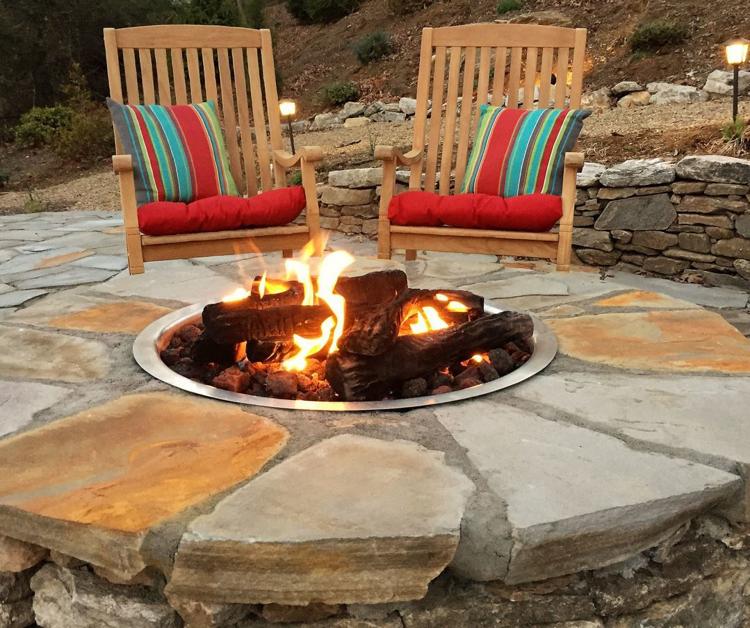 A couple of the amenities at Oak Hill are a gazebo on the front lawn with rocking chairs and a fire pit on the lower lawn facing Waynesville. Both are perfect for a little R & R or for a celebration.
Anna said, "I love to cook!" She offers unique dishes with an eastern European flair. Her raw potato pancakes or apple fritter pancakes with yeast are popular. Her Polish slaw with grated carrots, apples, lemon and honey are a favorite. She does not use refined sugar in her cooking so her guests can eat healthier. The Blinis – a Russian style crepe with fruit filling or cream cheese show up on the table some mornings. But of course, Anna prepares Southern dishes for those who love a traditional breakfast too.
She shared a humorous story about a food disaster. She had made double-sided French toast and while she was serving her guests, one side burned. She said that she was able to take off the burned side and serve the French toast as if nothing had happened.
This three-story house called Oak Hill on Love Lane Bed and Breakfast is now on the National Registry of Historic Places. Clyde Ray was the original owner and the house took two years to build. It was completed in 1900. The house has been restored and most of the original plan is still the same.
Ann C. Wayne is a freelance writer based in Concord.