NASCAR driver and Cabarrus County native Daniel Hemric established the Daniel Hemric Be the Change Scholarship with the Rowan-Cabarrus Community College Foundation.
Starting this fall, the endowed scholarship is available annually to one students from Cabarrus or Rowan County that qualifies for financial aid and has chosen a field of study in motorsports, welding or mechanical engineering.
Hemric and his wife, Kenzie, visited the college's campus at the Cabarrus Technology Center off of Concord Parkway where the motorsports program is housed to make the scholarship announcement.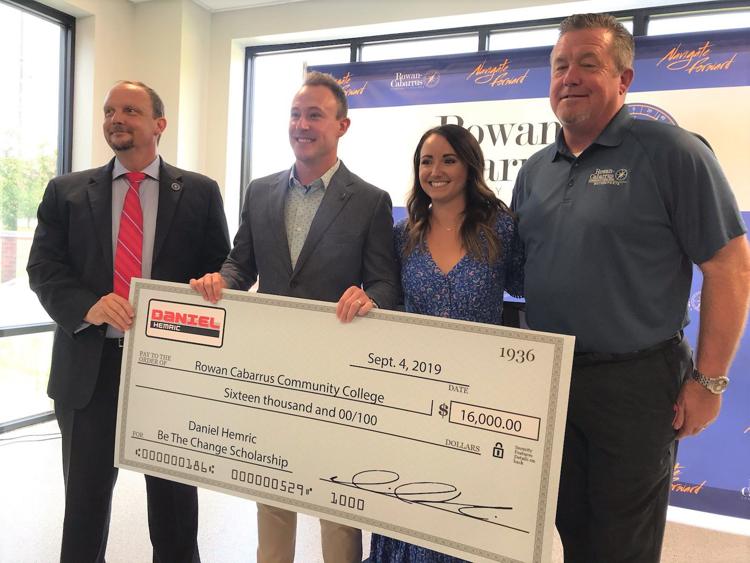 "We thought there is no better way for us to make that donation back to the community and try to make a difference than to be a part of Rowan-Cabarrus Community College," Hemric, driver of the No.8 Chevrolet for Richard Childress Racing in the Monster Energy NASCAR Cup Series, said. "If they (students) need help, we want to be the ones to step up and approve that scholarship to those folks and give them an opportunity. We want to give them opportunities they wouldn't have without having this scholarship to lean on."
The timeliness of Hemric's scholarship news coincides with the relaunch of the motorsports program this fall semester at Rowan-Cabarrus Community College.
"Daniel's support of the newly-relaunched motorsports program is extremely meaningful," Dr. Michael Quillen, vice president of academic programs at Rowan-Cabarrus, said. "Having a Cup driver from Kannapolis show interested in and support motorsports at Rowan-Cabarrus Community College demonstrates the timeliness of the revamp of the program to address the immediate job needs in our area, as well as those of the future. It is partnerships like the one with Daniel that helps the college improve lives and build communities through public higher education and workforce development."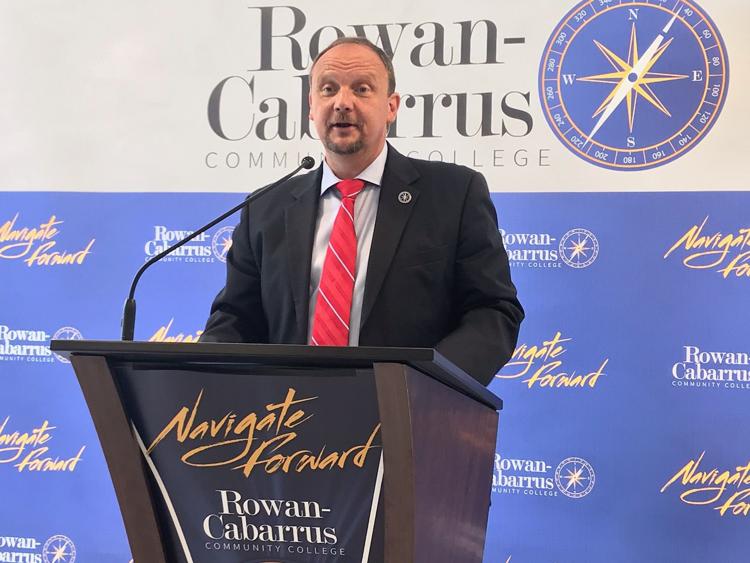 After touring the college's motorsports facility, Hemric told those in attendance that he could have easily seen himself attending Rowan-Cabarrus if his racing career hadn't taken off. He began racing go-carts as a child, but said at about 13-years-old, his parents told him that if he wanted to continue in the sport he needed to start looking at ways to finance himself.
"So off I went, knocking on doors and doing whatever I could for someone to give me an opportunity; just wanting a shot. Wanting somebody to put faith in you to know if they gave you that opportunity, you'd make the most of it," Hemric said. "As time went on, many people stepped up and filled that void and I can only imagine the burden that took off my parents for people filling that void for them."
Looking back on his career, Hemric said he was overwhelmed with all the people who helped hi, along the way but also realized that he never came up with a backup plan.
When he and Kenzie started talking about what they could do to give back to the community, Hemric said Rowan-Cabarrus kept coming to the forefront.
"I never took time to make that backup plan because I figured if I had a backup plan I wasn't fully committed to my original plan. As I got older and started looking back at how fortunate I was, I thought that if it wouldn't have worked out, I would have ended up here," Hemric said. "At RCCC or something along these lines to try to have a tech job, to learn a trade, to learn a craft that would propel me to the motorsports industry in a different capacity or different way."
He shed a few tears when explained the decision to name the scholarship "Be the Change," after a Corey Smith song.
"The song talks about trying to help somebody and be that positive outlook you can be for somebody," Hemric said. "A philosophy I try to live by and hopefully the people's lives we change through this scholarship will do the same down the road."
The first scholarship recipient will be announced this fall and awarded to one student to help cover tuition costs during the 2019-20 school year.
"Since relaunching the motorsports program at Rowan-Cabarrus Community College we have increased enrollment in the program by over 50 percent," Pat Wood, chair of the Motorsports Program, said. "We have updated the curriculum to address the immediate job needs in our service area as well as to prepare for jobs of the future. We have created a strong advisory committee and we are growing partnerships with local leaders in this industry. The relationship with Daniel is so meaningful to our college and to our students' futures."