CONCORD – When the existing Cabarrus County Courthouse opened in 1975, the county population was about one-fourth the size it is today.
Construction on a new courthouse in downtown Concord is set to begin in May 2020.
On Wednesday, county officials and architects working on the project answered questions and received input from the public at the Cabarrus County Government Center, and on their Facebook page.
Seventy people attended the public question and answer session.
"The judges have been requesting to consider a new courthouse for probably 10 years now," Deputy County Manager Jonathan Marshall said. "They have been meeting with the commissioners and making these requests for at least 10 years, and very heavily for at least 10 years. We have out-grown that courthouse, and some."
The new courthouse, which will be built along Church Street, across from the county government center, is expected to be completed by January 2023.
It will connect to the existing courthouse, which will eventually be renovated.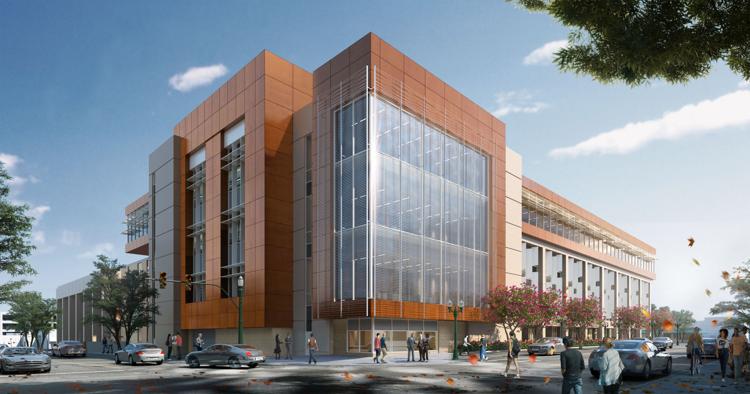 The cost of the project is around $100 million, and the entrance will be placed along Means Avenue, which will turn into a pedestrian plaza.
In total, the new courthouse will be about 280,000 square feet.
It will include 14 new courtrooms, a large traffic courtroom and offices for judges, district attorneys and clerks.
"The new one will be built and the existing courtroom will continue to operate while the new one is being built," Marshall said. "Then once we move the operations into the new courthouse, we will start remodeling the existing one because we will need that space too."
The new courthouse was designed by Silling Architects, a firm from Charleston, West Virginia that has designed many courthouses throughout the region.
Silling Architect gathered a group of people who use the courthouse or have offices there.
"We've had lots of discussions with the building users to understand what the needs were and what's unique to the judicial and law culture of Cabarrus County," said Jody Driggs, with Silling Architect. "We try to tie it into some of the legacy and identities of Concord and this county and area of North Carolina, and how to subtly weave that into the detail of the building."