CONCORD – When Zac Fowler was just three years old, he went to a go kart track and didn't want to leave.
Driving fast is his passion, one that started when he was a toddler.
Fowler, a Concord resident who moved with his family from Ellicott City, Maryland a few years ago, is living his dream, driving the No. 5 Outlaw Bandolero car in the U.S. Legends INEX Series.
"He said he wanted to do this," said Glenn Fowler, Zac's father. "I bought him a Go Kart and he went around the high school parking lot until he had to be 5 to race. When he was 5, we put him on the track. He's been foot to the floor ever since."
For the third year in a row, Fowler is racing in the Bojangles' Summer Shootout, a 10-race event on the quarter mile front stretch at Charlotte Motor Speedway.
On Tuesday, July 16, he will honor local emergency responders on First Responder Night at the Speedway.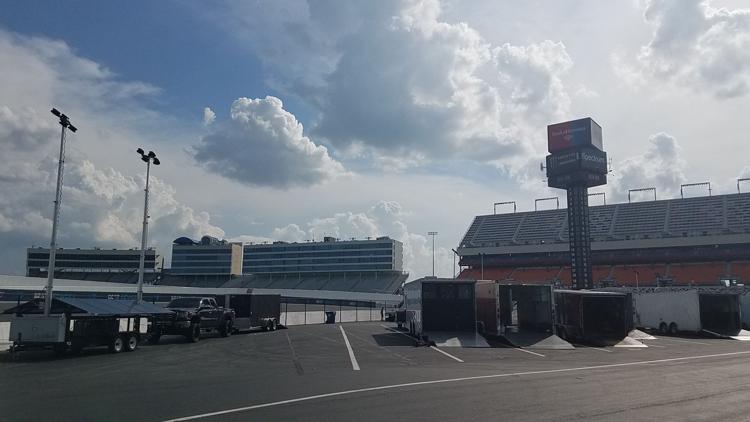 Local first responders, including the Concord police and fire departments, are providing a decal of its shoulder patch logos for Fowler to place on his car.
"They help a lot. They really get overseen," 14-year-old Fowler said. "They never get thanked enough and I really want to thank them for all they do."
Concord Police Chief Gary Gacek said the department is appreciative of the support.
"I appreciate their support and willingness to showcase our logos during the races on First Responders Night at the speedway," Gacek said.
Fowler, who will be a 9th grader at Cabarrus Early College of Technology this fall, started 12th at the most recent race on Tuesday because he got spun out in the heat race.
However, he rallied to finish 7th in the feature race.
"We always want to go out there, and win and if we can win for the first responders, it's going to be a big thing," Fowler said.
Fowler has watched racing with his father since he was at least a year old.
Then, he got a Jimmie Johnson Power wheels car and then a go kart.
Fowler began racing go karts when he was five years old, and now he is driving around Charlotte Motor Speedway.
"It's a dream. It's awesome," Fowler said. "Coming to a race track that one day I could be racing at, it's really a big dream."
Fowler and his father bond by working on the car daily and preparing for races.
Fowler's racing crew consists of his father, Glenn, who helps with maintenance on the car, and mother, Brandy, who works on social networking.
Fowler and his family moved to Concord in 2016 to continue his dream of racing.
He raced beginner Bandolero cars in 2017, the progressed to the Bandit level and is currently racing at the Outlaw level.
"There's a lot that goes into this, a lot of working on the car," Fowler said. "What I'm enjoying the most is the competition. The competition is so even. It's a lot of fun."
Fowler, currently sitting in 7th place out of 19 drivers at the Bojangles' Summer Series, said the next step is to race a Legend car or a late model series car, and eventually make it to the NASCAR Cup Series.
The Bojangles' Summer Shootout races every Tuesday evening at Charlotte Motor Speedway until July 30.
"I'm hoping that someday I will make it to the Cup Series," Fowler said. "That's my big goal. Hopefully we will keep the dream going and one day will be on the big level."