On July 27, 2019, St. John's Reformed Church on North Main Street in Kannapolis will turn 100 years old. St. John's is one of the five original downtown Kannapolis Churches, along with Trinity United Methodist Church, First Baptist Church, First Presbyterian Church, and Kimball Evangelical Lutheran Church. All five are still in ministry. St. John's is the only one of the five churches that still meets in its original building. 
St. John's remains a warm and welcoming congregation for members and especially guests. This community of faith shares a vision to grow spiritually and serve the diverse people in their community.
Reformed Christians arrival
Reformed Christians arrived in our area over 250 years ago. Originating in Germany and Switzerland, in eastern Cabarrus County the Reformed worshiped in German with the Lutheran settlers. Theologically similar, the two traditions disagreed primarily over an understanding of the presence of Jesus Christ in Holy Communion.
The first German Reformed arrivals came down from Pennsylvania along the Great Wagon Trail into eastern Cabarrus County in the 1740s and up from the Orangeburg area of South Carolina. They worshiped at Dutch Buffalo Church (now St. John's Evangelical Lutheran) church near Mt. Pleasant in 1745. Over the years, the Reformed and Lutherans then developed separate congregations.
Original Reformed congregations
In 1766, Cold Water Creek was a union congregation including both Reformed and Lutheran members (exclusively Lutheran church after 1871). Samuel Suther, born in Switzerland in 1722 and a school teacher, was the first Reformed pastor around 1768. He preached in German.
By 1771, there were about 4,000 Reformed believers in our area. The Reformed supported and fought in the American Revolution. Occasionally French and Swiss Reformed pastors from South Carolina visited for preaching, teaching, and the sacraments.
Other Reformed congregations included Savitz Reformed (now Mt. Zion United Church of Christ established in 1755 in south Rowan County Grove and Grace Lower Stone Reformed Church in 1795 in Rockwell. That beautiful building with native stone was dedicated in 1811. Bethel Bear Creek was established in 1806 near Mt. Pleasant.
Mt. Gilead now New Gilead Reformed Church (on the Old Salisbury Rd.) began in 1854. Trinity United Church of Christ (1880 in Concord), and First Reformed Church of Landis (1919) are also heirs of this tradition.
In 1831, seventeen Reformed congregations in North Carolina organized a regional conference called a Classis. In 1851, these churches created what we now call Catawba College in Salisbury.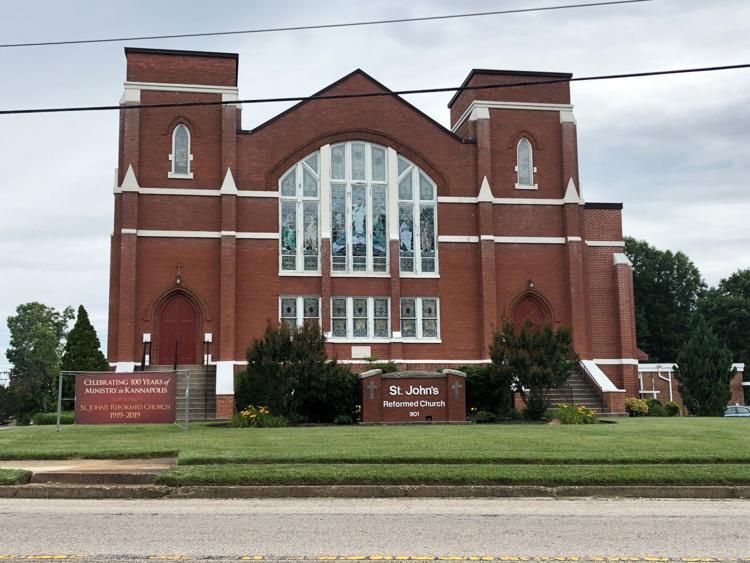 After the establishment of Kannapolis in 1906, the Kannapolis Reformed Church (now St. John's) organized in 1919. The Reverend John Keller, from Mt. Zion in China Grove, began preaching at the local YMCA. The first service was held in their new sanctuary in 1921, in which they still worship. In 1934, the Reformed denomination merged with their spiritual cousins the Evangelicals.
In 1957, St. John's Evangelical and Reformed Church, in another merger of similar but different denominations, became St. John's United Church of Christ. In 2014, the congregation returned to its roots and became St. John's Reformed Church. Through all the name changes, the congregation has held fast to a more conservative Reformed theology. Today, the Reformed are less a denomination and more a community of like-minded congregations.
Reformed theology began with the Protestant Reformation in the 16th century in Germany and Switzerland. The 1563 Heidelberg Catechism still shapes their belief and is used in Sunday worship.
Guided by the theology of Ulrich Zwingli and John Calvin, Reformed Theology holds to the authority of Scripture, the sovereignty of God, salvation by grace through faith in Jesus Christ, and the necessity of evangelism. This belief system is also called Covenant Theology because of its emphases on biblical covenants that God established with chosen people. The Reformed believe themselves to be heirs of all such covenants.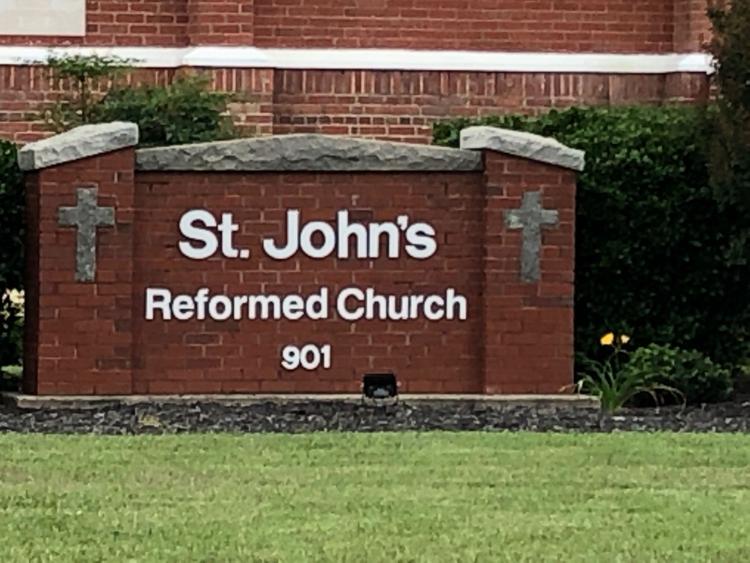 The mission of St. John's is to minister to all people with love and compassion by knowing Christ, growing in Christ, and going with Christ. They understand the changing and challenging culture in north Kannapolis with the spiritual, physical, and emotional needs of their neighbors.
Connecting with the students, teachers, and staff at Woodrow Wilson Elementary School next door and local businesses, the church seeks to be a community partner. The congregation also supports Cabarrus Cooperative Christian Ministry, Rowan Helping Ministries, Crisis Pregnancy Center, Kannapolis Bible Teaching, and Opportunity House & Narrow Gate.
St. John's members and staff optimistically believe that God will provide the resources needed for their congregation and community. St. John's today has a membership of just over one hundred people and a worship attendance of about 60.
The congregation gathers for worship at 10:30 a.m. on Sundays. They are out before noon. The lovely sanctuary includes white stucco, rich wood, and stained-glass windows. The multi-generational congregation is welcoming.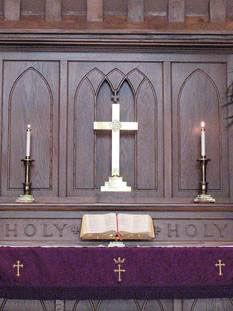 Their worship is unashamedly traditional in harmony with their Evangelical and German Reformed heritage. The pastor and choir wear robes. They baptize both children and adults. Traditional hymns are blended with modern praise songs. Holy Communion is celebrated once every three months.
The Reverend Dr. Chris King preaches around twenty minutes an expository sermon concluding with a challenge. Pastor King grew up Southern Baptist, trained as a Presbyterian, and has been at St. John's for three years. He feels called to this passionate congregation that is positive about its own future and that of its community.
Thanks to Diane Fink and Chris King for help with this article.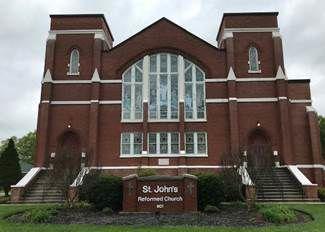 Andy Langford is a retired pastor, who most recently served Central United Methodist Church in Condord. He has lived in Cabarrus County for over 15 years and loves our community. His brother-in-law is pastor of National Presbyterian Church in Washington, D.C.  Contact: andy@concordcentral.org.