KANNAPOLIS – One thing drove him – to make Henry and Constance Klutz proud.
It's a motivation that's been a part of Shelwyn Klutz's life for at least the past four decades, but probably even longer than that. And it's helped make Henry and Constance's baby boy a successful coach, a respected educator, a gentle soul and – most important – a man of honor.
Nobody's perfect, as Klutz, now the erstwhile A.L. Brown boys basketball coach, will be the first to tell you.
But over a career spanning 30 years in Cabarrus County, he's shown us that expressing even the smallest acts of kindness can leave a near-perfect impact on a community – and a family legacy.
If you've ever encountered Klutz, you know what I mean.
Have you ever left his presence without a smile on your face?
How many times have you ever seen him angry?
(OK, maybe a referee or two has seen that, but it probably hasn't happened much.)
But the man epitomizes "friendly."
Klutz is the type of guy who, in a grocery store filled with panicked coronavirus shoppers, would let people with carts loaded with toilet paper go in front of him while he quietly waited to pay for a single loaf of bread.
This is the man we've all come to know over the years, and, sure, a lot of it is just in his DNA.
But what's really remarkable is how Klutz has endured his share of pain – unimaginable pain, quite honestly – and other challenges to become the man we all see today.
And as the days pass following his sudden resignation a few weeks ago, no matter who takes his spot on the Wonders' bench, we're going to see just how fortunate we were to have someone like Shelwyn Klutz leave an imprint on our lives.
So hard to say goodbye
As he sits in a room in storied Bullock Gymnasium on a recent sunny day, Klutz projects a sense of peace.
Well, sort of.
A great deal of thought, with a little bit of agony, went into his decision to step down from the position he's held since 1997, and it was complicated by the fact that he wasn't leaving just any old school.
A.L. Brown is his alma mater. He built his name here. In fact, his name will be here forever, in this building at least, because it's plastered on the Bullock walls as one of the Wonders' 1,000-point scorers.
Back in 1983, as a versatile sixth man, Klutz helped the Wonders win 25 games, a record that stands to this day. That same year, he made the All-Western Regional team, setting up a senior season that would see him repeat that feat and become the South Piedmont 3A Conference Player of the Year.
Just down the hill, he was also an outstanding player on the football field, spending his final season as a gangly quarterback engineering the Wonders' option attack. He was good enough to earn all-conference honors in that sport, too, and even get a few scholarship offers, but his true love – other than a pretty A.L. Brown cheerleader named Carletta – was the hardwood.
So leaving this place as the winningest coach in program history wasn't something easy to do.
"It's bittersweet," Klutz said. "It's hard to explain. It's like sometimes it's not real. The emotions still come and go, but I feel like I made the right decision."
He pauses.
"But I don't know, to be honest with you," he said, shaking his head with a smile. "But I'm just going to step out on faith and just see what happens."
Klutz makes one thing very clear: He's stepping down at A.L. Brown, but he's not eliminating the possibility of coaching elsewhere in the future.
It was just time, he said, for a change in his life. He's 53 years old, tall, lean and in good health. He said he was lucky enough to convince Carletta to marry him 25 years ago, and, by God, he's going to spend more quality time with her and their two adult sons.
Beyond that, there is no particular "why" he stepped down from his post.
"I can't put my finger on one particular thing," Klutz said. "I've enjoyed every moment, and I feel very fortunate to stay in one place for so long. But I just think at this point of my career – 31, 32 years in public education and 30 years of coaching – it's just time for me to step back, catch my breath and maybe see if any other opportunities are out there.
"I'm not officially retired. Coaching's in my blood. I'll never say I won't coach again. But right now, I just think it was time for me to step back and maybe spend some time with my wife. She's been very supportive over these years. We haven't been able to do a lot of traveling over Christmastime and things like that. And life is short. I know I'm going to miss it. But I just thought it was time to see what other things are out there for me."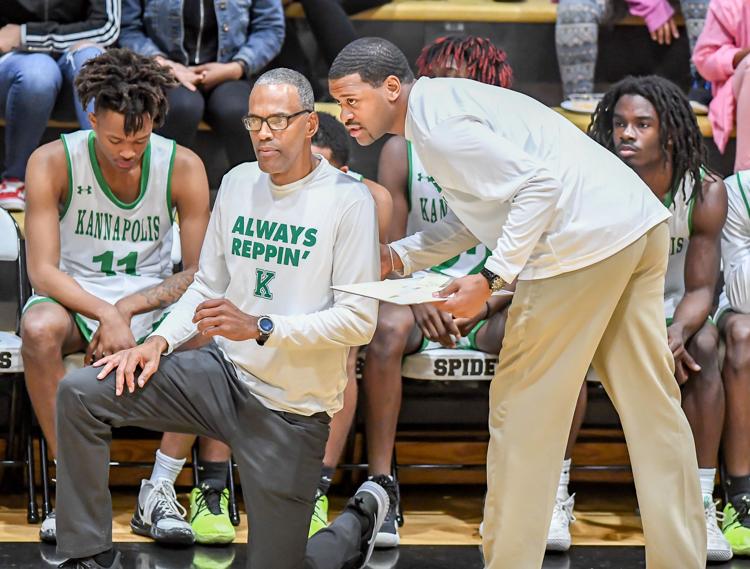 The power of perseverance
By now, everyone around these parts – and far beyond, for that matter – knows that Klutz is, as we old country folks like to say, "good people."
When you meet Klutz, you've probably made a friend for life. At the very least, you feel like you've known him your whole life, that optimist who always seems to find the best in folks in a world tattered with sarcasm and bitterness.
The ironic part about that is that Klutz grew up with every right to be bitter.
When he was just 10 years old, his father and first role model, Henry Louis Klutz, was murdered while working in Washington, D.C.
It was heart-wrenching.
Still in elementary school and the youngest of three children, Klutz didn't know what to do after learning of his father's death.
"We never really got the whole story," he said. "That was a great tragedy to our family."
It was then, as a young boy in the midst of unfathomable tragedy, that the true character of Shelwyn Klutz began to manifest itself.
He wasn't the leader of the house. His mother, Constance, showed early on after her husband's death that she was going to do whatever it took to help her children reach their full potential. Plus, his two older siblings – sister, Teresa, and brother, Quintin – were ready to shoulder their share of the responsibilities.
But young Shelwyn looked at his mother's example and decided he was going to honor her -- and his father's memory – by simply being the best person he could be.
"I don't think you ever really get over things like that," Klutz said of his father's death. "But growing up through my teenage years and all through college, I always tried to do things the right way in his honor. It really took a toll on us, but it was something that always kept me motivated to do the right thing and try to be successful."
The meaning of a role model
Even as a little boy, Klutz gave a valiant effort to be cordial and outgoing, even as he was dealing with so much pain. And while it was an extremely difficult feat to pull off on a daily basis, the more he tried, the better he became at it.
But in the quiet times, he was still hurting. His middle name, Louis, comes from his father, and he missed him like crazy.
"He was my first baseball coach," Klutz said, "and he was a pretty good athlete. When I look back, you think about a lot of things you missed – he didn't get to see you graduate high school, he didn't get to see you graduate college or get married. That's the sad part about it.
"But like I said, I just tried to do the right thing in his honor and stay focused and stay away from the wrong crowd and try to make good decisions."
Still, it's hard enough for children from two-parent homes to stay focused on such goals.
How did Klutz do it?
Well, just because his father had unfortunately been taken away from him didn't mean he didn't have a role model in the house.
That role model's name was Constance Klutz, and her youngest son drew strength from her as he watched her fight for her family while working in Cannon Mills under the toughest of circumstances.
"Just being blessed to have a strong mother – that's how I (got through it)," Klutz said. "She worked her tail off. I give all the credit to her for how she sacrificed for us, and it was really tough for her.
Even now, at age 77, Constance, still holds down a job. And, of course, it's a job helping others, as she works helping the elderly and the handicapped at a facility in Salisbury.
To this day, Klutz calls his mother "my role model," and he still reaches out to her regularly for advice.
"I also had a strong supporting cast around me," Klutz added. "My grandparents brought us in and gave us all the love and comfort we needed. And I just stayed active in sports; that was a big part of keeping us focused throughout the hard times. My brother and sister and I just tried to stay busy, and I think that sports did a great job of keeping us focused."
By the time Klutz got to A.L. Brown in the late 1970s, he was a promising athlete. He also was developing a reputation as a kind young man, but he still wasn't that far removed from his father's death.
That's where another layer of role models stepped up and made a lasting impact on Klutz, and he added everything they gave him to his personal tool box for life.
"Once I got to high school, I had the opportunity to play for coach Bob Boswell in football," Klutz recalled. "There were some important people in my life here: Coach Bill Wightman, who coached here for a long time. Coach Lex Graham, who was my high school basketball coach.
"Those guys kind of took me in, and they were more like the father that I didn't have. So I owe a lot of gratitude to my high school coaches for helping me get through that rough period."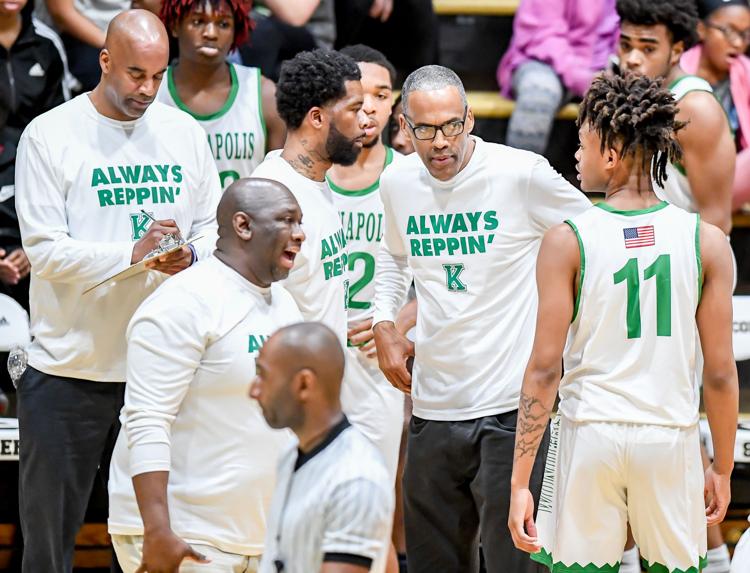 Driven
Klutz, of course, went on to become a decorated athlete at A.L.
Brown. Part of that was out of a love for the games, and part of it was out of necessity.
Without getting an athletic scholarship, going to college was nearly out of the realm of possibility for the Klutz children. So they all excelled in sports and made a pathway for themselves.
Teresa, was a standout player on the A.L. Brown girls basketball team and earned a scholarship to play at Livingstone College in Salisbury. Her name is on the Bullock Gym walls, just like Shelwyn's, as a 1,000-point scorer.
Quintin was with Shelwyn on that 1983 boys basketball team that won 25 games, but his niche sport was football, and he went on to earn a scholarship to play defensive end at Clemson University.
Shelwyn had an outstanding senior year for the Wonders. He was good enough to draw interest from UNC Charlotte and some other small schools, but he took a visit to Mars Hill, and the recruiting battle ended pretty quickly.
"I (toured) Mars Hill," Klutz said, "and they broke out the red carpet and said some things my mom loved -- like 'You don't have to pay anything.'"
Klutz lets out a hearty laugh.
"So she was like, 'That's where you're going!'
"If you wanted to go to college in my house, you had to find a way to pay for it," Klutz added. "Mom was a single parent working in Cannon Mills, so it wasn't going to happen unless you got it done. We were all fortunate enough to go to college on athletic scholarships, so she didn't have to pay anything. That just inspired me to keep trying to be the best that I could be."
Coach
Klutz's early time at Mars Hill wasn't exactly easy. The team struggled his first season in the mountains. He missed the familiar confines of Kannapolis, he missed his mother, and he definitely missed Carletta, who'd gone on to become a cheerleader after matriculating to Winston-Salem State University that same year.
Shelwyn and Carletta kept the romance going during their college years, and after graduation they moved back home and eventually got married.
Meanwhile, Klutz began his journey as a basketball coach, first at Concord Middle School. After that, then-A.L. Brown football coach and athletics director Bruce Hardin asked if he was interested in coming back home. Before long, Klutz was back in Kelly Green as an assistant coach with the Wonders football team and later the girls basketball coach.
In Klutz's first season leading the girls team, the Wonders won a single game. But by his last two seasons, they were a playoff squad.
Then, in 1997, he took over the boys program. At the time, the Wonders were going through a tough period, in terms of talent and productivity. It took a few years for them to get above .500. That's when Klutz's personal touch with the players as they dealt with hardships of losings seasons while the football team flourished really came in handy.
Players still despised losing, but they played hard for Klutz. They trusted him. They believed he believed in them. And by 2001, the Wonders were a team that was ready to threaten for a conference title.
A.L. Brown won its first 10 games that season, but then things went awry when poor grades cost some key players their eligibility. It was a tough time, but it was good that the Wonders had a leader who happened to be built for tough times.
Steadily, the wins started to come, and the Wonders won the North Piedmont 3A Conference title in 2005.
Yes, there have been more tough times for the Wonders over the years. Those lean years, I feel, didn't allow some people in this win-at-all-cost sports society of ours to truly appreciate Klutz, who's frequently had to wait until the end of football season to finally get his full allotment of players.
But Klutz did win a lot – he ranks second in Cabarrus County history with 302 career victories. And, well, high school sports are about much more than the win-loss column, and Klutz has embodied what that means as well as any coach I've been around.
Like many of the players who've graced the A.L. Brown roster over the years, Klutz knows their pain, their anger, their needs. He's lived those maladies and managed to avoid falling victim to them, unlike so many boys who come from single-parent homes and, many times, a sense of hopelessness after tragedies.
So he poured himself into his boys, on and off the court. He showed them that there's a good part of life that's also within their grasp, even when they feel like it's not and no matter what surrounds them.
"Over my time here, I've come across a lot of my former players that have grown up without a dad." Klutz said. "That's tough. Ninety-nine percent of the kids I've coached don't know what happened to me, but I just tried to set a good, positive example for them.
"I always wanted to win, but I really wanted to make a difference and try to show kids that even though you go through tough times and that a lot of things are out of your control, just try to respond in a positive way. Whatever helps you to respond in a positive way, try to find that. Try to keep focused and go in the right direction."
And one of the many great things about Klutz is that it wasn't just lip service. He wasn't just the adult telling kids what to do. He walked the walk.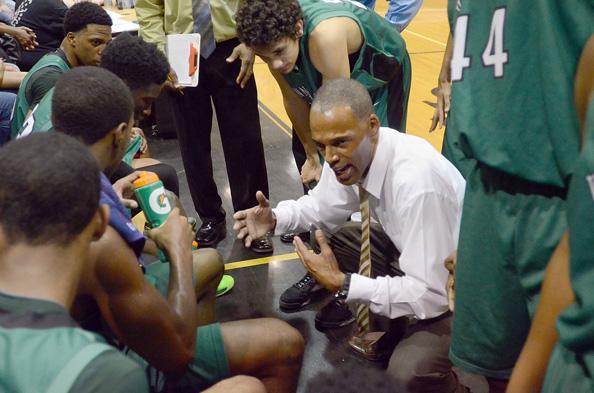 Decision time
On Thursday, Feb. 27, the Wonders lost at Gastonia Hunter Huss in the second round of the state playoffs. It was disappointing, of course, especially since the Wonders were a team many believed could go deeper into the postseason.
When he got back to Kannapolis that night, Klutz went home and got ready for bed, but he couldn't sleep. In recent years, he'd spent time questioning how long he wanted to stay in his role, and this night was especially painful. His thoughts darted: Is this really what I want to do? Am I REALLY wanting to do this?'
There were times during the night that he believed he wanted to stay. But in recent months, he'd also recalled so many tragedies that personally broke his heart – the shooting death of 13-year-old Aveanna Propst at Concord Mills in December; the murder of one of his former students, Kevon Cousar in January; the fatal helicopter crash involving NBA legend Kobe Bryant and eight others, including Bryant's 13-year-old daughter, in February.
After only a few winks of sleep, Klutz got out of bed with his mind made up. He typed up a letter of resignation and called for a meeting with athletics director Empsy Thompson and A.L. Brown Principal Angelo DelliSanti.
Klutz delivered the news to them much the way he coached.
He led with his heart.
"Once I made the decision, emotions just took over," Klutz recalled of the meeting. "The tears came. I couldn't stop them. I hadn't gotten that emotional in a long time. It's like I had just lost a family member. But they understood."
And they were just as saddened by his decision, especially Thompson, who shares a special bond with Klutz as a former A.L. Brown star athlete who went on to coach at his alma mater.
"It was tough to sit in on (the meeting)," Thompson said. "I have the utmost respect for Coach Klutz and who he is as a person, as a coach and as a person that I'm glad that I can say is a friend of mine. He's a guy that will definitely be missed in a lot of ways.
"It's been an honor to work beside someone like that," Thompson said. "I've learned a lot from Coach Klutz, just because he's a person who's done a great job of modeling what an educator should look like. I learned from him every day.
He's definitely going to be missed, but I truly wish him the best in this next chapter of his life. He deserves everything coming his way."
The walk of a winner
In the days since Klutz's resignation, he's been inundated by well-wishers.
"I've gotten a lot of great emails, phone calls and texts from people I haven't talked to in a long time," he said. "Our superintendent, Dr. Chip Buckwell, he came up and talked with me, and I got emotional again. The tears just started flowing."
As Klutz prepares to walk a reporter out of the gym last week, he's asked what it will be like no longer coming to work in a place where he's spent so much of his life.
On this floor right here, there were so many nights of ecstasy, like Jan. 11, 2020, when the Wonders beat Jay M. Robinson to help Klutz win his 300th career game. And, well, there were plenty of nights he probably felt like crying in this place.
But no matter what, Klutz always enjoyed the challenge of summoning his best while going against the best.
"We've had some great games with some great rivals here over the years – Concord and West Rowan," he said. "Those guys made me a better coach, Scott Brewer and Mike Gurley and Foster Parker way back at Concord. I had a chance to coach against Bo Brickels. Those people made you dot your I's and cross your T's. Because if you didn't, it was going to be a long night for you."
Once again, the veteran coach's heartstrings start tugging at him as more of the memories arise. After all, this is home. This is a place where he learned so much when he was a young boy in need. And then he came back to return the favor ten-fold to innumerable teenagers and a whole lot of adults, too.
"That gets me a little emotional sometimes," Klutz said as he looked up at the roof of the tradition-rich facility. "Just walking through the gym brings back so many memories. As a student, as an athlete here on the football field and on the basketball court, just walking through the halls and then coming back and spending another 29 years here, words can't describe it. I just feel blessed to be able to go out, so to speak, on my own terms. A lot of people don't get that opportunity.
"It's been a great journey," he added. "It doesn't seem like it's real. It's like a dream. I know it's going to take some time to get used to not coaching. But again, I'm not closing the door to anything. If something comes up, I still love basketball. I've still got some gas in the tank. I'm not empty. So maybe down the road, you might see me again."
We should only be so lucky.