CONCORD -- Broker Bryan's Lights of Joy started off as a project for his goddaughter, Madison.
It has grown into a big holiday party.
Broker Bryan Kalentek, a local realtor, brightens his block in the Laurel Park neighborhood in Concord with tens of thousands of lights.
He doesn't just put the extravagant lights up for his goddaughter or the community, but he does it to benefit two children's charities.
He gets donations, and will host a public party on Dec. 14, with all proceeds going to Big Brothers Big Sisters of Central Carolinas and Carolina Christmas Angels, a local nonprofit that provides gifts and a meal to children in need.
"I just wanted to do something to give back," Broker Bryan said. "Rather than just throwing a party to throw a party, I wanted to do it for a cause."
The party, at 2634 Lansing Street NW, costs just $12, and one ticket covers up to five people.
Guests can enjoy the thousands of Christmas lights, take photos with "Frozen" characters Elsa and Anna and be provided treats from local shops.
There will be bubble machines, face painting from a Carolina Renaissance Festival artist and prizes for festive clothing.
Broker Bryan said 100 percent of the money will be delivered to those children's charities.
"I've only been doing the lights for four years but last year was the first that I actually had a party," Broker Bryan said.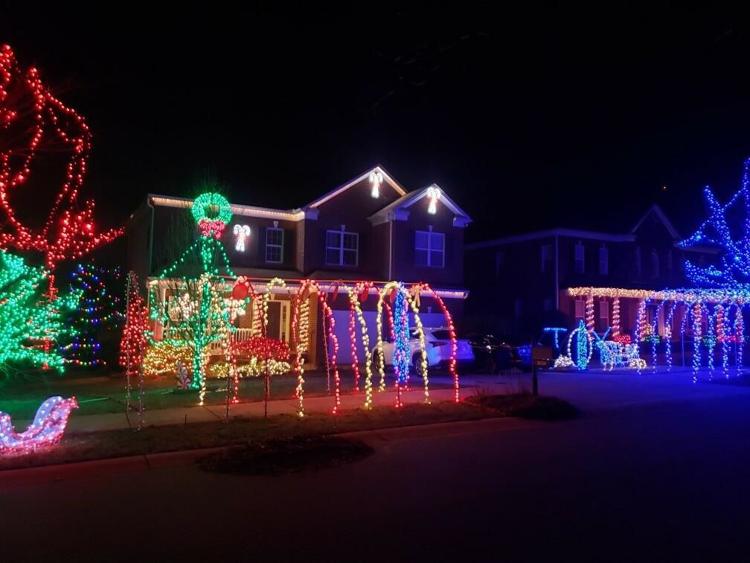 For those passing by, the lights were turned on last week and will continue to be through Christmas.
Broker Bryan said there are 1,800 lights in one tree alone.
"When you come by to see it, you can imagine that if one tree has that many lights, I know there are tens of thousands," he said. "The color, I try to do it very tastefully and keep colors together. It is not just thrown together."
At the display, there are two walk-through light tunnels.
"It just adds to the magic of Christmas. The kids love going through it," Broker Bryan said. "I feel like an artist because I have to try and figure it out. Each tree, I have to put this many lights. It's pretty cool just figuring out what I can put where."
Broken Bryan said Madison, his goddaughter, inspired him to put up all of those lights.
He said he keeps going because it puts smiles on children's faces.
"It started because I wanted to do something for (Madison). She loves it," Broker Bryan said. "There are a ton of kids in the neighborhood, so why not? I get so much appreciation that it encourages me to keep doing it more."