Some brainy Cannon School students are spending the weekend competing against teams from around the world in robotics.
The school's middle school team, the Brainy Yaks, won the Champions Award during the state First Lego League competition and qualified to attend the World Festival. First Lego League is a global robotics competition built around theme-based challenges to engage children 9-16 in research, problem-solving, coding and engineering.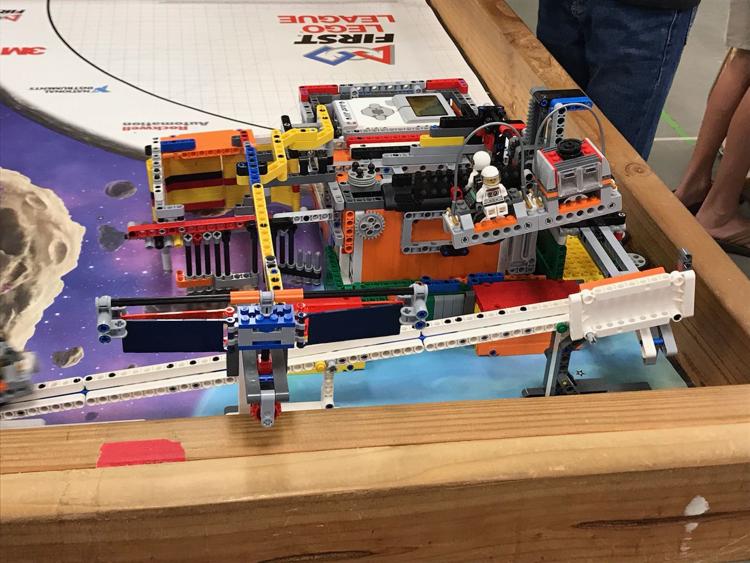 Leigh Northrup, middle school dean of innovation and technology, has been coaching the team for almost 15 years and this is the first time it has qualified for worlds in his coaching career. World Festival is a celebration of the First Lego League season that showcases Champion's Award teams from around the world.
The Brainy Yaks were given the option to attend the World Festival Open International in Uruguay or West Virginia. So they packed their bags and left for Fairmont, West Virginia to spend this weekend competing and learning with teams from across the globe.
"There's going to be teams from all over the world; probably as many as 40 to 50 percent of the teams are going to be international teams from Chile, Uruguay, Brazil, Costa Rica and then teams from all over the United States and Canada," Northrup said. "I've been coaching that team for almost 15 years and we've got a little bit of a track record of making it to states and winning the Champions Award at the regional level. This was the first time we've ever qualified for the next level. This group of kids, some of them I've been working with for four or five years and so they've done their time and they've earned their spot."
The First Lego League program
Each year, First Lego League releases a challenge which is based on a real-world scientific topic. Each challenge has three parts; the Robot Game, the Innovation Project and the Core Values.
According to the organization's website, teams participate in the challenge by programming an autonomous robot to score points on a themed playing field, developing a solution to a problem they have identified, all guided by the Core Values; discovery, innovation, impact, inclusion, teamwork and fun.
"The robot has to compete in a series of challenges. It has to autonomously leave base and complete those challenges, therefore scoring points. We will be competing against all of the other teams and their robots obviously have to do the same mission," Northrup said. "People get confused sometimes because they think it's Battle Bots where the robots fight each other, and it's more of a cooperative mission strategy than battling or destructive robots."
The research component, the Innovation Project, challenges the teams to study a problem and come up with a solution. This year's theme was space and the Brainy Yaks chose to focus on astronauts and their sleep.
"It's difficult to coming up with a problem that NASA hasn't already thought of and solved. But the kids decided to work on the problems of the astronauts getting a disruptive circadian rhythm in space," Northrup said. "Their sleep cycle gets all messed up because of them orbiting the planet and seeing multiple sunrises."
The solution the team developed was supplemental lighting to simulate a day and night cycle so the astronauts get their rhythm back. They called their solution Space Days.
"We realized their sleeps not good, their melatonin cycle because there's no true day time or night time cycle in the ISS (International Space Station) and we developed a solution," team member Chase Hensley said. "There's a blue light symbolizing day time because it slows down the production of melatonin which makes you sleepy. There is yellow light at night, which increases it. Then we have temperature, making it cooler at night. A lot of people sleep colder."
In the process of developing this solution the team spoke with a retired space shuttle commander and the nutritionist and sleep expert for the United States Swim Team.
While the team has been practicing and hopes to get as many points as possible during the World Festival, young adult mentor Deven Dighe said it's more of a learning experience. Dighe, who will be in the 10th grade next year, is a member of the high school robotics team but comes back to help his friends on the Brainy Yaks.
"I think it's just going to be a really cool experience to meet all the other teams and see what creative ideas they've had," he said.
Northrup said his team feels good about the competition but knows it is up against some of the best teams in the world.
"I think the kids aren't really worried about the competition. What they are excited for is the opportunity to collaborate and innovate with teams from around the world; the opportunity to be sitting next to a team that speaks a different language that came half the world away just to geek-out on engineering and STEM-related activities," Northrup said. "That's really what this competition is all about. It's so much more than a trophy or scoring points, it's more about the collaboration of kids being inspired to do really special things."