Before any decisions were made on Beverly Hills Monday evening, the community was given one last chance to share its thoughts on the topic. Almost 30 people, many former students, came to the podium to again ask board members not to close their "beloved" neighborhood school. And their efforts worked, with the board voting to keep the school open and add it to the capital plan.
The first speaker was former Beverly Hills principal and Concord mayor Scott Padgett who said he has been very impressed with the enthusiasm of people campaigning to keep the school open for the past two years. "How sad it would be if you were going to close a school and no one cared," Padgett said.
Christine Lovelace, who said she entered kindergarten at Beverly Hills in 1989, said she was shocked when she heard about the plan to close the school. She also attended Concord Middle and Concord High School and said she is now a speech pathologist for a pediatric private practice.
When deciding where to put their roots, Lovelace said she and her husband decided to move back to Concord to be close to family and people who felt like family.
"Attending Beverly Hills Elementary provided me an environment that allowed me to develop lifelong relationships with my teachers, my principal and my peers, many of whom are here right now," Lovelace said. "We wanted our son to grow up in a town that has so many traditions honoring legacies while still moving forward to grow in innovative ways. I was shocked when I heard about the plan to close Beverly Hills. It was literally the opposite of what I thought I was coming home to. It was discouraging and frustrating that there's a consideration of closing a school that had an impact on so many people, people who are so active in having a positive impact in this community; who specifically moved back here so their children could have a similar experience and feel that support."
Lovelace asked the board to make every effort to save the school and thanked the parents and community members that worked so hard to save the school. She said they were an inspiration to those around them.
Scott Medlin, an officer with the Concord Police Department and School Resource Officer at the Opportunity School, asked the board why Beverly Hills was different. He said there were plenty of old schools in the county that have been torn down and rebuilt in the same location.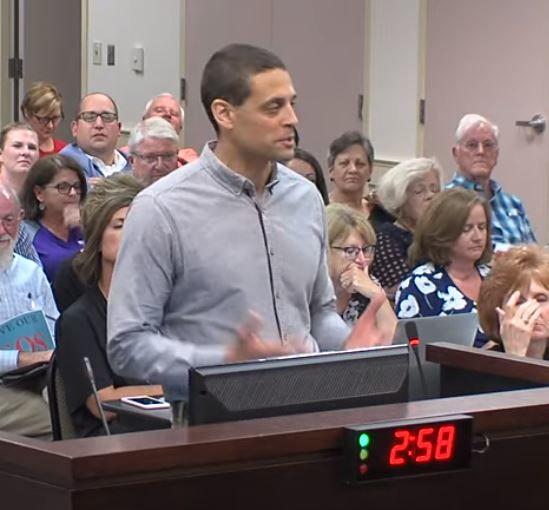 "You can't fix something that isn't broken. As long as Beverly Hills is in the location it is, it will be a great opportunity for teachers, a diverse population of students and for Cabarrus County Schools," Medlin said. "In 5th grade history class I learned I wanted to serve my country. Cabarrus County Schools' motto is engaging minds and shaping futures. My future was shaped during my time at Beverly Hills. When I served my country in Iraq as a U.S. Marine, it was my Beverly Hills community that supported me when I was there. Please make the right decision and keep Beverly Hills open."