Everywhere you turn, there is a cell phone or a computer. Technology is an integral part of our daily lives and we rely on it and the Internet for almost everything; Netflix, music, podcasts, GPS and even as a teaching tool in the classroom.
The Internet can be a dangerous place when used incorrectly, which is why Coltrane-Webb STEM Elementary School wants its students to be good digital citizens.
The school kicked off a whole-school Digital Citizenship imitative during the first week of school to educate students on the correct way to use technology in and outside of the classroom.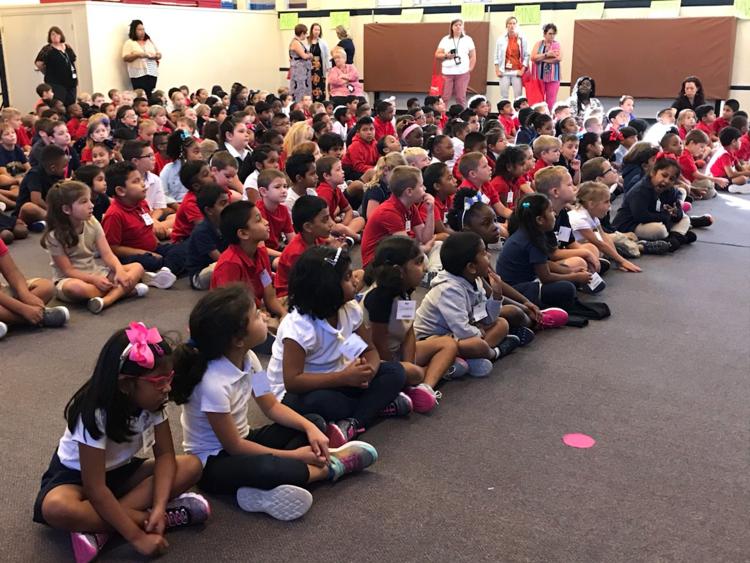 "This year we decided it was important for the whole school to get on board with being good digital citizens and that means we are going to use our technology properly, we are going to care for our equipment and we're modeling good digital behavior," Elana Moore, K-5 technology and robotics coach, said. "The message will go not only from our Technology Lab into our classrooms, into our cafeteria, into our front office; all across campus the same message will be heard and modeled."
The two-day kick-off of the initiative included an assembly for 1st-3rd grade on Thursday and 4th and 5th grades on Friday. Moore said since kindergarten students do staggered entry at the beginning of the school year, they will be presented the same information in the Technology Lab.
During the assemblies, Moore talked about what it means to be respectful digital citizens. She told students they should use kind words when communicating online and think before pressing send. She also said this year she wanted them to use professional courtesy by taking their headphones out and closing their laptops when teachers are talking to them.
School Counselor Kristi Monto also shared information on cyber-bullying and what students can do to prevent it. In her presentation she told the young students that bullying is when someone says or does something that is hurtful and keeps doing it after they have asked them to stop.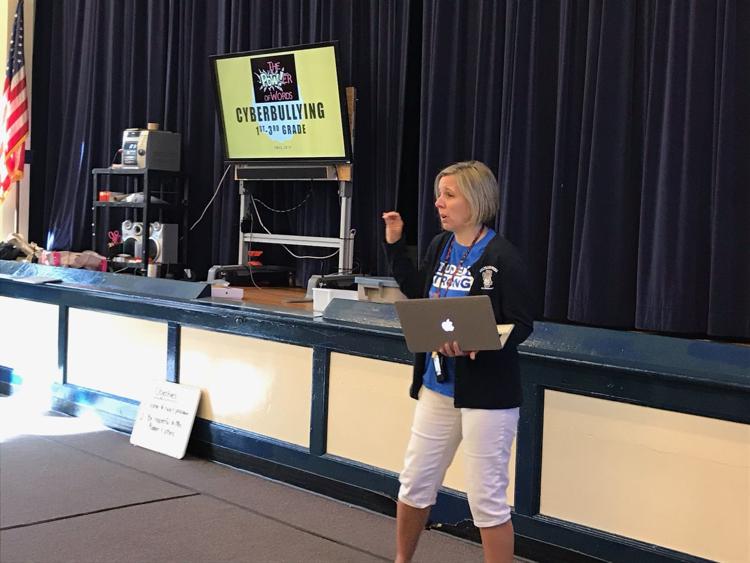 She said cyber-bullying is a huge problem because when people are online they find is easier to say things they wouldn't normally say in a face-to-face situation.
If students see cyber-bullying is occurring, Monto said they should tell a trusted adult and to not play online games with people who are participating in that kind of behavior. She said they can also be an "upstander" and tell the bully to stop.
Lastly, SRO Officer Fred Riddick talked about only using websites that are safe and not talking to strangers online. He told them to use the Pause Method; if they see or hear a comment that is inappropriate they should pause their game and go tell an adult.
"If you see something you don't like, tell a grownup," Riddick said. "Or if someone is trying to talk to you that you don't know, tell a grownup."
He also cautioned that a digital footprint lasts forever.
"Your digital footprint on the Internet is permanent. Your information can not be taken back once it's out there. Eventually, down the road if a situation comes to that, it can be traced back to you," Riddick said. "Think before you post. We don't need more negativity online, we need more positivity."
Moore said every student and staff member will also sign a pledge to be good digital citizens throughout the year and beyond.
"We've been talking about it for several years, the importance and it just seems like this is the year, this is the time that we really focus in on how important it is so use our digital devices and use appropriate behaviors when we're online and also caring for our equipment," Moore said of starting the initiative this year. "It seemed like this was the year and this was the time."