CONCORD – A new state-of-the-art Heart and Vascular Tower will open in August at Atrium Health's Carolinas HealthCare System NorthEast in Concord.
The 163,000 square foot tower will have innovative, top-notch equipment used to treat patients suffering from heart issues.
The facility will have Atrium Health's Sanger Heart & Vascular Institute services and interventional radiology services, which offers new cardiac catheterization labs, electrophysiology labs, pre-and-post op care services and a cardiovascular intensive care unit. There are 60 patient beds in the tower.
"I think it's important to make the point that these services have been offered here in this institution for a long time but just organized in different places," said Dr. Geoffrey Rose, President of Sander Heart & Vascular Institute.
"This new building allows us to co-locate all of our services, and even extend that technology so we are able to bring in new procedures here to the community, such as fixing heart valves non-invasively, things that we couldn't do before just because the facilities couldn't handle the technology. Now, we are past that point."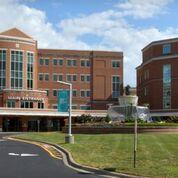 With technology evolving rapidly, the heart and vascular tower will provide efficient and timely procedures for patients.
"To have a unique opportunity to create a tower that has the best technology in one location, stacked vertically, is sort of the first of its kind in this region. That creates sort of a micro-cardiac hospital," said Phyllis Wingate, President of Atrium Health's Carolinas HealthCare System. "We are real proud of that and we think it's going to have a huge impact on patients being able to know we are here, to know what we do and know how to get to us for their cardiac services."
The plan for the $115 million expansion started in 2012 with talks of renovating the women's hospital and construction a new facility for cardiovascular and radiology services for patients.
"Just because of the technology that's involved in cardiology and the size of the labs, we could not renovate that in its current space. We had to have new space," Wingate said.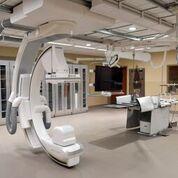 According to Atrium Health officials, the new space allows for less invasive approaches, including what is known as TAVR, which is short for transaortic valve replacement.
TAVR is a minimally invasive procedure where doctors put a replacement directly inside the narrowing valve to widen and strengthen it, similar to putting a stent into an artery. Using a catheter passed through an artery in the leg, the new valve is guided up to the heart with the help of detailed digital imaging," according to health officials.
The Heart and Vascular Tower has x-ray cameras that enable radiologists to deliver a lower dose of radiation while examining the patient's issue on a large screen.
"The revolution in technology has just been proceeding at a very fast pace, and we don't see it stopping," Rose said. "It's absolutely pivotal. Now it has become standard to replace aortic heart valves through the leg rather than doing an open chest operation. We will be able to do that here as opposed to leaving the community to get that done."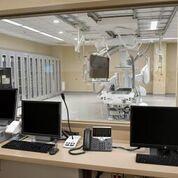 Another advantage is that that patients and medical staff can get to where they need quickly, especially with clinical labs and interventional radiology rooms situated near each other.
Plus, local patients don't have to go all the way to Charlotte for specialized treatment.
"Creating an environment where the clinicians here can do best-in-class cardiac care is very important," Wingate said. "We want patients to be able to come here for all of their cardiac care, so we offer a full spectrum of cardiac services and those services are growing so that patients won't have to leave our community for any of those services."