More than $1 million raised in this year's Corvette for a Cure program
CONCORD — It pains NASCAR legend Jeff Gordon to hear stories of children getting treated for illnesses rather than playing sports or enjoying life.
The Jeff Gordon Children's Foundation is devoted to funding research for cures and help for pediatric patients fighting cancer.
"When I see at child at that critical time in their life, or maybe they are about to start playing baseball or basketball or something that could change their life, it doesn't have to be sports, to see that come to a halt because of an illness like cancer, it breaks my heart," Gordon said.
Gordon hosted an event Friday morning at Hendrick Motorsports in Concord to celebrate the end of his annual Corvette for a Cure program.
Since its start in 2006, the program has raised more than $9 million for children fighting cancer.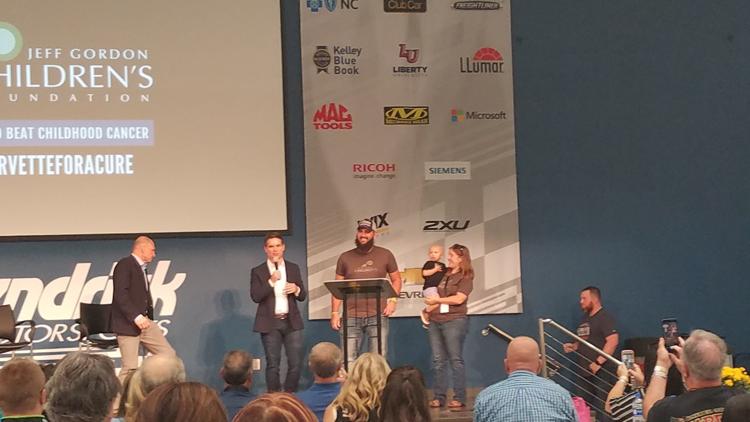 This year, 10,000 tickets were sold at $100 apiece.
A 2019 Chevrolet Grand Sport Coupe was raffled off and won by Scott Fowler of Brooklyn, Michigan.
At Friday's event, which also included support from NASCAR owner Rick Hendrick, Gordon handed over the keys to the car's new owner.
More than $1 million was raised for the third year in a row.
"It's been amazing how it has grown," Gordon said. "I don't remember what that first Corvette was. It was something through Chevrolet, where we talked about a car and doing something with it for charity. Chevrolet has been great supporters over the years for that. We've had tremendous support, and now it is hard to believe that we have raised $9 million with this."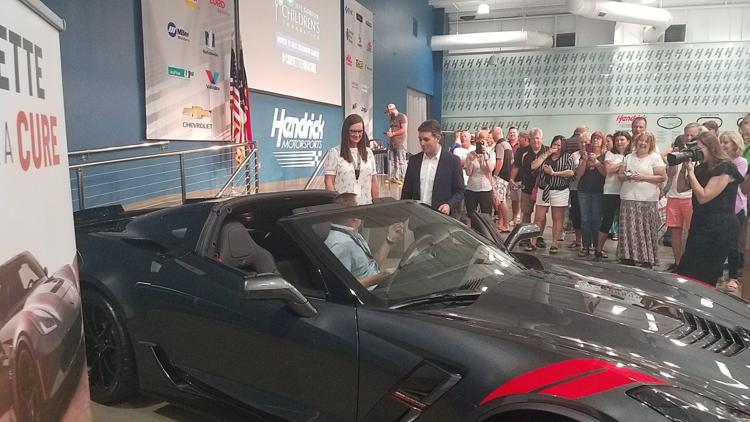 The Jeff Gordon Foundation has been instrumental in childhood cancer research at Levine's Children's Hospital in Charlotte and other hospitals around the world.
Gordon also helped fund the Jeff Gordon Children's Center in Concord at Atrium Health-Cabarrus.
"The Jeff Gordon Center does great work. We don't do cancer work, but they do amazing work for children over there," Gordon said. "We are very fortunate, also to have, of having Levine's Children Hospital in Charlotte doing not just diagnosis and treatment, but they are doing research. We are involved with a handful of researchers around the country, and we are fortunate to have one of the best in the country right here."
Gordon continues to be inspired by children who are fighting the disease.
He introduced a full room at the Team Center at Hendrick Motorsports to 2-year-old Merritt, who is waging a courageous battle with cancer.
Gordon founded the childhood cancer foundation in 1999 and has helped raise millions of dollars to help find cures for pediatric cancer.
"That's the thing, you see (Merritt) and she's in treatment right now," Gordon said. "Today, you wouldn't even know it because she is a bundle of joy and smiling, but you also know that when you are around it as much as I have been, that's not how it is every day. You really start connecting with the parents, especially as a parent now, of what that diagnosis has meant to them and how it has changed their lives. You just want to do anything you can for those kids and give them the best care possible."
Gordon initially became invested in childhood cancer when he learned his former crew chief Ray Evernham's son was diagnosed with leukemia.
He witnessed firsthand how cancer affected one of his good friends.
"I saw what a parent goes through," Gordon said. "(Ray) was excited with where his life was taking him, and building this race team, and things couldn't be better, then boom, you get that news and I saw firsthand how that affected he and his wife. It just made me want to do more."
Gordon then learned his team owner, Rick Hendrick, was diagnosed with cancer in 1996.
Those instances are what revved Gordon's engines to use his popular platform to raise awareness and money for cancer.
"Anytime it touches close to home, you want to know what you can do to learn more about it and support ways to research or get to the right hospital or doctors," he said.
Gordon, the former driver of the No. 24 Chevrolet for Hendrick Motorsports, has four NASCAR Cup Series championships and is in the NASCAR Hall of Fame.
However, even with all of those accolades, Hendrick believes the battle against cancer is Gordon's greatest achievements.
"There's nothing in this world that feels as good, than to see a child have a second chance," Hendrick said. "The trophies and championships mean nothing when you are thinking about a little one and give them another chance at life."
Gordon stopped racing full time in 2015, but he remains busy with his Jeff Gordon Foundation, being an announcer for Fox NASCAR and being a top executive for Hendrick Motorsports.
"I'm very busy, and I am enjoying what I am doing," Gordon said. "I left the sport very content, which not everybody can say. Your timing of when you walk away, sometimes you don't get the choice. There could be an injury or something that takes you out. I was fortunate to walk away on my own terms and have some plans."