CONCORD — As traffic continues to increase throughout Concord, city leaders are figuring out safe ways to get around town without clogging the streets with vehicles.
The city of Concord wants to be known for its connectivity.
City leaders have a long-term objective that will connect areas in Concord through greenways, multi-use paths, bike lanes and sidewalks.
In a collective effort, Concord City Council, parks and recreation, transportation, transit, planning and development and stormwater, among other city of Concord departments are following adopted blueprints that will connect the city in a safe manner.
"Whether or not you are an avid biker, or if you just want to walk your dog, there are so many different types of people who use a greenway," said Parks and Recreation Senior Planner Jason Pauling.
It's not a fix-it now solution, but over the next five, 10 and 15 years, residents will see the connectivity plan come together as the city's identity.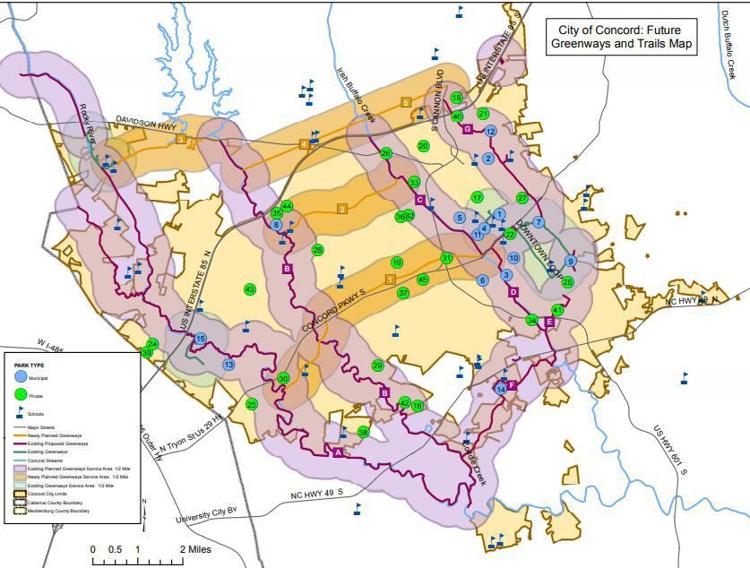 In 2008, Catawba Lands Conservancy came up with the Carolina Thread Trail, which is a regional network of trails, greenways and conservation corridors that will ultimately link more than two million citizens in North and South Carolina.
The Carolina Thread Trail comprises a 15-county area, which includes Cabarrus.
City of Concord took that guide a step further and adopted a Comprehensive Master Plan, which was a plan on how to move forward with parks and recreation.
"The plan shows the major corridors of how people move from one place to another — greenway to greenway, park to greenway, points of interest to greenways, points to interests to parks and neighborhoods to parks," said Parks and Recreation Director Sheila Lowry.
In 2019, City Council adopted an Open Space Connectivity analysis, which is a strategic plan to create and improve connectivity for pedestrians and bicyclists in Concord and connect them safely to points of interest.
The connectivity objective is to link pedestrians to public areas, such as schools, jobs, malls and the downtown area from their neighborhoods.
In May 2018, city officials went out and surveyed residents.
The purpose of the survey was to "identify feasible, constructible bicycle and pedestrian routes along stream corridors, through open spaces, and along roads to make a more connected Concord."
"When that (survey) came back, everything was within a mile or half of a mile from where they live," Pauling said. "From there, we came back and said we have five small areas that are forming in the city."
Those five areas included the areas North and West on I-85 in Concord; the Central area, which includes Coddle Creek, Afton Ridge, Weddington Road and Cannon School; South Central area, around Frank Liske Park between Highways 29 and 49; and downtown Concord to the hospital and Carolina Mall.
The Parks and Recreation Department started looking at those areas and began looking for ways to connecting those residents to points of interest.
"For the next several years, we are focusing on those five corridors," Pauling said. "We are focusing our efforts on site control and getting the word out and communicating with neighborhoods and citizens about our plan."
Parks and Recreation has now identified 14 greenway corridors and 20 multi-use corridors, which are considered to be a form of infrastructure that supports multiple recreation and transportation opportunities, such as walking and bicycling.
"People want to see these connections happen," Pauling said. "We have a multi-use path is along George Liles, so it's not along the creeks, so it's not your traditional greenway. People say, 'I walk on that every day. It runs beside a road and connects to my neighborhood.'"
The city of Concord has several greenways already in place for pedestrians and bicyclists, including the McEachern Greenway in downtown and the 4-mile Downtown Greenway Loop. The city's longest greenway project, Hector H. Henry Greenway, which will provide connections upstream to Kannapolis and Davidson and downstream to Charlotte Motor Speedway, Harrisburg and Charlotte's University area, is currently under construction.
Also in the works are the River Walk Greenway, which will connect the Weddington Road Bark Park to the Embassy Suites, and Moss Creek, which will connect Odell Elementary School to Moss Creek Village.
"We want walkability," said Parks and Recreation Director Bob Dowless. "I think a lot of people in our area see the growth, getting on the roads with traffic. It's also healthy."
With the support from City Council, the Parks and Recreation Department continues to identify new open spaces to connect areas in Concord.
"The citizens want to get from Point A to Point B, whether it is in a bike, a car, walking, jogging," Lowry said. "People are still going to drive, but these pockets, we believe, shows neighborhoods, so when they are going somewhere, it's a point of interest and connectivity within that pocket. They may not get out and drive to the park a mile away, but they may walk to it."