CONCORD — Keith and Tammy Proctor learned their about-to-be newborn son had heart defects before he was even born. Doctors said that Rhys Proctor would never be a normal child.
The parents were asked about potentially terminating the pregnancy, but the Proctors weren't going to give in.
Rhys is a flourishing 10-year-old child who is attends Hickory Grove Christian School in north Charlotte.
He's had two open heart surgeries, two cath labs and way too many tests.
Rhys will always have a heart defect, according to Tammy Proctor, but that doesn't prevent him from living a full lifestyle.
On Wednesday, Rhys and 19 other children who are chronically disabled or terminally ill took off with their families to Orlando, Fla. for an all-expense-paid vacation to Walt Disney World.
The once-in-a-lifetime trip is part of radio personalities Ace & T.J.'s Grin Kids.
"This is very surreal," Tammy Proctor said. "When we found out, I actually argued on the phone that I thought they were punking me."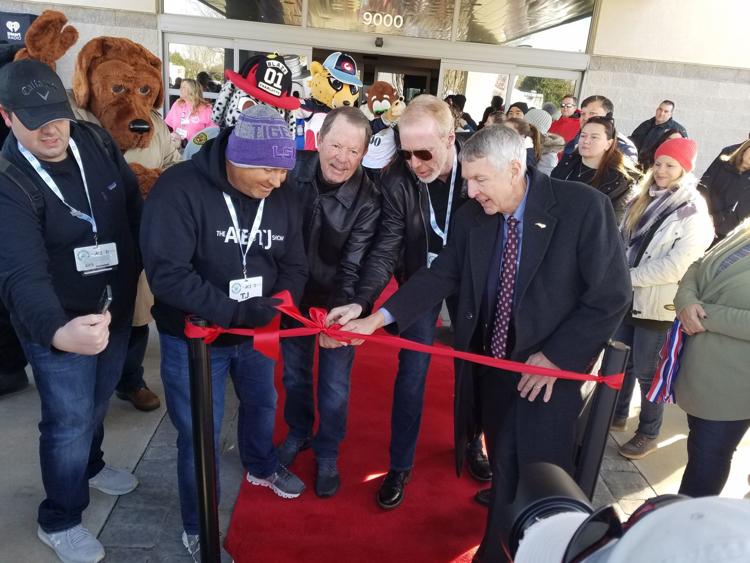 The Ace & T.J. Show is a nationally syndicated radio show based out of Charlotte. Locally, they are on 96.1 FM from 6 a.m. to 10 a.m. on weekdays.
They have hosted Grin Kids for 20 years.
"Watching the magic of Disney through these kids' eyes and these families' eyes, who have never experienced anything like this, it is really special and makes it all worthwhile," Ace said.
The families were given the red carpet treatment at Concord-Padgett Regional Airport before departing in a private charter jet.
The families were provided with meals, met Ace & TJ, who are going on the trip, and interacted with mascots Sir Purr, of the Carolina Panthers, Homer, of the Charlotte Knights, Lugnut, and more.
Ace & T.J.'s Grin Kids have a full itinerary of fun events that includes a day at three of the parks, Disney character greetings and other adventures.
"It's going to be an awesome time mainly because we always see things and have those moments where you don't know what's going to happen," Ace said. "You don't expect things to happen. We've had kids who have stood under their own power for the first time or have reached out for a hug for the first time."
About 100 applicants were scoured through before 20 children were selected.
Madison Culbreath, from Stedman, North Carolina, was nominated.
"We don't know who to say it to, but thank you," mother Debbie Culbreath said.
Madison was born with occipital encephalocele, which is a neuro tube defect. She was also diagnosed with cerebellar hypertrophy and chiari malformation.
She had most of her cerebellum removed in her brain. She also has issues walking, with speech delays, eye site and has one kidney.
Madison, a student at Stedman Elementary School, gets to enjoy a vacation with her parents, Cecil and Debbie Culbreath and brother Joshua.
"I looking forward to see Minnie Mouse and Daisy and Donald and Goofy and all of those characters," Madison said.
For the past 20 years, Ace & T.J. have provided these luxurious vacations for children dealing with ailments, with the help of many partners and sponsorships. The past three years, families have flown out of Concord.
"We are blessed to have Ace & T.J.'s Grin Kids for 20 years," Ace said. "We are blessed to have a radio family that supports us and helps us put this on every year. We are blessed to have these board of directors, the people who run Grin Kids and our staff and our supporters."