CONCORD — At times, Brenda Sherrill wanted to give up. At times, she just wanted to quit her radiation treatment.
Support from family and friends helped her persevere in her fight against breast cancer.
"If I wouldn't have had my husband, I think I would have given up," Sherrill said. "It's like you don't have a life. You have doctor appointments. You have treatments. I remember sitting down and crying one time, and saying, 'I can't do this anymore.' My husband said, 'Oh yes you can.'"
Sherrill, a Cabarrus County native who works for the Concord Police Department, returned to work Oct. 1, the first day of Breast Cancer Awareness Month, after six months away to battle the cruel illness.
She was told she had breast cancer on Valentine's Day.
Since then, she has undergone surgeries for a mastectomy, a lumpectomy and reconstruction, had 25 sessions of radiation and has been fighting the disease tooth and nail.
'(Cancer) does change you'Still, Sherrill said, the walk into work her first day back was "scary."
"It was really scary to walk through a door and know that I was here six months ago, and my life was changed," Sherrill said. "(Cancer) does change you."
Sherrill's police family showered her with affection upon her return to work.
Plus, to show support for those with breast cancer, the Concord Police Department started an internal fundraiser where officers are permitted to wear a pink badge in honor of Breast Cancer Awareness Month.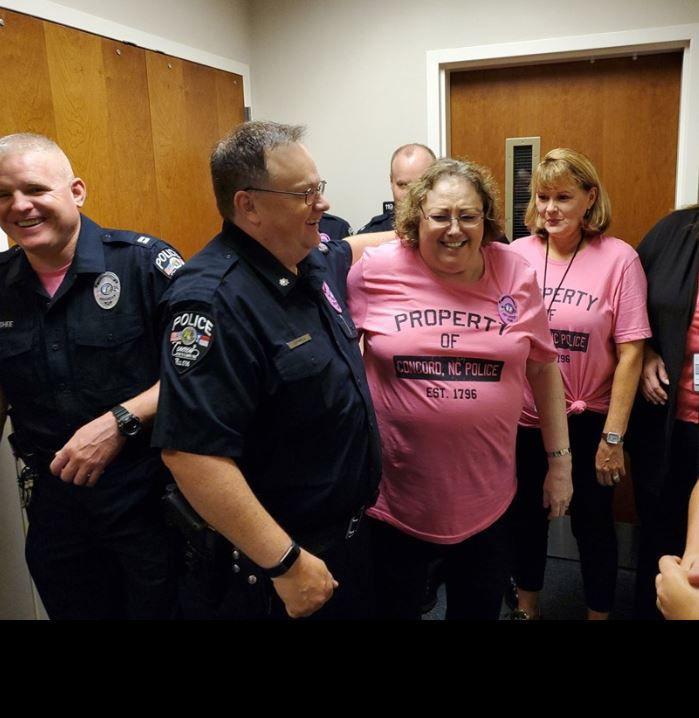 'It's been a journey'Sherrill has been a living testimony of faith, strength and persistence.
However, she said she wouldn't have made it this far without support from her co-workers, family, friends and her husband, Mark Sherrill.
"It's been a journey," Sherrill said. "A good friend of one of the officers, one of my good friends, his mom bought me a bracelet because she saw something I posted on Facebook, 'Faith whispers to the warrior, there's a storm coming. The warrior whispers back, I am the storm.' That's exactly what you have to keep telling yourself."
Even while going through radiation treatment, Sherrill had to keep a positive outlook.
She witnessed her sister, Wanda James, survive breast cancer. Her mother, Gladys James, fought lung cancer for two years.
"My mom was a single mom for years. I was 11, my middle sister was 7, and my baby sister had just turned a year old, and my dad got killed," Sherrill said. "My mom was a strong woman, and when she was going through the cancer, at one point she wanted to quit. She told me, 'I'm not going anymore.' I said, 'This is what you would tell Wanda after what she went through? That's not something you tell us, Mother. You told us we are strong women.'"
Sherrill said there were times she cried, but she tried not to in public.
"I about lost it when I came back to work," Sherrill said.
Fighting for survivalSherrill said her biggest motivation to keep fighting is her five grandsons and for her son and daughter.
"I want to live to see them grow," she said. "I have two kids, one is in their 30s and one is in their 40s. I want to see them through life as much as I can. They were both there for me."
Sherrill will have, hopefully, a final mammogram in January to make sure the cancer is completely gone, and then will have one final surgery Feb. 10, just shy of a year from when she was told she had breast cancer.
"When I sat in radiation, I'm looking around and thinking, 'You're the lucky one, Brenda. You may have lost a breast, but you didn't lose your life. These women sitting in here are fighting to stay alive,'" Sherrill said.