The generosity and dedication United Way donors and volunteers show in Cabarrus County is one-of-a-kind.
Continuing an annual tradition, United Way of Central Carolinas celebrated its top supporters in Cabarrus County on Friday, May 24 with an appreciation breakfast and awards ceremony, presented by Atrium Health at the CHS Northeast campus in Concord.
Michelle Riley, the 2018 Cabarrus County United Way Board chair, thanked companies, sponsors, campaign chairs, board members and community impact volunteers for their dedication, leadership and support that make it possible for United Way to continue having a positive impact on the community.
"The work you all do in Cabarrus County is amazing, and United Way plays a big part in making this an amazing place to live," Riley said.
The top 10 United Way contributors in Cabarrus County received special recognition at the breakfast:
- Carolinas Healthcare System Northeast
- Cabarrus County Schools
- Niblock Development Corporation
- Mynatt Family of Dealerships
Corning Inc. also was honored with the 2018 Top Campaign Award for having the No. 1 United Way campaign in Cabarrus County. The company has seen impressive gains in its past two United Way campaigns, with a 77 percent increase in total campaign dollars since 2016.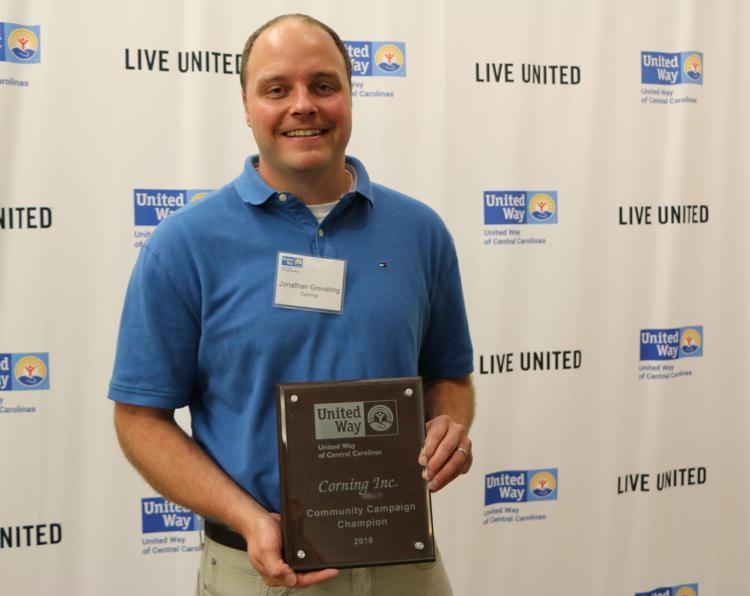 "With their previous two campaigns having been very successful, this group could have easily chosen to be satisfied with their giving level," said Brian Floyd, chair for the 2018 United Way campaign in Cabarrus County. "However, knowing that community needs continue to be great, they set another aggressive goal for the 2018 United Way campaign and worked hard to make sure that this would be another record-setting year."
Other outstanding contribution recognitions included:
- Concord Engineering & Surveying
- Kannapolis City Schools
- Rowan-Cabarrus Community College
"We are so very grateful to these organizations for the positive impact they and their employees make on our community through the United Way campaign," Floyd said. "Every single person and every single effort when combined collectively is the key to making a lasting impact."
The appreciation breakfast also highlighted the annual Cabarrus County Week of Caring held Aug. 27-31, 2018. Hundreds of volunteers served at 20 project sites, lending a hand to schools and nonprofits across the county.
"From the results of this past year's efforts, it is evident that the commitment of people in Cabarrus County remains strong," said Richard Heins, United Way's regional vice president of operations. "With your continued support, United Way will continue to be a leader in our community by uniting volunteers and resources to solve community problems, address health and human services needs and promote economic mobility."