Traditionally Cabarrus County Schools has strived to teach its students about citizenship with qualities like responsibility, kindness and self-control, but Assistant Superintendent of Curriculum and Technology Dr. Crystal Hill said now the district must also teach its students how to be good digital citizens.
"Right now we live in a digital world where we have access to technology everywhere and it's basically essentially," Hill said during a recent work session of the Cabarrus County Board of Education. "So it's really interesting that even in the most impoverished areas of the world, folks have access to technology."
As a parent, Hill told the board that she is constantly talking to her children about being safe online. She makes sure they know not to follow anyone they don't know or accept friend requests from strangers on social media sites.
Just like it's an important topic to address at home, Hill said the district also has a responsibility to address it with students while they are at school.
"In a digital world we live in right now, it's our responsibility to teach students how to navigate technology," Hill said.
That's why the district has purchased a program to help it do just that; Neptune Navigate. Neptune is an online digital citizenship resource the district will use with all students in K-12 this year. Students will receive a specific topic about the important of digital citizenship. Topics include cyber-bullying, digital footprints, social media, etc.
The cost of the program was $3,900 for the whole district and Hill said the money will come from Title VI funds set aside to be used for student technology needs.
"We are very excited to have found a product that we believe will fill a need that we have, which is teaching our students how to live responsibly in the digital world and having a responsible digital life," Erica Williard, digital teaching and learning coordinator, told the board. "What we decided to do is to use Neptune Navigate that provides age-appropriate modules throughout the year to our students, delivered by people in our school."
Elementary students will have lessons lead by teachers during specials— guidance, technology or media— while middle and high school students will have online, self-paced programs. A module will release each month with videos for each age group and interactive reading.
"The readings, in my opinion, are highly engaging and they're interactive where students will have to interact with the content while working through them, as well as with the teacher or if they are doing online self-paced," Williard said. "Each month there is a theme; there are eight for the year. Each one should take around 30 minutes to complete. If I'm a parent I know that in October all my children are going to bet cyber-bullying content, so I know what to talk to them about."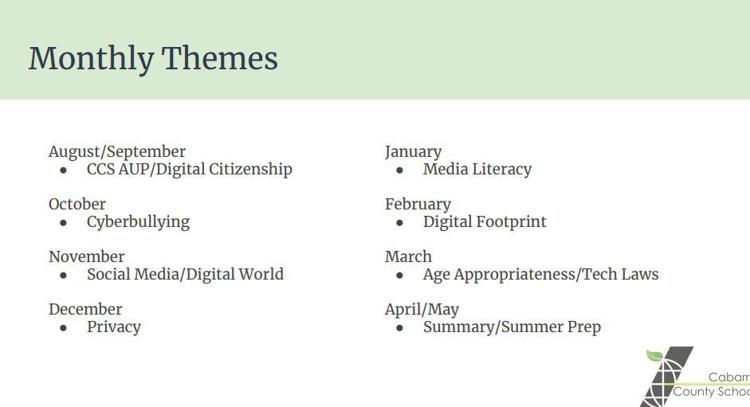 There is also a parent piece with monthly updates via the district's Digital Life website and a list of at-home activities they can do with their children to reinforce the topics.
Katherine Highsmith, who was named the Cabarrus County Schools Teacher of the Year in April and now sits on the board, said the digital citizenship programs is nothing but positive for the district.
"As a teacher and a parent, I think it's something our children need to be exposed to because they're going to be using that technology without a doubt. It's important we are being proactive and teaching them those digital citizenship skills," Highsmith said. "Also I like that it is a module that rolls out so what one child is hearing at one elementary school exactly matches what another child is hearing at another elementary school. It's not something that has a lot of leeway in it and I think that's important."