KANNAPOLIS — VIDA, a private-public, mixed-use district that will feature apartments, restaurants and retail space in Kannapolis, is on target to open in the winter of 2020-21.
VIDA is a stimulus for additional private investment on West Avenue in downtown Kannapolis. Lansing Melbourne Group is investing $61 million to construct 286 apartments, 18,000 square feet of retail and renovating 36,000 square feet of historic retail space. The city of Kannapolis' investment will include a 400-space public parking deck.
Construction is at the halfway mark. Windows are going in, and installation of brick is beginning. Framing for doors, elevators and stairwells is now underway.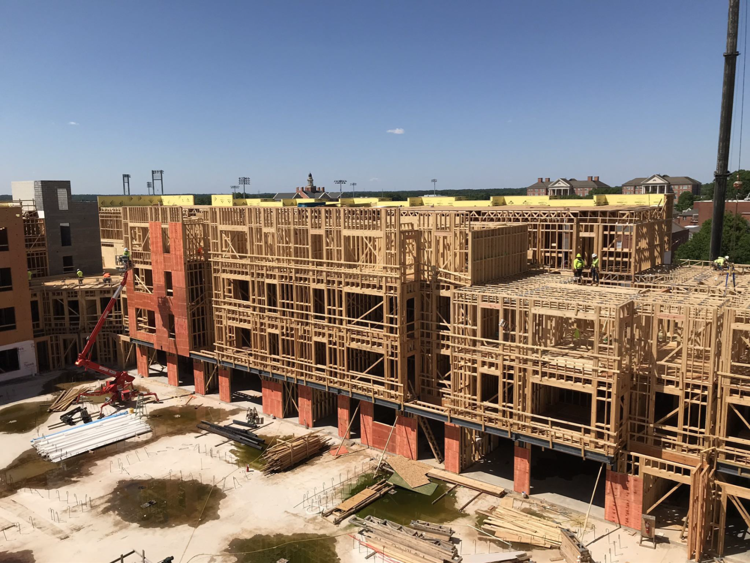 The project is between Main Street and West Avenue on two blocks of property, including the site of the former State Employees' Credit Union. The 4-acre site is also home to Old Armor Beer Co., which opened this spring and has been so successful it anticipates increasing production later this year and expanding into the space next door.
"A small, veteran-owned business like ourselves could not ask for a more supportive city. Patrons of Old Armor Beer Co., from Kannapolis and surrounding areas, have shown tremendous support for their hometown brewery. Because of that, we have an opportunity to grow," said Kyle Lingafelt, general manager and co-founder.
Kent Gregory, VIDA co-developer with Peter Flotz, commented on the project by saying: "In addition to the expansion of the Old Armor Beer Co., we will be announcing plans this summer to bring entertainment options to the lower level of the old buildings on West Avenue.
"We are also happy to announce that R&R Bar-B-Que will open a new location in the gorgeous old Cabarrus Bank building. They will be announcing details of their exciting new plans later and hope to open by the end of the year," Gregory said.
Sabor Latin Street Grill will open its newest location in Kannapolis; it will be the second location operated by Deal Restaurant Group. Sabor began locally in Charlotte in 2015. Deal Restaurant Group's owner, David Deal, is a Kannapolis native and the founder's original business partner.
"We're excited to bring Sabor to Kannapolis, especially with my family's history in the area. I have so many great memories here, I can't express how much it means to be able to take a part in its revitalization," he said. Sabor will be near Old Armor Beer Co., and they also hope to be open later this year.
Sabor's kitchen focuses on authentic Latin street food. Menu staples include tacos, burritos, arepas, empanadas, quesadillas, yuca, nachos and salsas — all made from scratch daily at the property. Its cuisine draws inspiration from El Salvador, the Dominican Republic, Venezuela, Mexico and Colombia. The full menu can be viewed at www.saborcharlotte.com.
Additionally, VIDA is one of the first opportunity zone projects in the United States. The Federal Opportunity Zone designation provides tax benefits to private investors who invest in properties that need to be revitalized.