Editor's Note: We asked the owners of Superior Bin Cleaners to share some information on the new business. Below are their responses.
In a couple of paragraphs describe your new business:
Superior Bin Cleaners is a new but much needed service to the Cabarrus County area. We offer routine residential trash and recycling bin cleaning. Trash bins are breeding grounds for harmful bacteria, foul odors and pests. We cure all of this for the customer with our professional cleaning and sanitation system. Servicing monthly offers a guarantee of cleanliness to the customer but we do offer other packages to meet all needs. Packages are available on our website.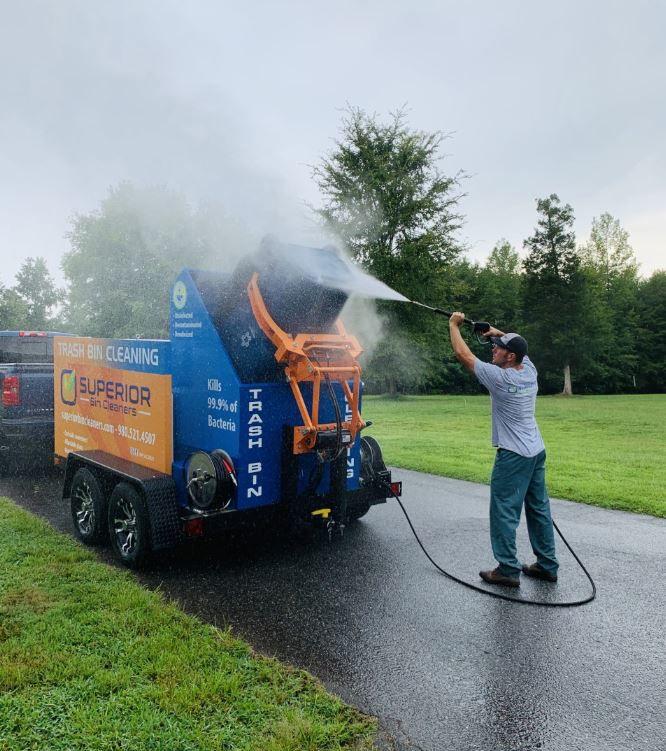 What is your specialty and what sets you apart?
We are the only residential trash and recycling bin cleaning company servicing Cabarrus County. Our sophisticated machine is 100% eco-friendly and offers homeowners remarkably clean trash and recycling bins. We use our own water, not the residents and we haul off the contaminated water to an approved facility. Our company is committed to quality in our services and customer relations.
We are a young motivated local small business in Concord, North Carolina. We began servicing the area on May 20, 2019 growing strong with close to 100 customers.
Who are the owners/partners/managers?
Superior Bin Cleaners is owned and operated by myself and my wife. (Evan and Laura Moore). We manage everything from marketing to the dirty work of cleaning the trash bins.
Where are you located and how can customers reach you?
We are a local small business servicing residential trash bins with a mobile cleaning system. Our website www.superiorbincleaners.com provides a detailed understanding of our services or you can follow us on social media, Facebook and Instagram. If you prefer a phone call, certainly give us a call at 980-521-4507.