Editor's Note: We asked the owners of Press & Porter to share some information on the new business. Below are their responses.
What is your specialty and what sets you apart?
Our specialty is making craft coffee drinks! The coffee beans that we use are from a roaster out of Floyd, VA. They roast high quality beans, in small batches, organic & fair trade. Their beans are award winning; therefore, we like to think our drinks set themselves apart.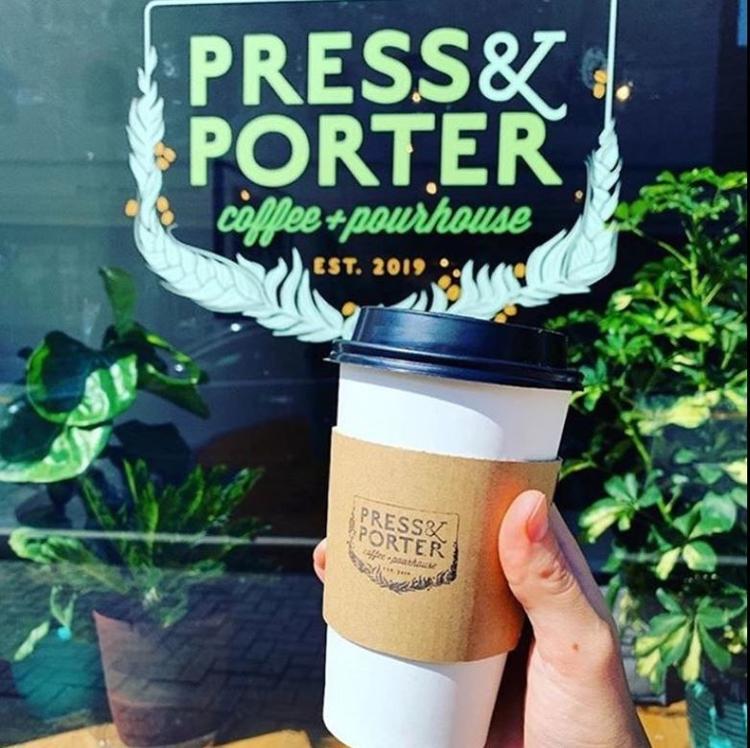 All of our baristas are trained using the same machines and methods because we believe in consistency.
Some of our unique offerings include a Nitrogen charged Cold Brew Coffee and Chai on draft.
Our coffee shop doubles as a pourhouse, so you can also find us pouring wine and ciders! I think this sets us apart because it is all about the atmosphere here.
We hope to offer local draft beer at the end of the year if current ABC laws are updated to not require food sales with the sale of beer.
We strive to create a place that is laid back yet functional. We want you to able to work here with a latte in hand by day and meet friends for live music and a bottle of wine at night.
We also offer early morning hours and Sunday hours. We have live music every Saturday from 7-9 p.m. and we offer a variety of musicians.
We opened on July 13th! We are open Monday - Thursday from 6:30 a.m.-6 p.m., Friday from 6:30 a.m.- 10 p.m., Saturdays from 8 a.m.-10 p.m. and Sundays from 9 a.m. – 1 p.m..
Who are the owners/partners/managers?
The owners are sisters, Anna and Emily. They grew up living in Concord part time. They have loved seeing the town change and grow over the last few years. Seeing a bright future for Concord and loving the small town feel, they both recently moved their families here permanently.
Both sisters have a love for coffee and felt there was a need for it downtown, seven days a week. After finding the perfect location, they got to work on designing and up fitting. Throughout the design process they reached out to the community for feedback. They wanted this to be communal space. Somewhere that everyone felt welcomed.
They also tried to incorporate the history of the hundred year old building into their shop theme and name. You will find several photos of the shop when it was Porter's Drug Store.
Where are you located and how can customers reach you?
We are located at 8 Union Street South. You can contact us via email at pressandporter@gmail.com or on Instagram @press_and_porter or on Facebook at Press and Porter