CONCORD – While Hurricane Dorian drifts up the Eastern coast, thousands of families from Florida up to the Outer Banks in North Carolina were forced to evacuate.
Within the past few days, North Carolina Gov. Roy Cooper and South Carolina Gov. Henry McMaster called for a mandatory evacuation along the coast of their respective states.
Hurricane Dorian is projected to be a Category 2 storm as it blows through the Carolinas into Friday. Its impact will be felt by millions along the coast.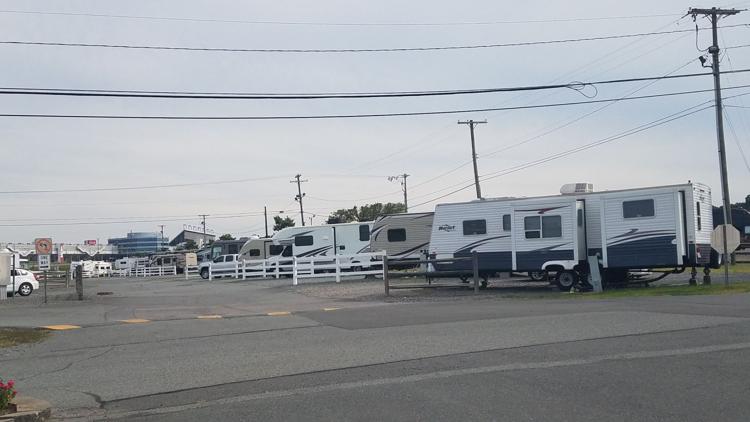 Many of those evacuees found refuge in Concord, at the campgrounds owned by Charlotte Motor Speedway.
"It's a very busy time for us," Charlotte Motor Speedway spokesperson Scott Cooper said. "We are trying to get ready for NASCAR playoff race in three weeks. This is the right thing to do, and if we can do something to provide a helping hand to people who need it. We are going to take advantage of the blessing that we have and we plenty of space."
The Rock City Campground, on Bruton Smith Boulevard, has access to a bathhouse and a dog facility, but doesn't have outlets for electricity. That campground was free of charge for evacuees.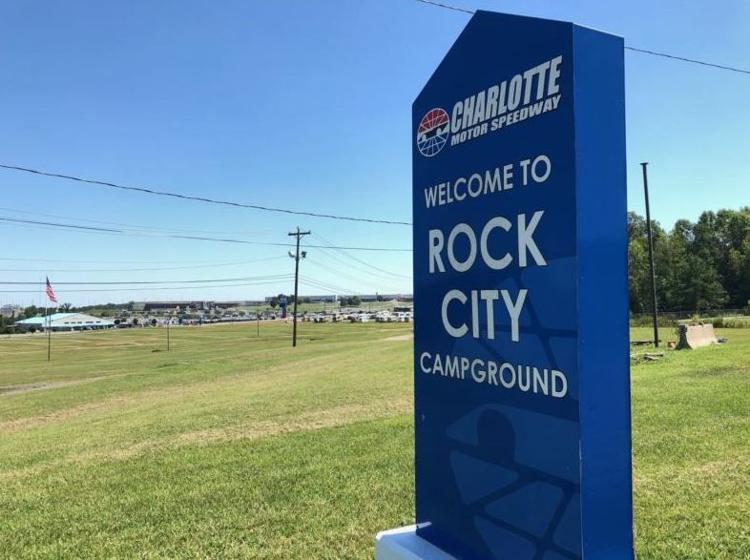 The other Speedway campgrounds have electricity and are being rented out with a major discount.
Cooper said the Speedway campsites have plenty of space for evacuees.
Evacuees are asked to check in at the Camping World Racing Resort office (6600 Bruton Smith Blvd, Concord, NC), which can be accessed at the entrance to zMAX Dragway.
After-hours check-ins can be made in the camping section on the speedway's website.
Guests can also reach the camping office by phone at 704-455-4445.
"Most of the people we have in the campgrounds are impacted by the hurricane in some way, shape or form," Cooper said. "We have a lot of people who have evacuated the coast and have come to us, but then we also have some people we've talked to who were traveling toward the coast and decided to change their plans and stop here until they see what happens with the storm."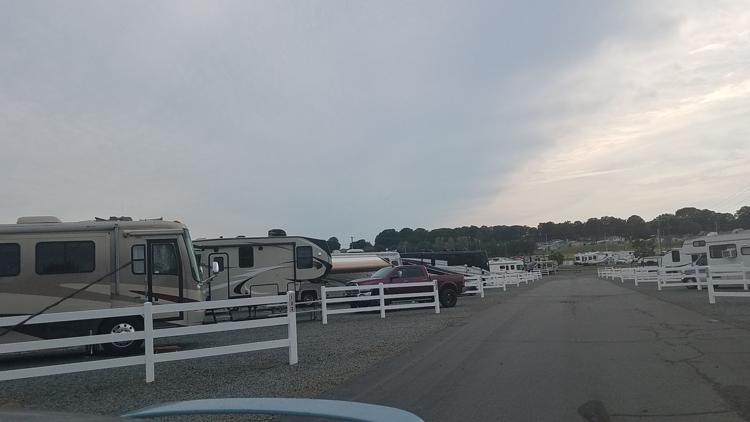 Paul Gagne evacuated from Chinquapin, North Carolina in Duplin County with his wife Sharon and his two dogs, Hondo and Tasha, rather than riding out the storm.
They also evacuated to the Speedway campgrounds last year with Hurricane Florence ravished the coast.
"I lived there since 1983. "I'm 73, she (my wife) is 70. We've had enough hurricanes," Gagne said. "If it floods the Cape Fear (River) again, then Chinquapin, the town I am in, flooded during Florence. It was the worst we ever had. On one side of the river, it was up to 15 feet. People are still building houses they weren't done with."
Mitch and Mary Helms took their camper from their home in North Myrtle Beach to get far away from danger.
"I have a few friends there (in North Myrtle Beach"," Mitch Helms said. "If it doesn't hurry up and hit, they are going to be suffering alcohol poisoning from all the pre-hurricane parties going on down there. In all seriousness, it all depends on the amount of rain because they area is subject to terrible flooding."
Brian Ward and his wife left a mandatory evacuation in Cape Hatteras, North Carolina.
The called a place in Mebane, which said they were full, so they traveled nearly seven hours to Concord.
"It's a safe place to be until the storm blows out," Ward said. "We just needed to get to a place where we were protected."
There are hundreds more at the Charlotte Motor Speedway campgrounds waiting for the storm to pass.