Journalists Adam Thompson and Erin Kidd have been filling up the paper with stories, coupled with my laziness, I put the Friday Five on the shelf.
Never fear, the Friday Five is back. This week we have restaurants, traffic and a few snide remarks.
Krispy Kreme is opening soon. It's not urban legend any more. Krispy Kreme is really coming to Concord.
Workers were busy Wednesday trying to get the final pieces of construction complete on the new doughnut shop on Concord Mills Boulevard (site where Applebee's used to be). Only a few days' work is left.
Most of the signs are up and much of the equipment is inside, so it's close to opening.
But as my mom always told me and Luke, "hold your horses."
Workers and managers will be training two to three weeks in the new building before the "Hot doughnuts now" sign can be turned on.
If you can't wait and you're in the Concord Mills area, try OMG Donuts & Bakery on the other side of I-85. The address is 10005 Weddington Road, just off O. Bruton Smith Boulevard. The donuts (not sure why there are two different spellings) are good – really good – fitting the exclamation of "OMG!"
I had my first donuts from OMG last Sunday thanks to Martha Day. It was "Donuts for Dads" to celebrate Fathers' Day at McGill Baptist and Martha bought the donuts in memory of her husband, Larry Day.
Many of you knew Larry. He worked at Ben Mynatt for many years and was an active member of McGill along with his family. Larry is certainly missed and it was great to remember him on Fathers' Day.
Hats off to the McGill Family Life Committee for coming up with "Donuts for Dad" and "Muffins for Moms" on Mothers' Day. It was great fellowship.
"I went over there, but they weren't open." We all know that Chick-Fil-A is closed on Sunday and it seems to be a growing trend. Showmar's is also closed on Sunday as are Tacos4Life and the Maple Street Biscuit Company. Dang! Maple Street also closes at 2 p.m. That's not even bankers' hour.
The CEO of Famous Toastery Robert Maynard said not having evening hours allows his company's employees to have a life outside the restaurant. It's funny, he's a former banker.
With the labor shortage, it's bound to help restaurants, making it more attractive to workers. It's also one less day you have to staff and everyone knows for sure one day they would be off.
Decades ago, I worked as an assistant manager for Bojangles'. I loved the food but hated the work, primarily because of the work schedule. The manager in charge of scheduling killed us.
The restaurant where I worked in Charlotte was open 24 hours a day. Often my schedule would be third shift (beginning at 11 p.m.), then the next day second shift (beginning at 3 p.m.) and the third day first shift (beginning at 5:30 a.m.). Essentially this guy had me doubling back on three of the five shifts I worked each week. That's the main reason I quit.
Bad managers will kill a business. Constant turnover will too.
Lots of local restaurants, whose owner/managers work long hours, realize this and will close one day a week or shorten some of their hours. You'll notice that their workers stay with them and they don't have the turnover and constant grind of some of the franchises. The McDonald's of the world could take a lesson.
If you've lived in the area very long, you know Mr. C's closes on Mondays. Many a time I have thought 'Let me get supper from Mr. C's,' only to get there and it's Monday. But it is open on Sundays.
44 Mills Kitchen & Tap also closes on Monday but is open on Sunday.
Most of the locally-owned restaurants are closed on Sunday.
Troutman's Barbecue (across Church Street from our office) is taking a different approach. It's closed on Thursday. That's seems pretty random.
A new Troutman venture. The Thursday closings are not the only changes for Troutman's.
Troutman's once had several restaurant scattered across the area and has gotten down to just the Church Street location. That's changed.
Mama T's of Gold Hill is open on St. Stevens Church Road (Why is the road named Stevens? Pretty sure St. Stephen isn't spelled that way).
Mama T's has even more unique hours. It's closed on Monday and Tuesday. It's open from 5 to 10 p.m. on Wednesday and Thursday through Sunday from 11 a.m. to 9 p.m.
It's different than Troutman's on Church Street. Mama T's has special events including recent Sunday evenings which featured karaoke. Alcohol is also available.
It's not the only change for Troutman Enterprises.
The car lot and offices moved a few months ago to South Cannon Boulevard.
Much of the property that Troutman owned at the corner of Rock Hill Church Road and Concord Parkway has been developed for other uses: Dunkin' Donuts, Firehouse Subs, Sam's Car Wash, State Employees Credit Union and Bojangles'.
The remaining back corner is partially leased and being offered for sale.
The old Philip Morris Plant demolition continues. I keep peeking into the old Philip Morris property and getting glimpses of the progress. It looks like most of the buildings are still standing, but a lot of materials have been stripped away and hauled off (recycled).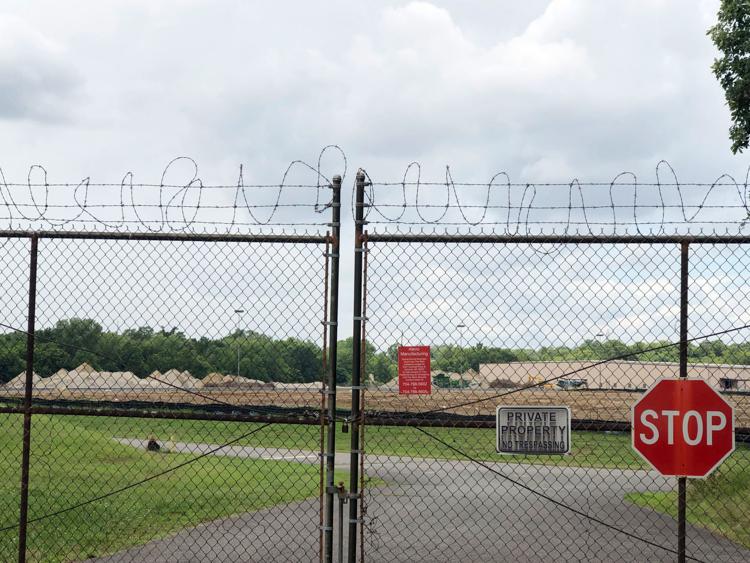 In March, I looked through the back gate off Roberta Road and saw stacks of metal and other materials. When I sneaked up to the gate Wednesday, I could see that most of the metal was gone but there are large piles of gravel or possibly crushed concrete.
The owner's representative told us the plan is to use some of that to fill in the basement hole that will be left when the main building comes down.
We're all anxiously waiting for more news to come on that property. JLL Carolinas is marketing the property as The Grounds at Concord.
The DOT-apalooza continues. After months of surveying and seeing little progress on the intersection of Concord Parkway (U.S. 29) and McGill/ Poplar Tent Road, the work is now in earnest and taking shape.
Our Advertising Director Bruce Barker came into my office last week and asked me, "How long do you think it will be before a car comes plowing into Punchy's over there?"
Never I hope, but that turnout sure comes deep into Punchy's parking lot. The turnout cuts deep into Prestige Motorworks too.
It appears NCDOT's intentions are to have the intersection much like the Derita/Odell School Road and Poplar Tent intersection, straight across and right turns, with any left turns coming farther down the road.
Maybe it will work. The big difference is there is less room and a lot more businesses with traffic.
How do you reckon those cement trucks are going to get in and out too?
Let's hope it's not a DOT-apalooza. Merriam-Webster says lollapalooza is a gambling term dating back to the 1890s referring to a made-up hand aimed at deceiving an inexperienced player. It's used like humdinger and doozy.
That intersection is definitely going to be a humdinger. Let's see if it really works to eliminate traffic issues. We definitely ought to be concerned for inexperienced drivers coming through there.