Ghost stories, taxes, "ruins" and football are a few of the things we've been talking about in the office this week.
"Mysterious Tales of the North Carolina Piedmont." That's the title of a new book by Sherman Carmichael with a series of interesting stories from across the state. Josh Adams did illustrations for the 171-page (with index and references) book from Arcadia Publishing and The History Press. 
Carmichael is a native of Hemingway, South Carolina. His career path includes journalism, photography and law enforcement. He's written about UFOs, ghosts and other stuff.
Right off the bat, I've got to say the title is deceptive. There are stories from Buncombe, Sampson, Northampton, Warren and Wayne counties included. Those are not in the Piedmont.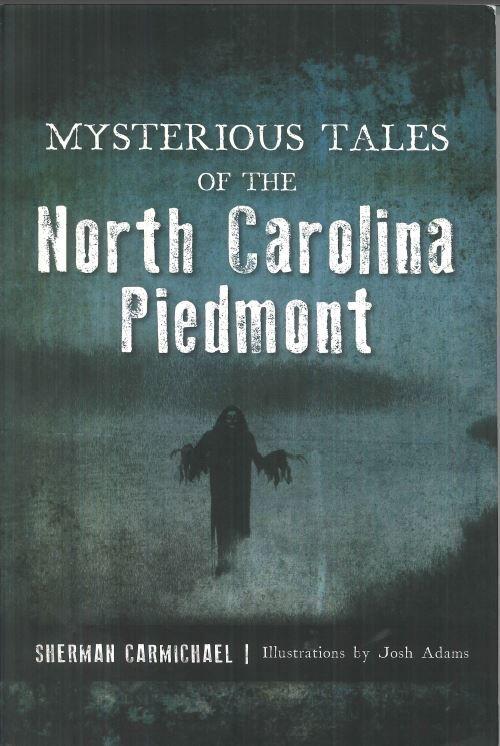 Otherwise this is a pretty interesting book. There are several Cabarrus County stories. The first is Sally's Bridge, which claims a woman's baby was swept away in flooding of Clarke Creek on Cox Mill Road (between the high school and Christenbury Parkway). Sally later met an untimely demise. Carmichael said you can park on the bridge (not safe) and you can hear a baby's cries and Sally's screams for help. Some have even said Sally will knock on your window asking for help.
Erin Kidd is already trying to talk the news/sports room into a late night ghost outing. She has no takers yet.
Haunted bridges, train wrecks and other oddities. Cabarrus is well represented in the book. Some of the stories I've heard but others are new to me. I think a lot of the stories are pretty thin versions but the book is definitely worth the read. It retails for $21.99.
Another haunted bridge story features Teeters Bridge on County Road 1132 between Mount Pleasant Road South and Barrier-Georgeville Road. There is a large stone with the name "Furr" carved in it. When it rains on the stone, it appears to bleed. I have seen this phenomenon myself. Dale Cline took me down there one time - scared the daylights out of me.  There is disagreement over what happened. One tale has a woman and her baby drowning at the bridge. Another version indicates a little girl was murdered there.
There are several other stories from Cabarrus and Rowan counties in the book. There is one about an ill-fated young couple back in 1950 at Stonewall Jackson Training School. It involves Daniel, a teenager who was there because he killed his father in self-defense, and Ellie Blum, the administrator's daughter.
Daniel's job was to lock up the chapel every night and Ellie would meet him there. One foggy night, Daniel was crossing the bridge to go to the chapel and Ellie was crossing Old Charlotte Road. Daniel heard an engine roaring down the road and jumped down to try to warn Ellie. He broke his ankle and was not able to warn her in time. She died.
Carmichael's book says on a foggy night with a full moon you can see Ellie and Daniel making their nightly trip to the chapel. Has anybody out in Jackson Park seen this?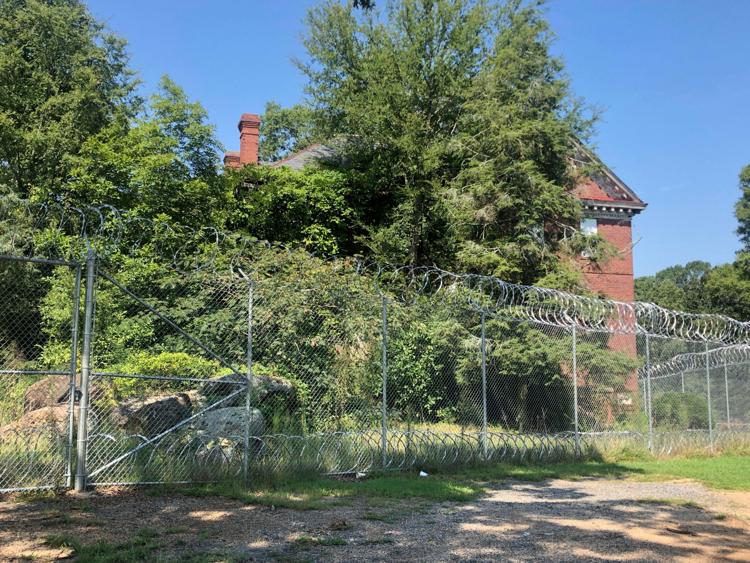 The "ruins" of Stonewall Jackson. The book says you can't visit "the ruins" of the school. I haven't heard it described as "ruins" but that's an accurate description. In a few years the buildings will be reduced to big piles of rubble. We're told N.C. Rep. Larry Pittman was instrumental in getting funding for the prison-like fencing and razor wire that now guards the historic site.
North Carolina has a current budget surplus of $680 million (and a billion dollars in the rainy day emergency fund). How about Roy Cooper, Phil Berger and Tim Moore put some of that money to good use by cleaning up the mess that is Stonewall Jackson Training School? It won't happen.
There are a lot of pet projects across the state that will gobble up the money if Berger and Moore's tax rebate doesn't pass (see Tom Campbell's column on page A4). The latest political move would rebate $250 to couples who file jointly and $125 for individual tax filers.
It's hard to be opposed to a tax rebate, but I would be surprised if that passes the General Assembly.  I would be shocked if the state actually spent the money to fix the mess at Stonewall Jackson that's been allowed to fester for decades.
The ugly word "recession" rears its head. We've started to hear that dirty word the past few weeks and the Berger-Moore tax rebate reminded me of the tax rebates we got back when George W. Bush was president. I liked getting those checks, but if I could I would bypass the checks and just keep a good economy.
Many of us didn't fare well in the "Great Recession" and some people are just now recovering from its effects. Maybe that rebate checks would be better used for building bridges (that can be haunted in the future) and schools.
Quick local economic check. No need to panic, but some of the building numbers in Cabarrus County were down in the first six month of 2019, when compared to January through June, 2018.
According to reports at the Cabarrus County Construction Standards Office, there were 2077 building permits issued in the first six months of 2019 worth an estimated value of $256 million. Of those, 909 were single-family detached(SFD) homes, worth nearly $155.8 million. Those figures are down from 2018: 2066 permits worth $387.8 million with 985 SFD homes worth $175.9 million.
I'm not reading too much into the decline. It's still higher than the same period in 2017 (1704 permits for $187.7 million total and 754 SFD homes for $109.5 million). The numbers have been up and down a bit year to year but have been pretty good since 2012. Stay tuned.
Football season is here. That's always good news. I'm heading out to the Hickory Ridge at Central Cabarrus game tonight. We've got some great players and teams in the area. I hope to see you at the games. Be sure to check out our Cabarrus Game Night 2019 preview in today's edition sports editor C. Jemal Horton and company have put together another great publication.