Church Street is one of the busiest places in town, but it seems like there's a lot of change and some empty space.
Houses torn/burned down at 407 and 399 Church Street. A few weeks ago one of the houses was burned as a firefighters' training exercise. A few days later the other old house was torn down. That's at the corner of Douglas Avenue.
Doobay Sangster of Concord and his company Sangster Investments LLC own the properties, but he's not ready to announce his plans.
"I'll keep you guessing for a little while longer," Sangster said, when I asked him about it Thursday. "I'm working with the city on some possible plans, but I'm not ready to make an announcement just yet."
Sangster has worked on several projects around Concord. He said he mostly does single family and some remodeling and flips.
Niblock Homes' Marsh Avenue project is complete. The Concord-based builder/developer sold four two-story homes in the compact development at the corner of Church Street. The prices ranged from $213,500 to $260,500 according to tax records.
Another developer in town joked about they better not have much company because there's not much parking. Marsh Avenue is barely more than a one-way alley. Each home has a single-car garage and about enough space for one other car to park in the drive.
I guess company could Uber over there or maybe take the CK RIDER.
If you want to live there, here's your chance. 23 Marsh Avenue is for rent. According to a flyer out front, the 1826-square-foot home goes for $1,795 per month (no pets, no smoking).
Business closing by the end of the month. Ian's Pawn Shop is expected to close by the end of July. I stopped in the other day to check out the going out of business sale. He's got several laptops, tools and a variety of other items.
Like many other brick and mortar shops, the internet took its toll on Ian's business.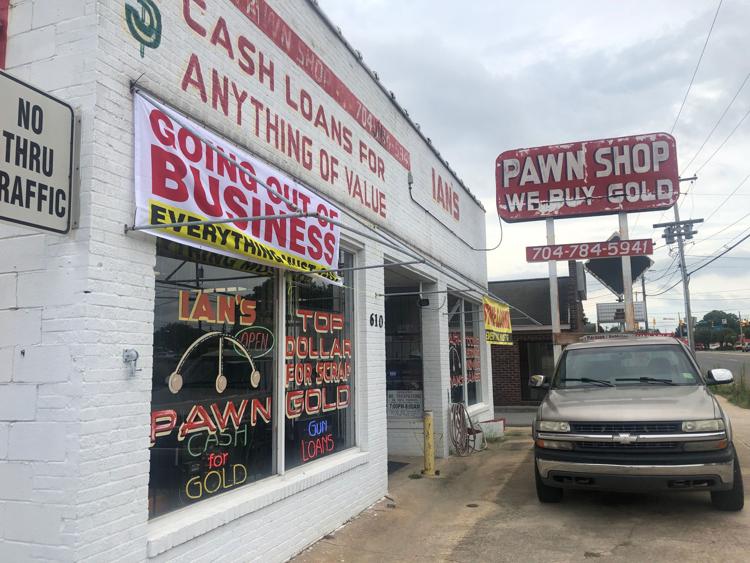 Add to that the competition. City Pawn Shop is just up the street and Hal's Pawn and Gun Shop is almost directly across the street.
Quick story involving Hal's: Bob Brown, the now retired host of the Trading Post and former general manager at WEGO-AM 1410, got the bright idea of selling a live ad read for Hal's during our high school football broadcast. After every touchdown and before the extra point, I would read a short spot.
Steve Post and I were always scrambling to find the cards while describing action. At Northwest Cabarrus, quarterback Randy Johnson ripped off a 30 or 40-yard TD run and without missing a beat I called, "Bag the big one just like Randy Johnson did. Get your license and other hunting needs at Hal's Pawn and Gun Shop on Church Street."
I thought my color man Steve Post might fall off the top of the press box laughing when I said "Bag the big one just like Randy Johnson…"
Other vacant properties along Church Street. Music 'N More closed earlier this year and Domino's moved to a renovated building near Ian's. That's two vacant buildings to go along with the old K-Town Furniture/Queen City TV & Appliance building beside Pizza Hut and another older house closer to the Davidson Drive intersection.
There's good traffic on Church Street, but not all of these properties have easy access from both sides of the street or a lot of parking.
There are a number of spaces available as you get closer to downtown Concord, including a new vacancy in Bobby Whitley's shopping center in the same building as Danny's. The cell phone company moved out and took over the former sign shop building beside Whitley's Carwash.
Two contracts for Kannapolis properties. For the past two weeks we've talked about the old Kmart building and the new owner MPV Properties. One reader asked for contact information for MPV so they can talk to the new owners about taking care of the trees along the back of the property.
The reader is right, something needs to be done. Several trees are broken and it's only a matter of time until one lands in the road or on top of somebody's car.
When I was looking up MPV's contact information, I stumbled upon the available properties section. By the way, MPV stands for Merrifield, Patrick and Vermillion.
MPV has 179 properties listed in the Charlotte metro area, including several in and near Cabarrus County. Two properties in Kannapolis are listed as "UC" and I'm assuming that means under contract.
One is 108 acres off North Main Street and West 21st Street. The asking price is $3.3 million. A development plan on the website shows 260 single-family lots, 88 townhome lots, space for 240 multi-family units and 34.25 acres of open space. This is in North Kannapolis in Rowan County.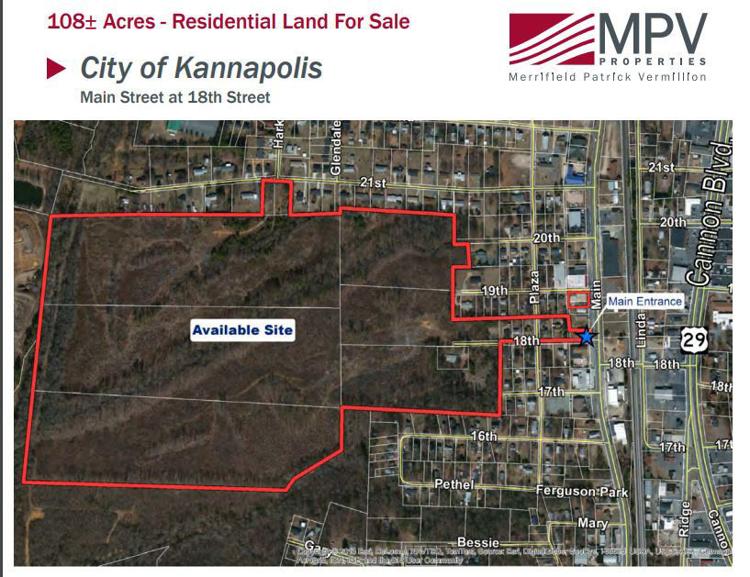 The other MPV "UC" property in Kannapolis is 26 acres next to the Kellswater Commons shopping center site (undeveloped) at Rogers Lake Road off Kannapolis Parkway. The asking price is $120,000 per acre and the property is being marketed as a possible townhomes/apartments site.
Did anybody ever think we would have this many apartments in Cabarrus County and apparently more on the way?
I asked some Kannapolis officials about when the shopping center at Kellswater might be developed and they were just as curious about that as we are.
It wouldn't be a Friday Five without a mention of Krispy Kreme. The new Concord Mills location opens Tuesday. You will see a lot of people there Saturday, with the doughnut shop having its "family and friends" event during the afternoon.
If you have a Friday Five, story suggestion or something I can rant about (didn't get a rant in today, but don't worry one's building up), email mplemmons@independenttribune.com.