Bigfoot owns property in Afton Village. No, really, Bigfoot. I'm not kidding.
No. 1
The Bigfoot purchase. Bigfoot Ventures LLC of Cornelius bought a commercial lot on George Liles Parkway in September from Charlotte-based TSR Investments LLC. Tax records indicate the purchase price was $475,000.
A sign on the property, which is at the entrance to the West Cabarrus YMCA, says a new medical office building is on the way and space is now for lease.
No. 2
Storm damage in northwest Cabarrus. That heavy rain that hit Cabarrus County early Tuesday afternoon packed a punch in part of the county.
"I would say it was a small tornado, but there was no twist to it," according to Frank Chester, who has trees down at his farm on Davidson Road near Sudbury Road.
The storm cut a swath about 200 feet wide along Chester's pasture fence, breaking cedars and taking the top off an oak tree. Other trees were uprooted. It also knocked down a highway sign, putting it across another section of fence.
There were other downed trees in the area, and our friend Russ Olson had his beehives scattered. With a little help, he was able to minimize the damage.
It appears it may have been a "microburst" in the area, rather than a tornado.
UPDATE: The National Weather Service is now saying it was a small tornado.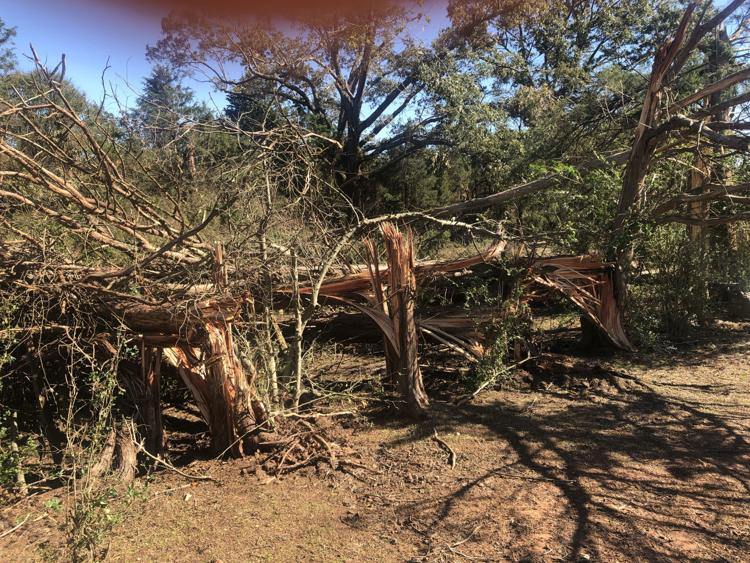 Chester did catch one lucky break. Some of his cattle got out of the pasture last week, so he had moved them to another area across the road away from where the storm damage was.
No. 3
Hard to make a living farming. Chester, 83, has lived on the farm all his life, and he said weather is a big factor in making farming difficult. Another is low prices, literally pennies a pound for his livestock at market.
The dry (bordering on drought) weather and hot temperatures into the early fall damaged pastures and hay crops for many. Chester said he started feeding hay to the cattle in August, and he's looking to buy more feed to get through the winter. The pasture has greened up a bit since the rain, but not enough to keep the cattle going.
"You can't make it farming when hay (the big, round bales) is $40 a bale and you get 30 cents a pound when you sell," Chester said. One calf he sold earlier this week brought $13.
No. 4
Going out of business. Office Max/Office Depot is going out of business in Kannapolis. The office-supply store has been on Cloverleaf Parkway for many years. I wandered through the store earlier this week. The print/copy shop is already closed, and most everything is marked down.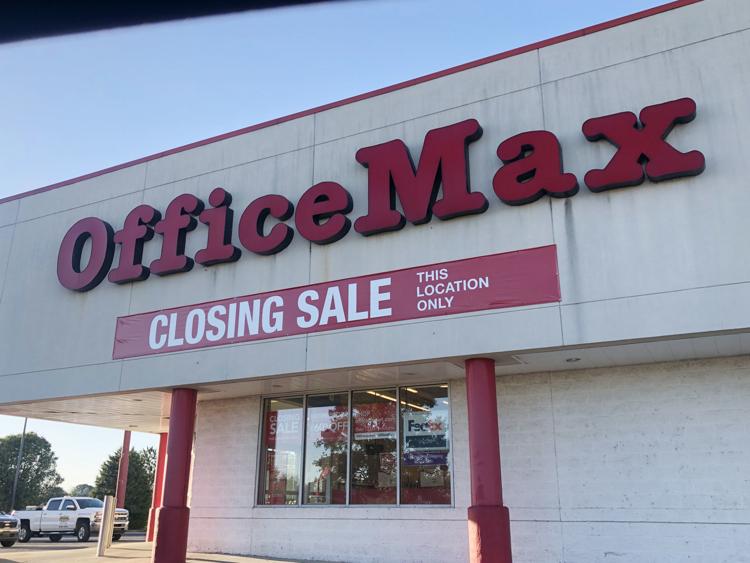 Many of the shelves are already empty. It is expected to close by mid-November.
The Office Depot at University Place is moving to a new location. It's moving to a newly renovated building beside Guitar Center. I think that's where Dick's Sporting Goods used to be, or maybe it was some other big box that moved.
No. 5
Anonymous complaints. Two letters crossed my desk this week with no names or return addresses. We would categorize them as trolls if they were on social media, but since they are on paper and unsigned, I am going to call them cowards.
The first letter took exception to my criticism of NCDOT and other agencies. "I seem to notice that you like to make sarcastic and critical comments in your Friday Five." Where'd you park your squad car, Dick Tracy?
I will give this person a point. DOT and other agencies are trying to make things better.
The other "coward" either falls into the category of prude or PC, not sure which. This typed letter said our Cream of Cabarrus football rankings "sounds illegal & clearly some form sexual innuendo …"
Wrong! Have you ever heard the term "The cream rises to the top"? Here's how our friend Google explains the term: "A good person or idea cannot go unnoticed for long, just as cream poured in coffee or tea eventually rises to the top."
This knucklehead said we should "fire the perv that came up with this …" As I recall, I believe I threw out "Cream of Cabarrus" when (sports editor) Jemal Horton and I were spit-balling possible names.
Just in case anybody wonders, I wrote this column. My name is Mark Andrew Plemmons. Right or wrong, I'm standing behind my words.
No. 5A
Stop making illegal lefts. With all due respect (Ricky Bobby reference), what's wrong with these people who keep making illegal left turns on Concord Parkway at Poplar Tent/McGill? We're hearing interesting things from some of our readers about their adventures through the new traffic pattern.
One woman (she gave me her name, but I chose not to use it here) called Concord police to ask how she was supposed to go south to Aldi from McGill. She was told to turn left through the old Kmart parking lot. Not satisfied, she called NCDOT in Albemarle and was told she should turn right, then make a U-turn. The DOT person also said Concord needs to put up signs to that effect on McGill.
Traffic does move through the intersection pretty well when the left-turners don't clog it up.