This week we learned Barber-Scotia College has a new president and will be holding an "inauguration" later this month.
No. 1
A new president, but not too new. Apparently, Dr. Melvin Isadore Douglass has been the president of Barber-Scotia College since April 2019. As many of you know, I have had a few issues with leadership at Barber-Scotia over the past few years, and it seems they chose not to let anybody in Concord (or at least not at its newspaper) know of Douglass' arrival at the historic college.
A nice lady came into the office earlier with Douglass' contact information and said it would be nice to have a story about him in the paper.
Sounded like a good idea, and given my recent history with the unaccredited college, I assigned a freelancer to contact Douglass for an interview and story. The college's representative declined an interview with Douglass, but instead invited the writer to cover the inauguration. We declined, but are leaving the door open to an interview.
The inauguration is set for 11 a.m. Saturday, Jan. 25.

No. 2
A Google search yielded a write-up on Douglass. Barber-Scotia did send a news release about the new president last year to the HBCU Campaign Fund website. Here is what we found there:
"The Barber-Scotia College Board of Trustees has announced the appointment of Dr. Melvin Douglass as the next President of the College. Dr. Douglass brings to the College more than 25 years of combined senior level administrative experience in academia, research, policy, advocacy, government service, and nonprofit sector. Dr. Douglass' talents and experiences have allowed him to become adept at overseeing operational and fiscal responsibilities that speak to ensuring optimal organizational performances and actualizing revenue enhancements.
"A native of Harlem, New York, he has earned his degrees from Vincennes University, Tuskegee University, Morgan State University, New York University, Columbia University and Harvard University. Dr. Douglass did post-doctoral studies at Clare College, Cambridge University, England, and the Goethe-Institute, Germany. He was also selected as a Japan Fulbright Memorial Scholar.
"Dr. Douglass is an ordained Baptist minister, who strongly embraces the Black Churches' long tradition of liberation theology and racial reconciliation that was notably embodied in the movement led by the Rev. Dr. Martin Luther King Jr. Dr. Douglass is frequently called upon to address civic, ecumenical, educational, fraternal and professional organizations. His appointment becomes effective immediately."
The HBCU website went on to say the college would host a "meet and greet" reception in the near future so the community, alumni and friends of the college could welcome him.
We're told he is taking a $1-per-year salary.
Welcome, Dr. Douglass, and good luck.
No. 3
A bulldozer takes out a decaying building. Just down Cabarrus Avenue from Barber-Scotia was the building I knew as Cabarrus Barbecue. That was a long time ago, and I believe some of you may even have known another name for the odd little restaurant.
Crews tore down the building this week. It has sat empty for many years. The last tenant was a Latino or Hispanic restaurant. We'll keep an eye out to see if anything is coming in its place.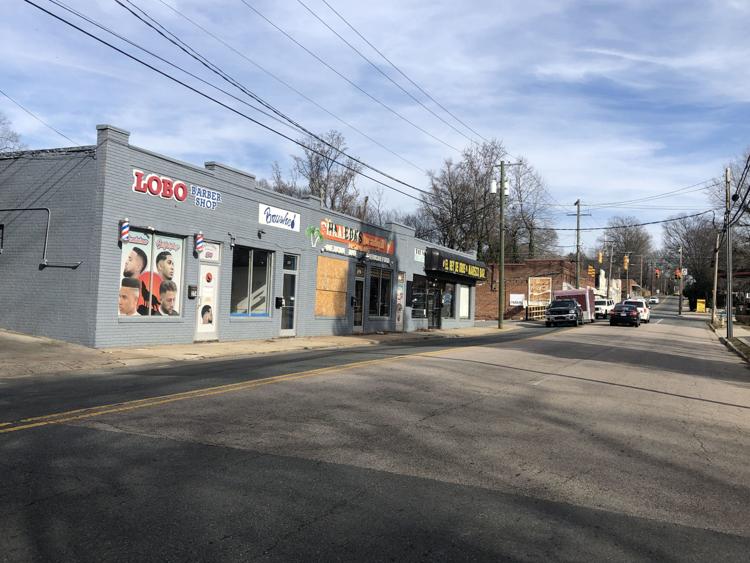 No. 4
Businesses almost all gone. I call it McGill Village, but maybe that's not the name for it. It's the strip of buildings along McGill Avenue near Kerr Street. It looks like the barbershop is the only business left. Maybe there are others there, but most days it looks pretty deserted.
My friend Ronald Hartsell and I talked about it at church Sunday. He fondly recalled going into H.G. Blackwelder's toy store that was one of the businesses there for many years.
The last thriving business there was a Hispanic grocery. I think the fire next door may have taken out the grocery, too.
The fire was in August that closed Shnaeda's Bar & Grill. There had been an early-morning shooting at the grill in July.
Some of the neighbors said they weren't sad to see the business go.
Hopefully someone will renovate the buildings and get them back into use. Vacant, decaying buildings benefit no one.
No. 5
Promoting "Maleficent: Mistress of Evil." Donna Knorr with The Piedmont School of Etiquette has a unique opportunity. Disney contacted her about helping promote the upcoming movie.
A Disney representative will be at a special etiquette class Saturday, Jan. 18. Participants will get a special digital version of the movie along with other promotional items.
Social and dining skills will be taught and a dessert course served. Space is limited. The cost is $50. If you are interested, give her a call at 704-788-4678.
It sounds a little too fancy for me. I'm told my bib napkin and elbows on the table don't meet the social graces. I've got friends in low places.