Formal dress sale to raise funds for children with cancer and other life altering or terminal illnesses
Operation Dress, set for Saturday, July 13, will offer discounted formal wear for sale with the proceeds going to support The Sandbox and its An Evening of Believing Prom.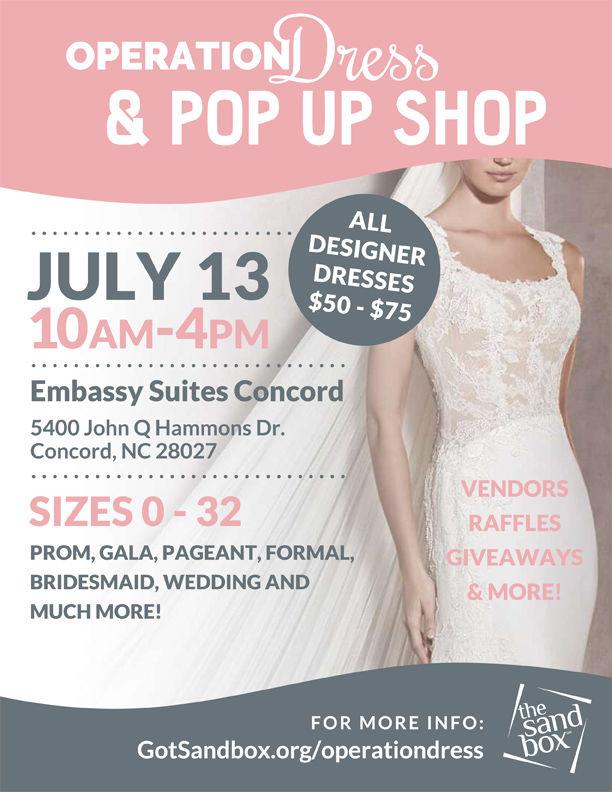 The Sandbox is a local nonprofit which serves families of children diagnosed with cancer or other life-altering illnesses. The nonprofit's signature event is called An Evening of Believing Prom; it's a special night on the town for children in the program, designed to take their minds off the rigors of treatment. To-date, the organization served more than 5,000 families in the greater Charlotte region as well as some parts of South Carolina through a variety of programs and events.
Operation Dress is a "Pop-Up Shop" of designer evening gowns offered at heavily discounted prices ($50 or $75), with all proceeds supporting the prom. Dress sized 0-32 will be available and there will also be a "Pop-Up Boutique" showcasing vendors from around the Charlotte area.
The event will be held at Embassy Suites in Concord, located at 5400 John Q. Hammons Drive in Concord from 10 a.m.-4 p.m.