Alongside hundreds of pink shirt-wearing breast cancer survivors, seven-time NASCAR Cup Series champion Jimmie Johnson joined NASCAR Xfinity Series title contenders Tyler Reddick and Justin Allgaier in painting Charlotte Motor Speedway's pit wall pink on Wednesday.
The speedway's sixth Paint Pit Wall Pink event included an array of Blue Cross and Blue Shield of North Carolina employees helping the racing dignitaries including Shawna Robinson, a former NASCAR driver and breast cancer survivor, in painting the 1,500-foot pit road wall pink to raise awareness for breast cancer and the importance of early detection.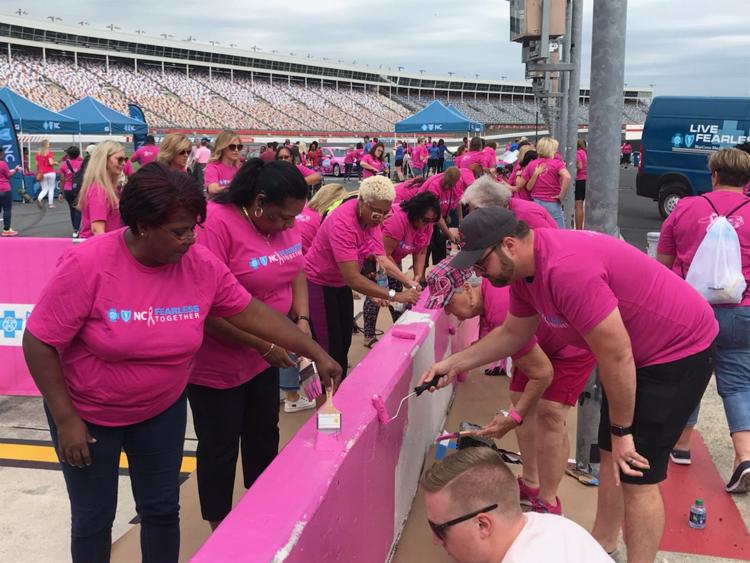 Johnson, a longtime Blue Cross and Blue Shield Live Fearless ambassador, has been part of this event for the last four years.
"I woke up this morning knowing I was going to hear someone's story. The last four years I've been a part of this, to hear someone's personal journey, the vulnerability that they have to come up here and share that… that's the first thing I thought of this morning," Johnson said. "I've had a chance to meet many others who are survivors and hear those stories as well. They are all very inspiring."
'We are fearless together'
One of those stories of the day came from Robin Miller, the vice president of people strategies at Blue Cross North Carolina and a breast cancer survivor, who discussed with the crowd the many difficulties breast cancer survivors face throughout their battle.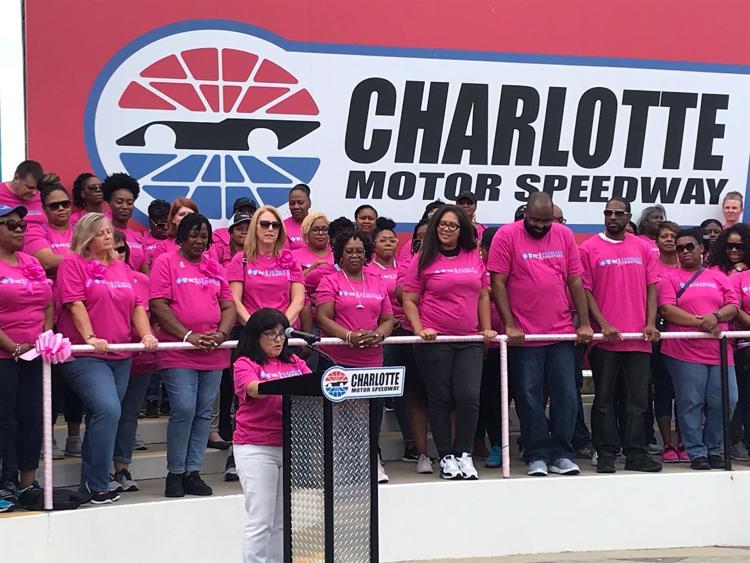 "I'm so happy to be here with all of you today. Paint Pit Wall Pink has become one of my favorite events of the year. We all share an experience that puts us in a sisterhood we didn't intent to join. But now that we're here, we are grateful for one another; the common bond, the understanding and the love is felt here today," Miller said. "But despite how I feel now, there was a time I would have not told you I had cancer. This is actually the first time I am speaking about is so publically after 10 years."
Miller was diagnosed with breast cancer at the age of 49 in 2009. She had no family history of the disease and her mother was in the end stages of Parkinson's disease. A month later she was at her mother's funeral and she said everything felt surreal.
Luckily, doctors caught her cancer early. She had a lumpectomy and went through radiation. When her treatment was over, she said she just wanted to move on with her normal life, although that life now included taking more medicines and more frequent doctor visits.
She said she also felt guilty.
"I was so fortunate with an early diagnosis. So many women persevered through so much more than I did. I didn't want to diminish their struggles as survivors. So I didn't talk about it and I didn't refer to myself as one. I just felt alone," Miller said. "It was hard to cope because the whole experience rattled me."
It wasn't until Miller began to see the panic in other women that were recently diagnosed that she realized she was in a position to help and she was a member of this sisterhood.
When her cousin was also diagnosed with breast cancer, Miller was the first person she called.
"This bond has made us extremely close. She is doing well and we celebrate our milestones together," Miller said. "I now understand that the power of my role as a survivor is to provide support, information and my experience to others that are starting on their own journey. I'm able to listen, to reassure them and to let them know, we do survive."
Surviving breast cancer gave her a new sense of living and experiencing life. She began traveling with her family and is not "living like a bystander." Life seems more precious to her now yet every September she takes a deep breath when it's time for her annual mammogram.
But she knows she has the support and love from all of her fellow survivors behind her.
"I'm reminded how precious life is and that the support and love of all my sisters will carry me through," Miller said. "So however you choose to handle your journey, remember there is no wrong answer. We are fearless together. Whether you're silent, whether you scream your story from the mountaintops or something in between, we are here for another year and that is truly something to celebrate."
Following her speech, Johnson presented Miller with a commemorative pair of pink gloves identical to the ones the four-time Bank of America fall race winner will wear throughout October.
Charlotte Motor Speedway Executive Vice President and General Manager Greg Walter and NASCAR on FOX personality Hermie Sadler joined the survivors, drivers and volunteers in using 300 paint rollers, 150 brushes and 100 gallons of paint courtesy of Sherwin Williams.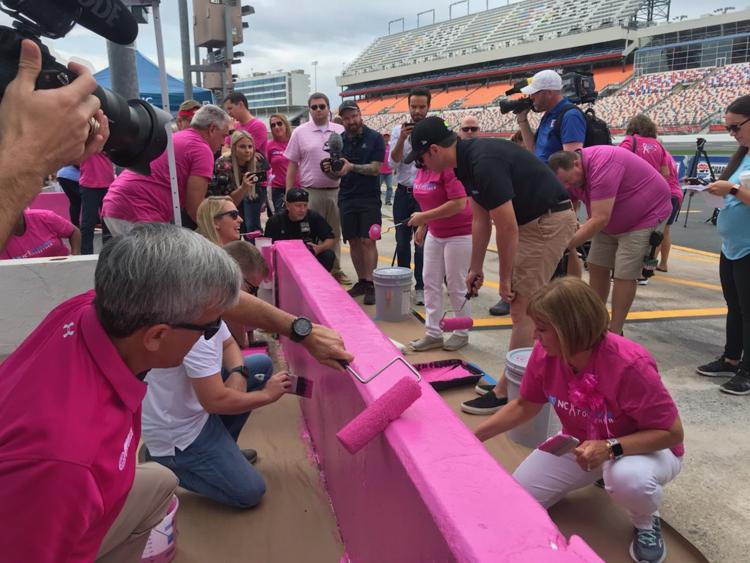 Sadler said Paint Pit Wall Pink has quickly become one of his favorite events held at the speedway. His mom is a 12-year cancer survivor.
"I love coming here today for a lot of reasons, but one of those is to see all the friendly faces, new faces, and to hear all the stories. And despite the fact that everybody here that's dressed in pink, they've all had challenges, issues, things they faced… but when you come here today, everybody is smiling," Sadler said. "They are happy. It's a lot of love and sharing and those things bring people up. That's why it's always fun to be here today."
Reagan Greene Pruitt, the vice president of marketing and community engagement for Blue Cross and Blue Shield of North Carolina, said the event has gained momentum every year.
"We had 400 volunteers, including more than 200 employees who bused in from Blue Cross and Blue Shield of North Carolina in Durham," Pruitt added. "We began this as a small idea of how to use the NASCAR platform and our partnership (with Charlotte Motor Speedway) to do some good and drive positive change. We've done just that. It's inspiring to see what we've done together as a team."
Survivors in attendance were also given the chance to sign the pace car for the Drive for the Cure 250 Xfinity race presented by Blue Cross and Blue Shield of North Carolina on Saturday, Sept. 28.