CONCORD – Charlotte Motor Speedway employees dug in for the community during the speedway's Day of Service on Wednesday, Aug. 21. Full-time staff joined members of SMI Properties, the Performance Racing Network, U.S. Legend Cars International and zMAX in spending the day gardening, spreading mulch, painting, weed eating, trimming hedges, wiring, adding fencing, building structures and assembling care packages for those in need.
Speedway employees donned red Pit Crew shirts and spent the morning volunteering at The Church of God Children's Home, My Father's House, Opportunity House, Wings of Eagles Ranch and Youth Villages (Backpack Heroes). Additionally, volunteers partnered with Purple Heart Homes to build a ramp for a U.S. Armed Forces veteran in Concord.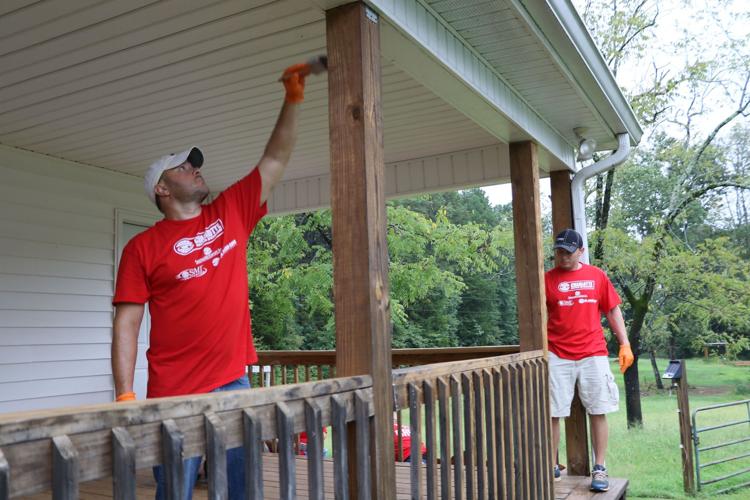 At SMI Properties, a group of volunteers assembled 400 care kits for those in need, while others educated 97 children from the Boys and Girls Club of Concord as part of the speedway's STEM experience at zMAX Dragway.
"Charlotte Motor Speedway is about working for our fans and for our community," said Greg Walter, Charlotte Motor Speedway's executive vice president and general manager. "We've added another 50 people to participate this year, so the wake that we're making has been much larger. Asking for volunteers wasn't a problem. Getting people to stay at the office to conduct business was a bigger issue, but even those folks were making hygiene kits and stuffing backpacks. Everybody on our team is making a difference."
More than 170 employees were on site at locations as early as 7 a.m. to assist community members. In total, more than 2,000 volunteer hours were amassed in the effort from planning to execution.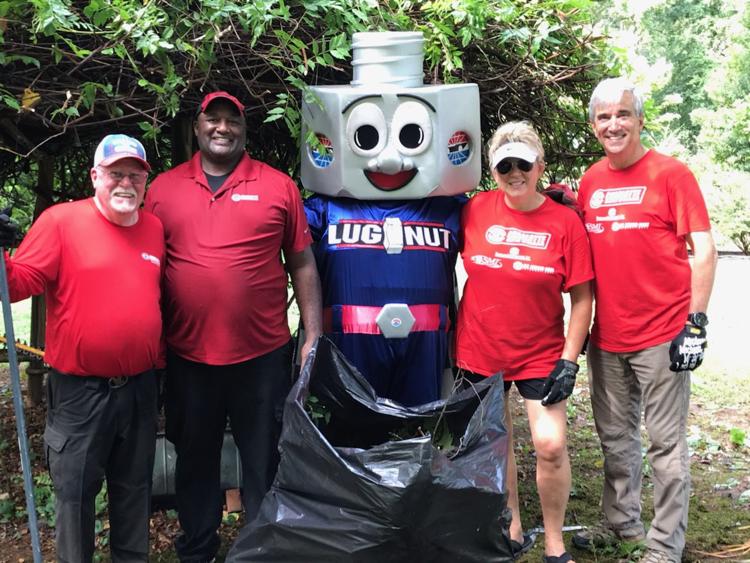 "We are a completely volunteer-run organization, so without volunteers we wouldn't survive," said Christine Cronin, the founder of Wings of Eagles Ranch in Concord. "People at the speedway have done so much for us today. The magnitude is immense."
Ed Hosack of Cooperative Christian Ministry agreed.
"The work that's accomplished is months, if not a year's worth of volunteer projects," Hosack added. "It's a tremendous blessing."
Volunteers also teamed up with Purple Heart Homes to build a ramp at the home of a Korean War veteran; 85-year-old William Whitley. Purple Heart Homes is dedicated to providing housing for disabled and aging veterans.
Whitley's daughter, Bonnie Rauch, found out about the organization through a friend and submitted an application.
"It's wonderful. When I got the call they were going to come and actually start building a ramp, I was overwhelmed with emotions. I had tried for probably 3-to-4 months finding somebody who could build a ramp," Rauch said. "I could not find anybody and I thought 'I know there's people, somebody's got to build them.' A really special friend told me to go on Purple Heart Homes and submit an application. Probably about a month later I got a call and said it's been approved."
Along with building a ramp at the home, which Whitley said will be good for his wife because she uses a wheelchair and walker, volunteers also put up a flag pole and did some landscaping.
John Gallina, executive director of Purple Heart Homes, said partnering with the speedway to get the work done was a great opportunity.
"They've got great patriotism culture in their organization, wanting to give back. So we came out here and built a ramp with about 24 volunteers today. We're looking forward to spending the rest of the day with Mr. Whitley and getting to hear stories from him," Gallina said. "We also always try and so some beautifications around the home. It's a great way for volunteers to be able to engage but in addition, it really helps the veteran feel good. A lot of times they're not physically able to get out and do those type of things so we just want them to feel good about where they're at in addition to having safe access."
This is the second year the speedway has held its Day of Service, and staff said it's a really important event that gives them a chance to give back to their neighbors who support them at racing events throughout the year.
"They say anytime you serve someone else, in the end you are really serving yourself. You can raise money all day long, you can do all sorts of things that is almost in the abstract; but when you are out here sweating, getting bitten by bugs, hitting your hand with a hammer.. It makes you a better person," Walter said. "When we go back this afternoon we will recap stories, and volunteers will have smiles on their faces and talk about how they were truly impacted by doing some work like we have here. It's incredibly meaningful."