KANNAPOLIS – Restaurant Forty-Six felt like an episode of "Chopped" recently as teenagers ran back and forth to the kitchen, hoping to prepare the perfect meal to impress five judges.
Cabarrus Health Alliance, City of Kannapolis, NC Research Campus and Cooking for a Healthy Life partnered to host the 7th Cabarrus Chef Challenge and teams from local high schools faced-off to see who would earn the privilege of running Forty-Six for a night.
This year's format required teams to create a three-course menu using provided ingredients.
Four local high schools participated in the competition and the finale came down to Concord and Cox Mill high schools.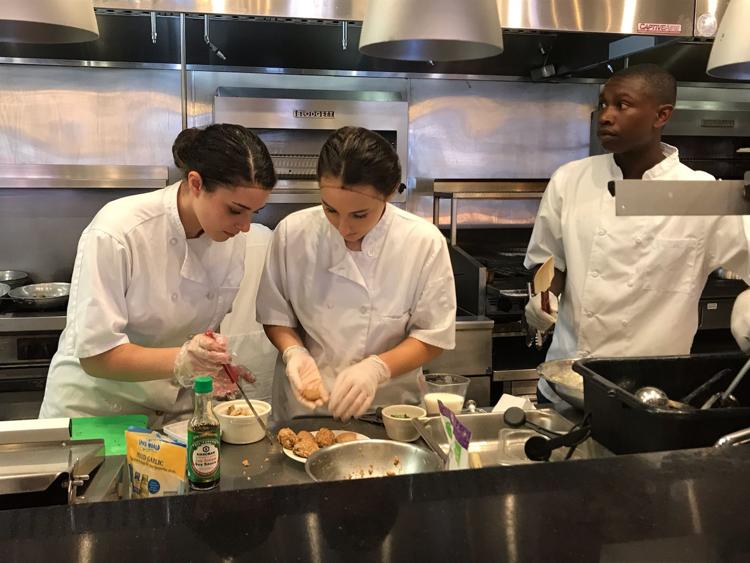 The teams met at Restaurant Forty-Six and were challenged to create the meal for judges Dr. Phred Pilkington, public health director with the Cabarrus Health Alliance; Megan Lambert, senior instructor at Johnson & Wales University; Chef Mark Allison, executive chef of culinary innovation; Barbi Jones, executive director of the Cabarrus Regional Chamber of Commerce and John Blumreich, executive chef of Restaurant Forty-Six.
"This is tremendous. It puts them in a realistic working environment to see what their future is going to be. And anybody who is actually interested in being a chef or a waiter or going into a hospitality trade, it gives them a really good idea of what it's going to be like 24/7," Chef Allison said as he watched the students work. "So they are getting a really good clear picture. If you like the excitement and fast pace, it's for you. If you don't, then it might not be for you."
Jennifer Brown, family and consumer sciences teacher at Concord High School, said the foods teachers handpicked the students to participate. This was Concord's first year in the competition and Brown said the students were ecstatic to make it to the final round by beating A.L. Brown High School in the preliminaries.
"Some of them had tears in their eyes. They didn't expect to win," she said. "They are learning real life skills with this competition. They had to use teamwork because they are all working together. They are also learning cooperation and looking out for their team. Even though one person is responsible for something, it's still helping them and giving them that taste of competition."
The five-member Cox Mill team beat Hickory Ridge High School in the preliminaries. Cathy Aylward, foods teacher at Cox Mill, said the school recently started a culinary hospitality program that the members of the team are a part of.
The program is not only for students who dream of being chefs, but for anyone interested in hospitality. Students who complete the program earn a ServSafe certification.
Cox Mill brings honey to the table
At the end of the competition, the Cox Mill team scraped by with the win for its honey-inspired dishes. Members of the team were Brianna Kovacs, Briana Moretto, Madison Esposito, Nicole Vazquez and Rebecca Love.
"Our restaurant concept is a fresh bistro. So we did bees because bees pollinate 80 percent of the word's plants and bees are dying quickly," Love said. "Without them we wouldn't have the fresh fruits and vegetables that we have. So we tried to incorporate fresh citrus and a lot of fruits and vegetables in our meals."
The team presented judges with a first course of cucumber with feta cheese, tomato and honey; a main course with zucchini noodles and whole grain noodles with honey sauce and turkey meatballs; and a pineapple and blueberry oatmeal crumble for dessert.
When it was announced they had won, the team cheered for joy and embraced each other. It was a touching moment, especially for Vazquez who has competed for the last three years.
"I'm very excited. It was very overwhelming but I'm so excited. I really want to open my own restaurant," Vazquez said. "My grandparents had a restaurant and it was very successful. I think I just inherited it and since I was very young all I've watched is cooking shows. Growing up and watching my family cook, I have just always been into it and learning the science of cooking too."
The Cox Mill team will now run Restaurant Forty-Six for a night with its recipes.
"It's going to be an amazing, life-changing experience," Vazquez said.