David Parisi says VEX Robotics is the best-kept secret out there, and he's using this summer to expose more students to its opportunities.
VEX Robotics summer camps were offered at four schools in the Cabarrus County Schools district this summer, giving students ages 8-16 a chance to learn about the program and get a feel for competitions. Parisi, technology education and robotics coach at Jay M. Robinson High School and district co-VEX director, said summer camp began in the county six years ago and is continuing to grow.
"I had a mother yesterday, her young daughter, her mother said 'I've never seen her so excited about something,'" Parisi said as he helped at the camp held at Cox Mill Elementary School. "To me what's exciting is getting that message out. Competitive robots is still one of the best-kept secrets out there. When parents see it, they see they're engaged in it, their wheels start rolling."
Parisi has a long history with VEX Robotics, which uses the study of robotics and competitions to "shape the learners of today into the problem solving leaders of tomorrow." The Jay M. Robinson VEX Robotics Team has won numerous state championships and competed in the VEX World Championship. The North Carolina VEX State Championship is also held annually at the school.
"I've got four seniors graduating this year; two of them were involved in robotics at our first summer camp six years ago. They are now seniors and they are both going to UNCC for engineering. One of them, her mother came across a flier and said 'Oh she might like this.' Since then she has been to the World Championships," Parisi said. "I'm excited to see kids going from elementary school to high school doing a critical thinking, problem solving, collaborate event and see what kind of engineers and students they are."
A few years back Cabarrus County Schools received a $35,000 grant from the Robotics Education & Competition (REC) Foundation which allowed 30 schools to receive one VEX Robotics kit and start teams. As of this year, Parisi said there are teams in 31 of the district's 35 schools.
In 2017, Parisi also spoke before the Cabarrus County Board of Education and was able to get board members to approve a $500 stipend for team coaches.
The summer camps help raise money for other costs, like buying robotics kits and team registration for competitions. A recent camp at Cox Mill Elementary included time for students to work together to build and code the robot, and then ended with a competitive event.
Another camp held at Jay M. Robinson also included a programming session and a session in the school's 3D design and printing lab.
"For the first few days we started building. There were some problems but we found out how to fix them. It was really fun how we got to learn how to play with it and treated it like it was our own," rising 4th grade student Harika Ravipati said during the camp at Cox Mill Elementary. "I like it because it's fun teaching robots how to do things and have fun with them."
Parisi said he sees the activity as a sport. He refers to it as the "21st century concussion-less sport."
He will be happy when it becomes a sport and more schools across the state embrace the positive impact it can have on younger generations in world filled with STEM-related careers.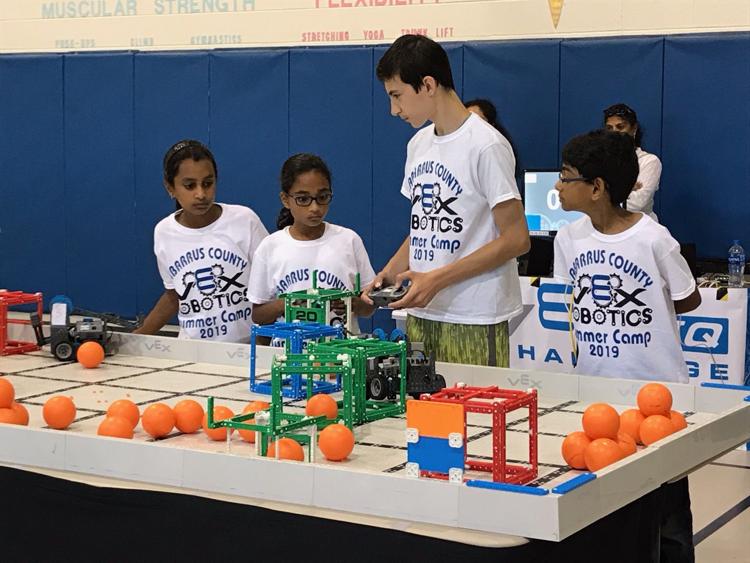 "In today's day and age the question isn't should our schools have a competitive robotics team; the question is why we don't already," he said. "You don't have to pick up too many financial publications to see robotics, artificial intelligence, programming… so this is a good after school activity for a good portion of our kids."